Malmo Pouch (2 sizes) sewing pattern
|
All posts may contain affiliate links.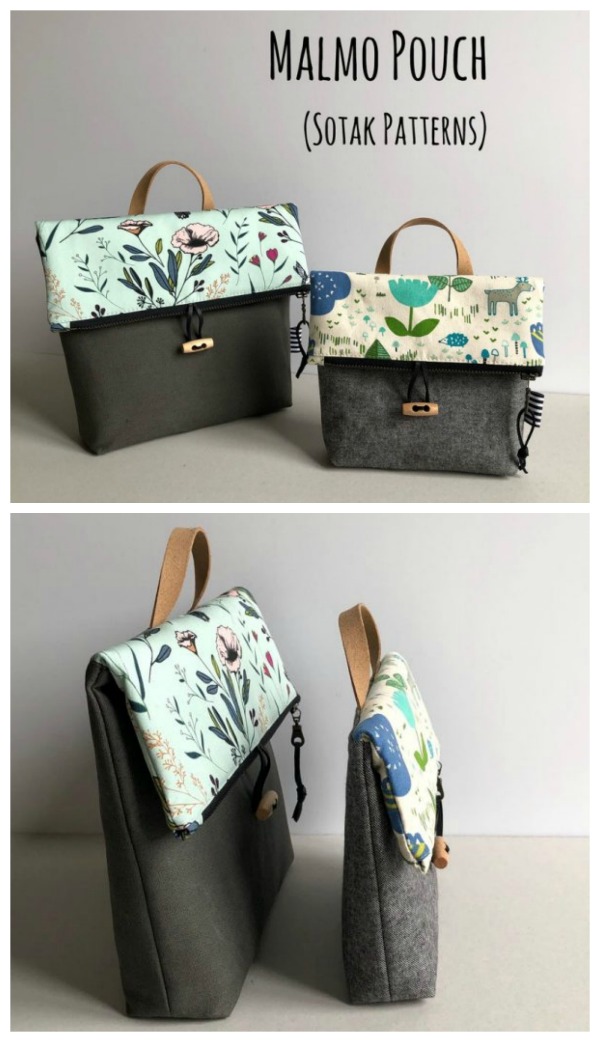 The Malmo Pouch is a stylish fold-over clutch bag with zipper top with two sizes in the same pattern. The bag has a boxed base to give you more space inside the bag, and a contrasting fabric for the foldover section.
A small handle is optional to carry or as a hanging loop. Secure the foldover flap with a fun button or toggle if you like.
The Malmo Pouch has the following special features:-
Two sizes in the same pattern,
A back exterior zipper pocket on the large pouch,
A main top zipper closure on the foldover section,
An optional handle/hanging loop
optional foldover closure such as button and loop.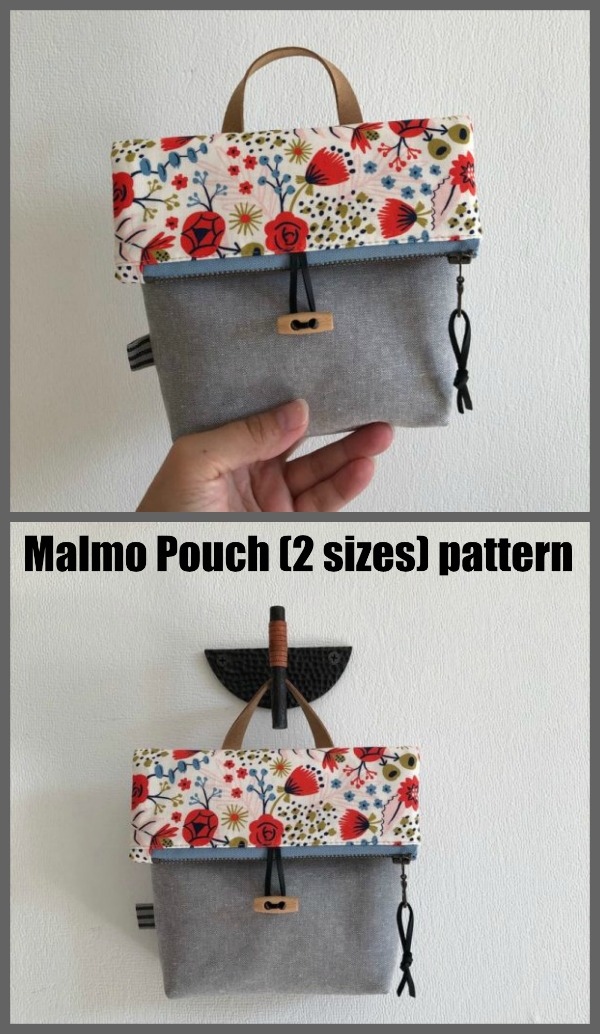 Small = 5" wide on the bottom by 5 ¾" tall by 1 ½" deep.
Large = 7" wide on the bottom by 7 ½" tall by 2" deep.
Sizing info:
When you have finished making your own Malmo Pouch it will measure approximately:-
Skill level:
The designer rates her pattern as suitable for an advanced beginner. Some experience working with zippers and fusible interfacing is recommended.
Fabric choices:
For your choice of fabrics, the designer recommends using Essex linen, denim, designer canvas, or cotton/linen blend for the exterior panel of the pouch. Quilting cotton can also be used, but your finished pouch will not be as sturdy as with the thicker fabrics. Quilting cotton will work great for the exterior flap panel as well as the lining.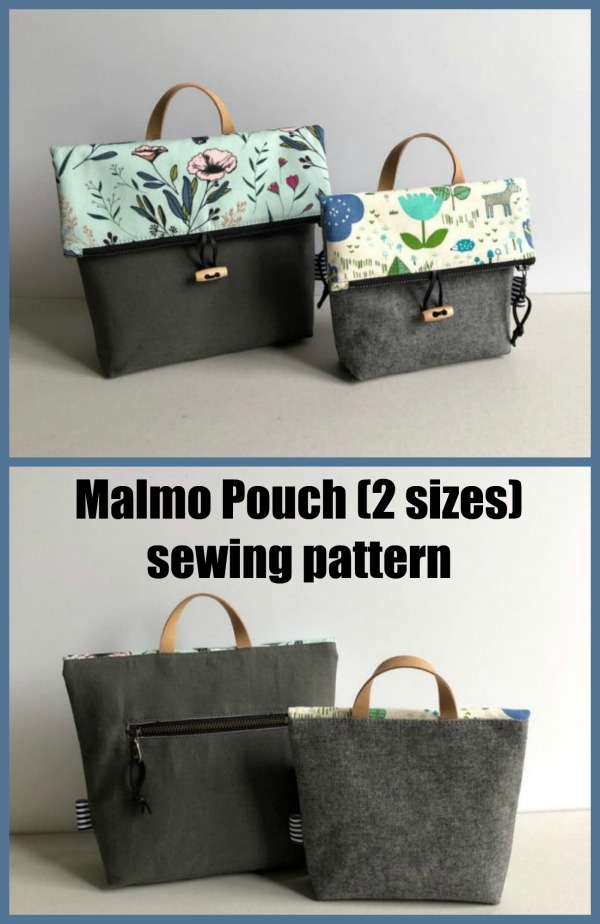 What you will need to make a Malmo Pouch:-
One fat eighth of fabric measuring 9" by 21" for the main exterior fabric,
One fat eighth of contrasting exterior fabric,
1/2 a yard of lining fabric,
3/4 of a yard of interfacing,
One zipper – 6" long for the small size,
One zipper 8" long for the regular size and one 5" long zipper for the pocket.
One 1/2" wide by 5 ½" long leather strip for the handle,
One 1/2" to 1" wide by 1 ¾" long cotton ribbon,
One large button of choice,
Two zipper pulls (optional),
Please note, this is a MEASURE AND CUT PATTERN meaning all pattern pieces are cut using cutting mat, rotary cutter, and ruler. No printable pattern pieces are needed to make this pouch. You will receive eleven pages of clear, easy to follow step by step instructions and color photos to guide you in the process. You can download the pattern by clicking on the link below.
---
---
And if you like this sewing pattern well the designer, Sotak Co, has lots of other wonderful bag sewing patterns that you can see below by clicking on the link.
---