Smart IPAD or tablet case sewing pattern
|
All posts may contain affiliate links.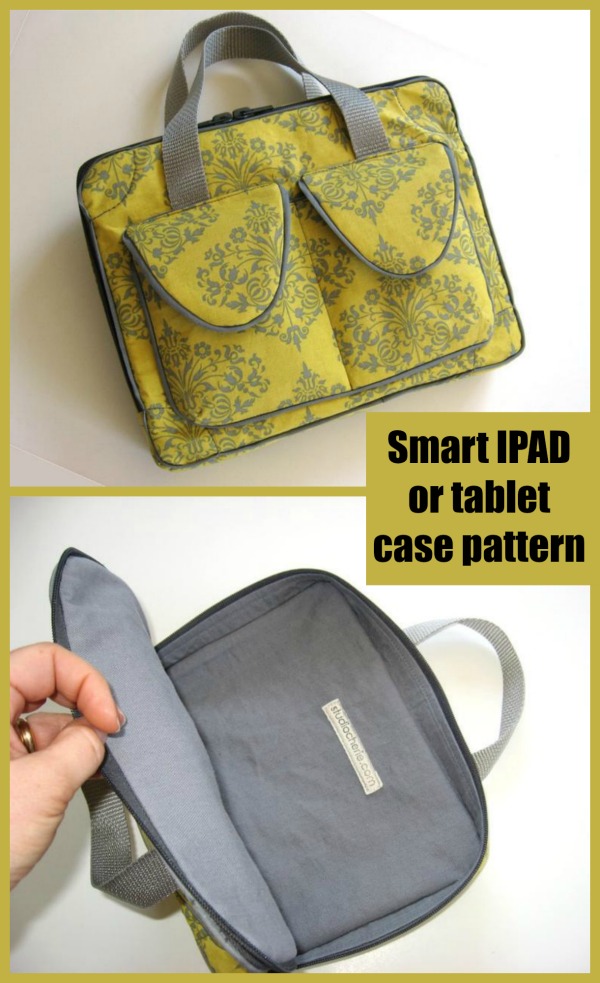 Do you use a tablet, or know someone who does? This is one of the best tablet bags we've seen. It's very professional looking with great features. It's a great gift idea for your hubby, teen or a girlfriend.
This pattern is sized for a tablet, but there's no reason you don't take this pattern and adjust it to any size. With just a few simple calculations you can sew this for a laptop, to carry books, or as a project case. Add in internal pockets of your choosing and this one pattern becomes incredibly versatile.
This is a sewing pattern with all of the full-sized pattern pieces and source notes you need to start making these popular cases for your tablet or Ipad. The designer shows you some cool tricks to learn with this pattern, like how to make a professional bag with no exposed seams. (See the inside photo.)
There are two snap pockets on the front to hold your phone and cords. The two-way zippered compartment is sized to hold the tablet, even if you have it in a swivel stand, keyboard stand or a cover.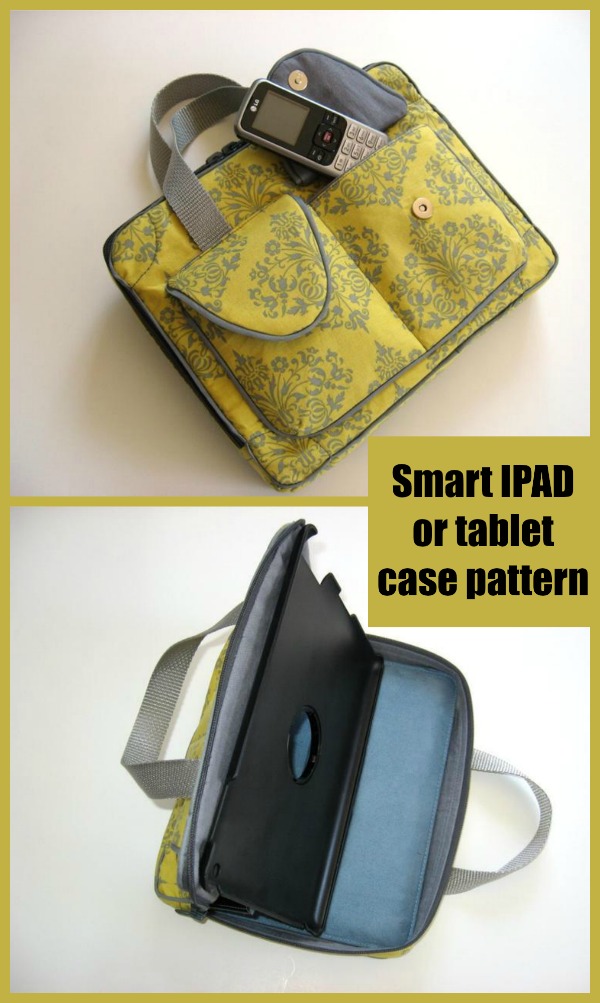 Sizing info:
When finished this bag measures approximately 8″ tall by 10″ wide by 1.5″ deep.
What you will need to make this case:-
Either a fat quarter or 1/3 yard of fabric,
1/3 yard of lining fabric. The designer says Use Cotton Duck Canvas,
1/3 yard of padding. Use felt or fleece,
2/3 yard of 20" wide interfacing. Use a medium or heavyweight sew-in interfacing,
3 feet of 1" wide webbing straps (or sew your own fabric straps)
Two packages of piping,
#5 nylon coil zipper with two zipper slides 24" long,
If you would like to download the pattern you can click on the blue button below.
More storage and organizers to sew
Want even more ideas for projects to sew for storage and organizers? We love to sew bags that help to keep things neat and tidy. Check out a few recent storage ideas to sew from our store.