Small Round Leather Bag kit review
|
All posts may contain affiliate links.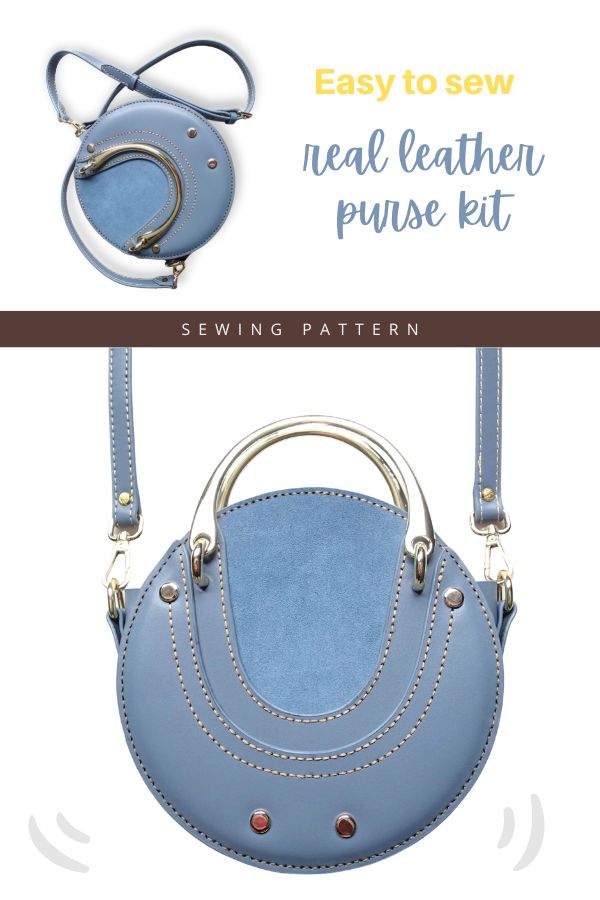 Do you remember the wonderful leather wallet that Susan sewed recently for her husband? We were both so impressed with the kit that we wanted to try a more ambitious project and see if their bags and purses were as much fun and as easy to sew. So for our second project Susan chose the Small Round Leather Bag in blue.
We are all here because we love to sew bags. Lots and lots and lots of bags. And let's just say we already have more bags in our wardrobes than is 'normal'. But both of us tend to sew almost exclusively fabric bags, usually from quilting cotton or linen. We have limited access to fabrics and materials here so we rarely sew with vinyl or any fancy fabrics.
The cotton bags work beautifully for the bright and casual island lifestyle but just sometimes, when going out somewhere 'nice', it's good to have a smart bag. Something that looks like you might have bought it from a really good store. And that's why it makes a wonderful change to sew up something in real leather – and have fun doing it!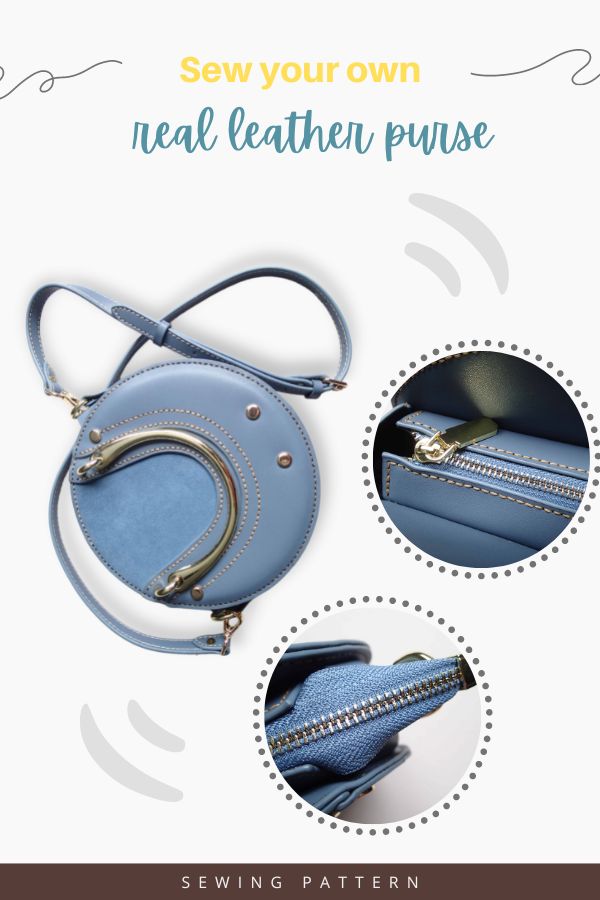 We bought this Small Round Bag kit in blue, and it came with absolutely everything needed to sew and finish this lovely purse. The leather pieces come precision cut, edge finished, and punched with holes ready to sew.
All of the hardware is included (and its lovely, really top quality), as well as the sewing materials such as needles, thread, snips, etc. We didn't have to buy anything to go with this kit so there was no need to invest in any expensive leather working tools.
WHAT COMES WITH THE LEATHER PURSE KIT?
All of the pre-cut and pre-punched leather pieces
More than enough thread
Snips
Needles with nice big eyes
Awl and tiny screw driver for the hardware
Finger cots (optional)
Zipper and pull
Clip
Video tutorial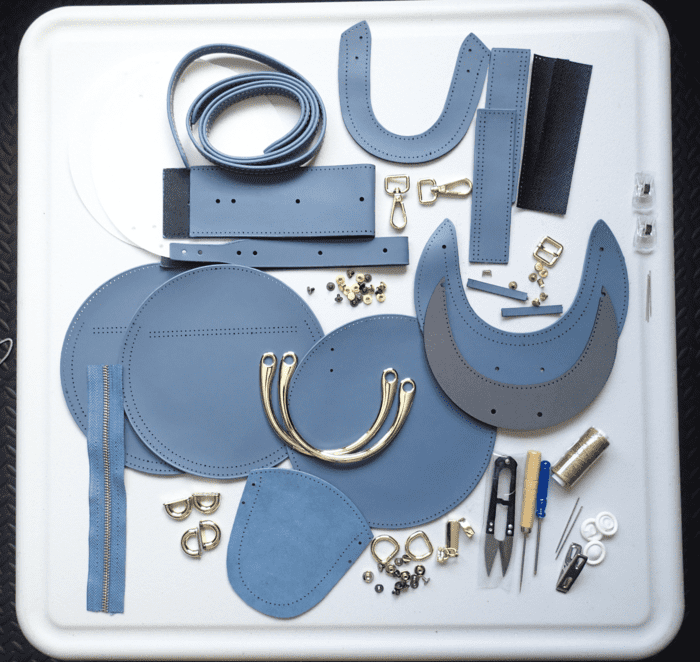 WHAT ISN'T INCLUDED WITH THE PURSE KIT?
Please note there aren't any written instructions with this kit. The instructions are delivered by way of step by step video. The only other thing we needed to add was a lighter to gently seal the ends of the thread. We also recommend a needle threader if that would be helpful for you.
Skill level:
Easy and fun once you get the hang of the stitching with two needles. We would describe the earlier leather wallet as very easy and beginner friendly, and this one was a bit more involved because of the layers and sewing the zipper, but not too much more difficult. You may want to start with one of the very small or easy projects to get used to the sewing method before jumping straight in to a fancy purse.
Video tutorial included:
The video tutorial makes it easy. You can always rewind and rewatch parts you didn't quite understand the first time, or put it on slow speed to see exactly which hole the needle is going through. Check it out below and see if this project is right for you.
Different colors and options available:
Susan picked the blue, but this bag also comes in a lovely hunter green. As well as choosing the leather color, I think you can also choose the thread color. Pick a color that will match the leather or one that will contrast, depending on your style and preferences.
Step by step progress:
Here are some photos taken in sequence of the wallet being constructed. This bag took a bit longer than the previous wallet project because there were a few more steps and of course its a bigger bag so there were more stitches.
(Keep scrolling to the bottom of the photos because we have an exclusive coupon code for you!)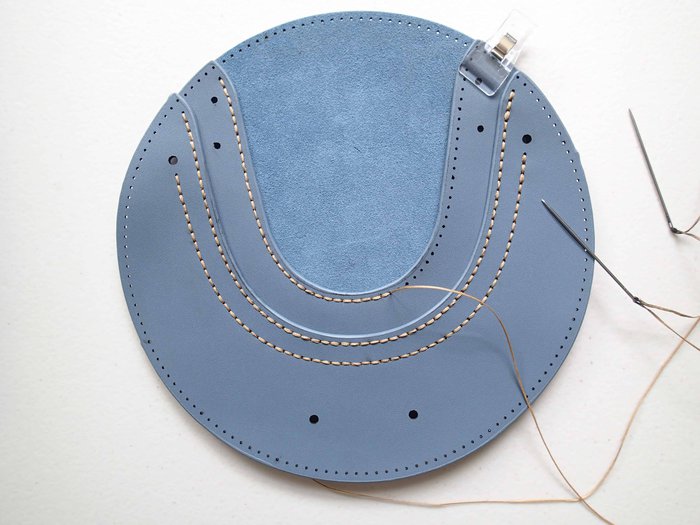 EXCLUSIVE SAVING FOR SEW MODERN BAGS READERS
We were very impressed with the original wallet kit and even more so by this gorgeous leather purse kit. We thought it might be something our readers would like to try too – or another of their many leather bag kits. So we asked Babylon Leather for a discount code to pass on – and they said yes! The code can be used against any item, not just the wallet and round purse. Free worldwide shipping is included too.
TIPS FOR SEWING THIS SMALL ROUND PURSE
Don't worry about saving the thread and cutting the thread too short to work with comfortably. We were generous with it and didn't even come close to finishing the spool. So cut what you need and a bit more to give yourself plenty to work with.
Take careful note in the video of where the sewing should start and stop for each step so you don't end up with places where you have to sew twice, or holes that are missed. This purse was very intuitive, the pieces all just fit together so well that I don't think you can go too far wrong with it.
Don't worry that the zipper will be difficult. The zipper tape also has pre-made holes that fit exactly with the leather pieces so it goes together beautifully.
If you have any questions, the staff at Babylon Leather are very responsive.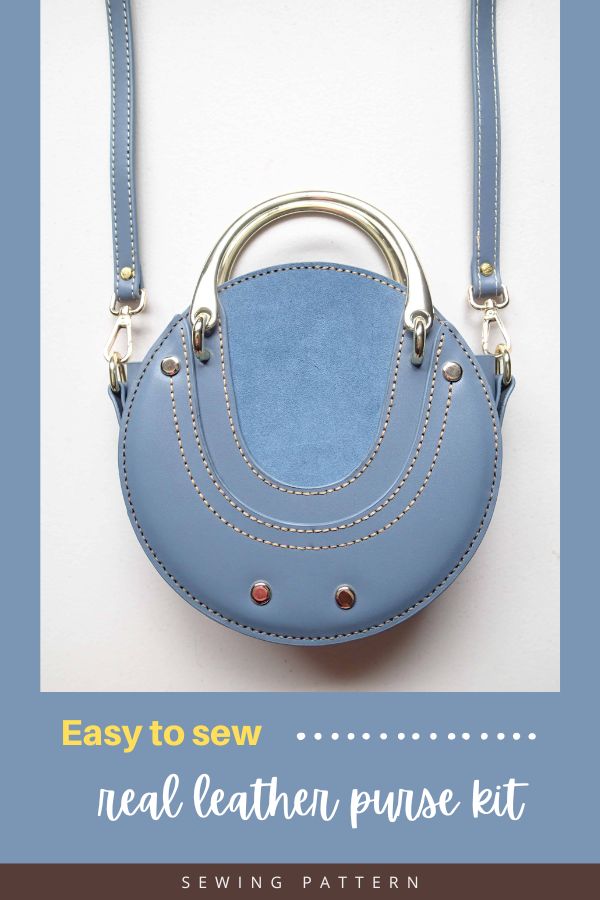 What are we trying next?
Now that Susan's husband has a beautiful handmade leather wallet, and Susan has her own leather bag too, Laura doesn't want to be left out. So she already has her order in for this beautiful and top of the range leather purse. This looks a much more advanced project so let's see how she gets on with that one! It could be some time before we share the end result!
Order your leather purse or wallet kit
So if you fancy sewing up a real leather project, check out all of the offerings from Babylon Leather. They have wallets, purses, totes, backpacks, fanny packs, messenger bags, lots of small leather accessories and loads more fun crafty ideas to try. Don't forget to claim your 15% discount with code SEW15 at checkout.
---
More ideas for purses and handbags to sew
Want even more purses and handbags to sew? Our shop is packed full of hand-picked favorites from talented designers, big and small. Here are a few recent additions you might like. Check them all out in our shop.