Simple to sew brush roll
|
All posts may contain affiliate links.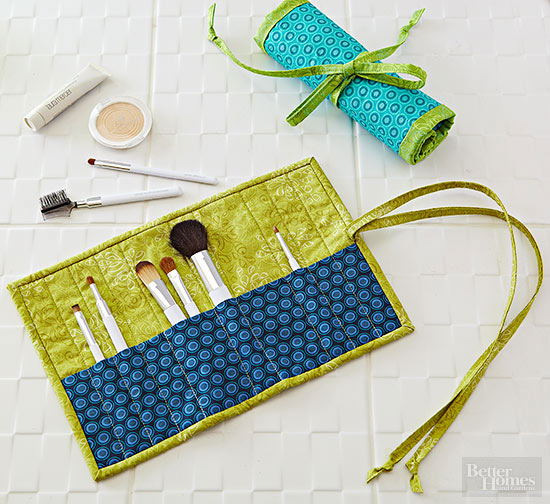 This simple 'roll' pattern has to be one of the most versatile patterns you can sew.  Everyone has something they can store and organise in a bag like this.  From toddlers storing pencils and crayons, to mom and teens using it for make-up brushes, students can store pens, crafters can use it for paint brushes, crochet hooks or knitting needles, and even Dad could use this to store small tools and screw drivers!
This pattern really is so very adaptable.  Adjust the width or height of the total opened size and the width of the individual storage slots to suit what's being stored and you can have a custom storage bag for almost anything.
To make the original size for brushes, you will need:
Materials:
9×22″ piece (fat eighth) for the pocket
9×22″ piece (fat eighth) for cover
18×22″ piece (fat quarter)  for lining, tie, and binding
8×12-1⁄2″ batting or fusible fleece
Water/heat or air-soluble marking pen – we love these Frixion pens
Finished brush roll: 8×12-1⁄2″ (or customize it to suit your contents)