Sewing Waist Pack With Insert Pouch pattern
|
All posts may contain affiliate links.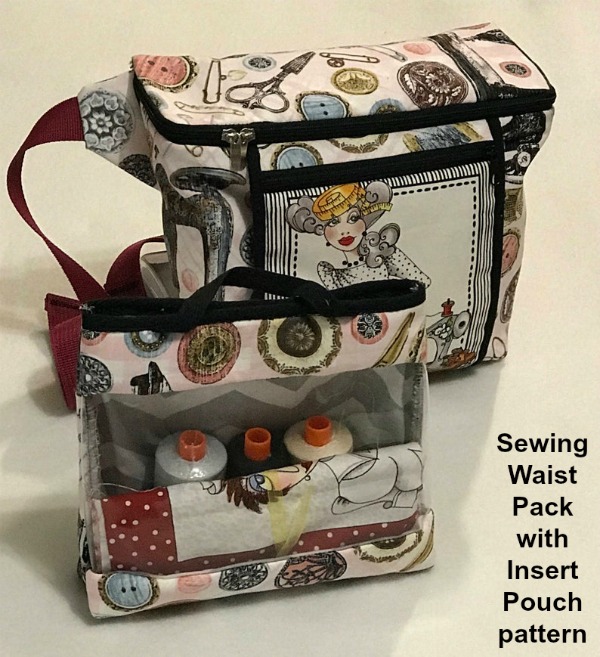 If you decide to add this pattern to your collection, you will technically be getting two patterns for the price of one. You can make a waist pack and a separate pouch, and use them together or separately.
The pouch also makes a nice gift bag, a cosmetic bag or just a nice pouch with handles and a clear vinyl window on one side.
The waist pack has been designed to hug your waist/hips and ergonomically shape around your body. The bag is specially designed wider on the top and narrower on the bottom, providing easy access to the items inside from the zippered top.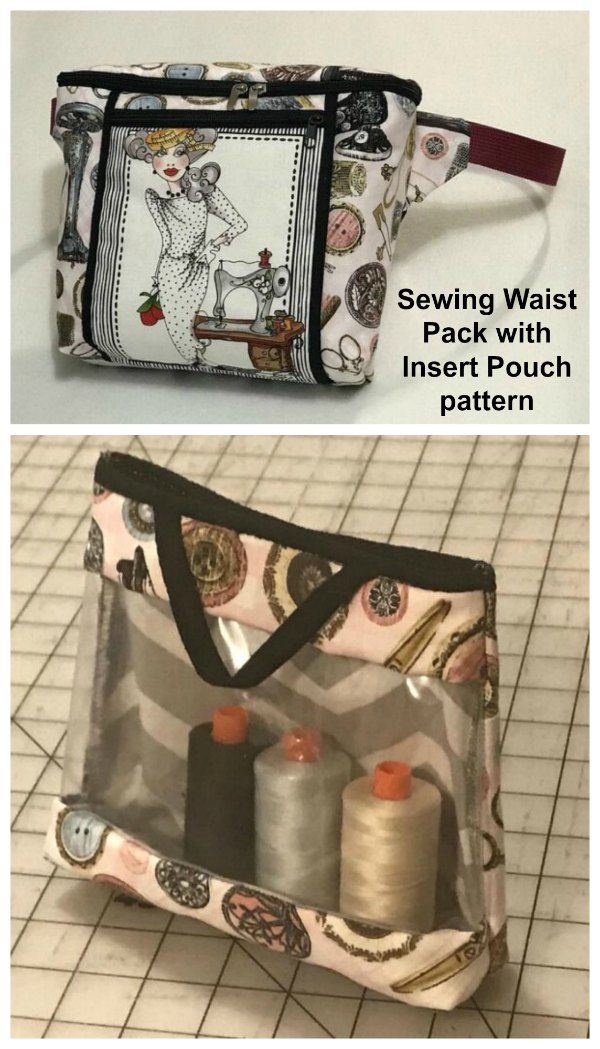 The waist pack has two zippered pockets, one on the front side and one on the back. The front zippered pocket is perfect for keeping any size cell phone in it. It also creates a slot behind it, which makes an additional pocket with open sides, where you can put pieces of fabrics, folded papers, patterns, ruler, DVD, etc.
There is a zippered secret pocket at the back that touches your body, which is designed to keep your valuables in it, such as cards, cash, checks, etc.; and it will also fit your phone.
The double slider zipper on the top flap provides easy access to the items inside from the center or any other position of the pullers.
There is an elastic strip that makes several loops to hold your markers, pencils, seam ripper, scissors and roller cutter, which are easily accessible and therefore well organized.
There is a divided pocket on the opposite side which is always helpful for smaller items.
You can check out all of the features of the waist pack and insert bag by watching the short YouTube video below:
When it comes to the insert pouch you will find that it is easily connected with the bottom of the bag on the Velcro strip. The insert pouch can be detached at any time and used as a separate little pouch. It's made of the same fabric as the waist pack itself. It has a clear vinyl window on the front panel, which is always helpful, and an invisible magnetic snap on the top. There are two little handles to pull the pouch out and an additional folded pocket on the back.
When you finish making the Sewing Waist Pack With Insert Pouch they will measure 9″ by 9″ for the waist pack bag and 7″ by 7″ for the pouch.
You can grab the pattern by clicking on the link below. The download has 33 pages with lots of detailed pictures and the pattern included.
See all the patterns from this designer here
More storage and organizers to sew
Want even more ideas for projects to sew for storage and organizers? We love to sew bags that help to keep things neat and tidy. Check out a few recent storage ideas to sew from our store.