Sedgeford Bag sewing pattern
|
All posts may contain affiliate links.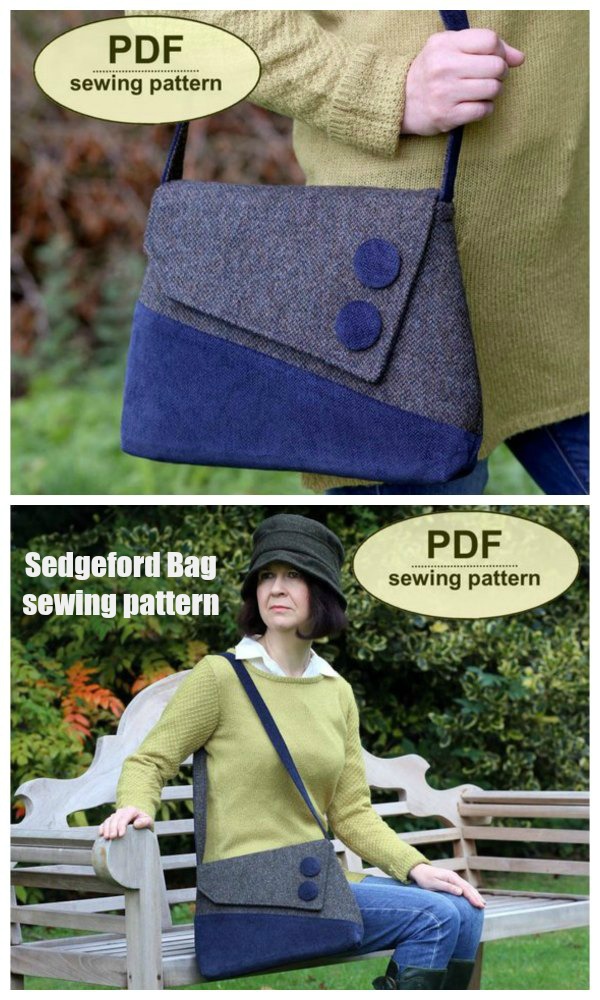 This is Charlie's Aunt's current favorite bag from her collection so far and she has quite a collection of excellent and distinctive patterns. This is the fun sewing pattern for The Sedgeford Bag. The simple clean lines of this design are reminiscent of the styles of the 1940s but with a modern asymmetrical twist, in the designer's signature style.
It's the perfect size to house all of the essentials for a day at the office, or out and about in the town or country. It is made with two contrasting fabrics and is suited to anything from tweeds paired with corduroy or velvet for autumn/winter to heavy cotton canvas or patterned linen for spring/summer. The flap template doubles as an interior patch pocket, of which you can add one, or two.
Sizing info:
When you have finished making yourself your own Sedgeford Bag it will measure approximately 9" (23 cm) high by 14" (36 cm) wide at the widest point by 2″ (5 cm) wide at the base and have a strap length of approximately 40" (102cm).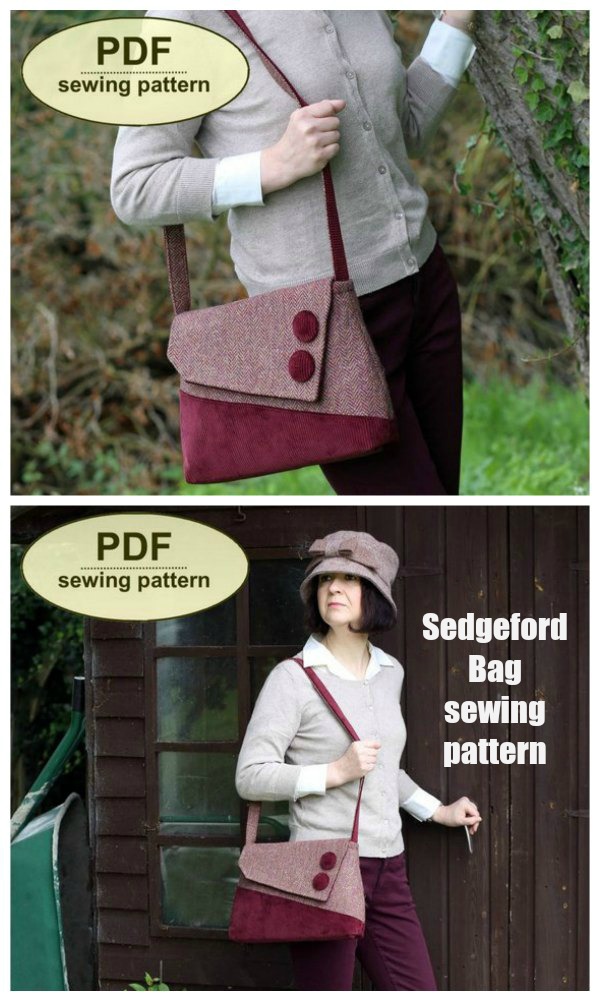 To make the Sedgeford Bag you will need:-
1/3 yard (32 cm) of 60" (154 cm) wide, or ½ yard (50 cm) of 44" (112 cm) wide of exterior fabric,
1/3 yard (32 cm) of 60" (154 cm) wide, or ½ yard (50 cm) of 44" (112 cm) wide of contrasting exterior fabric,
2/3 yard (62 cm) of 44" (112 cm) wide of lining fabric,
2/3 yard (62 cm) of 36" (92 cm) wide of firm sew-in interfacing (and optional of batting),
1/3 yard (32 cm) of 36" (92 cm) wide of fusible interfacing,
40" by 5" (105 cm by 14 cm) of fusible web,
One magnetic snap,
Two large buttons,
One piece of plastic canvas for base approx. 2" (5cm) by 12" (31cm),
Matching thread,
The pattern:
This PDF pattern has nineteen pages – ten pages including the cover, general, cutting out, and step-by-step instructions, and nine pattern sheets with the templates, which you must print and cut out. All of the templates are actual size and all seam allowances already added. As all of the templates are too big to fit on one sheet, you must cut out and tape these templates together where shown. Instructions for this are clear.
If you would like to add this pattern to your collection you can click on the light blue button below.
These are our most popular purse and handbag sewing patterns
Want even more purses and handbags to sew? Our shop is packed full of hand-picked favorites from talented designers, big and small. Here are a few recent additions you might like. Check them all out in our shop.