Ricochet Crossbody Bag sewing pattern + Quilting Tutorial (with videos)
|
All posts may contain affiliate links.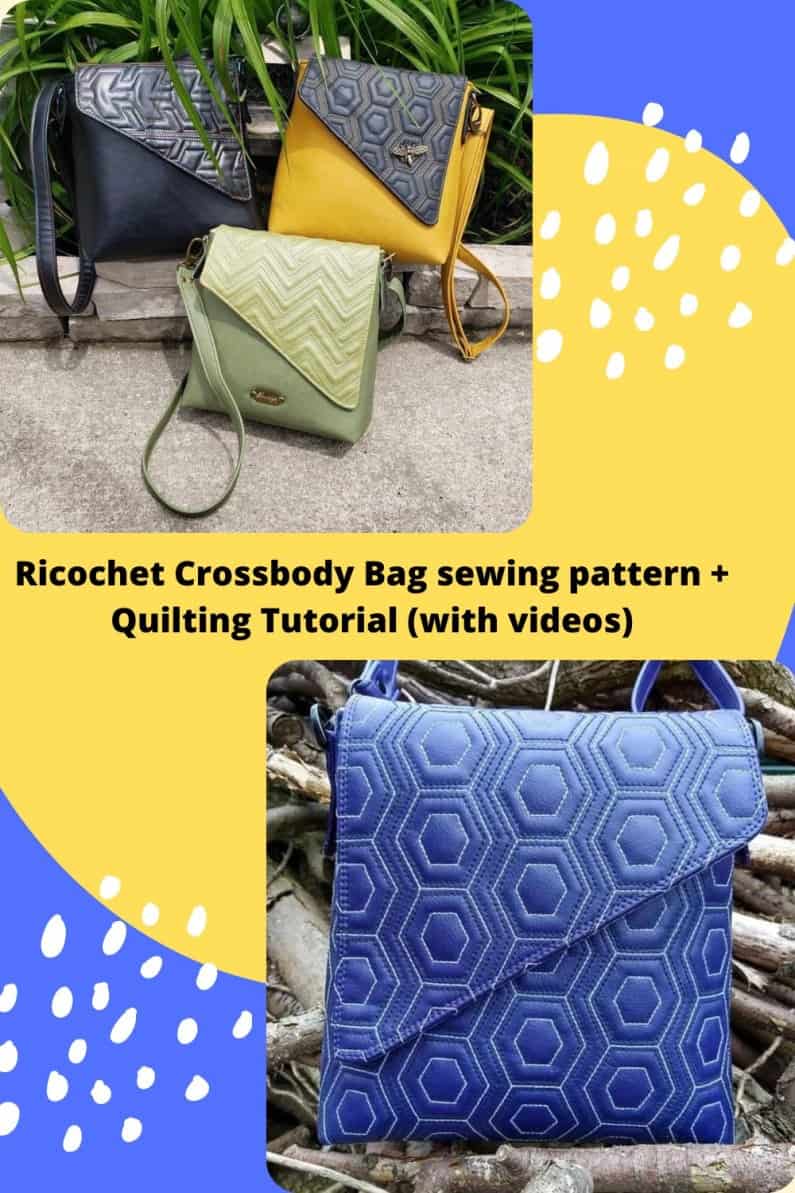 There are three options with this product:
1. The crossbody bag pattern
2. The quilting tutorial only and no pattern
3. The bag pattern plus the quilting tutorial.
THE RICOCHET CROSSBODY BAG:
This is a simple but stylish Crossbody Bag with a distinctive asymmetric flap. The bag features an internal slip pocket and a zippered pocket for security.
Ricochet is a blank canvas that looks super classy if left plain but is a wonderful blank canvas for adding your own decoration – try out the optional add-on quilting tutorial for a truly eye-catching design.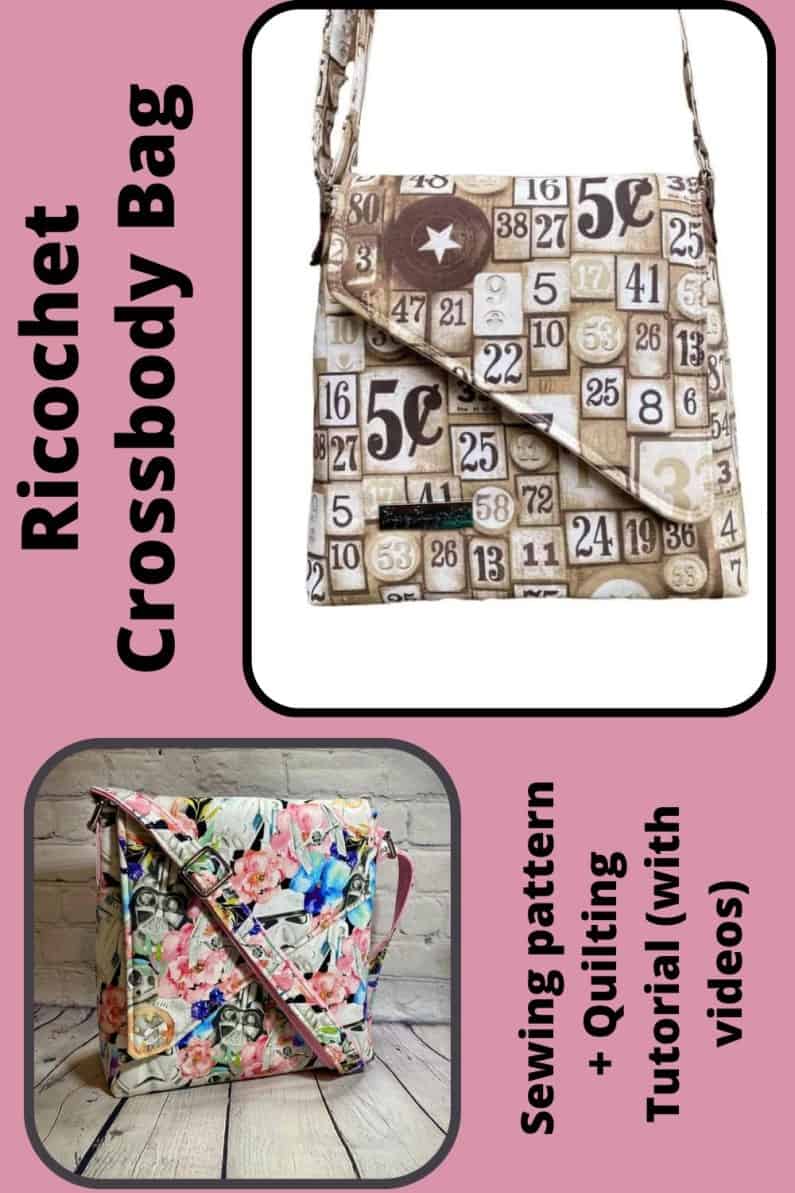 Sizing info:
10½" high by 10″ wide by 4″ deep at the base.
Skill level:
Beginner-friendly. Suitable for domestic machines.
Video tutorial:
The pattern is accompanied by a full video tutorial which offer's lots of hints and tips along the way for those who are visual learners. You can watch the video below, set out into a playlist of 14 step-by-step tutorials:
The pattern:
The pattern contains twenty-two pages of written instructions and digital diagrams to guide you through every step of construction. There is a full cutting list and full-sized pattern pieces to print on your home printer.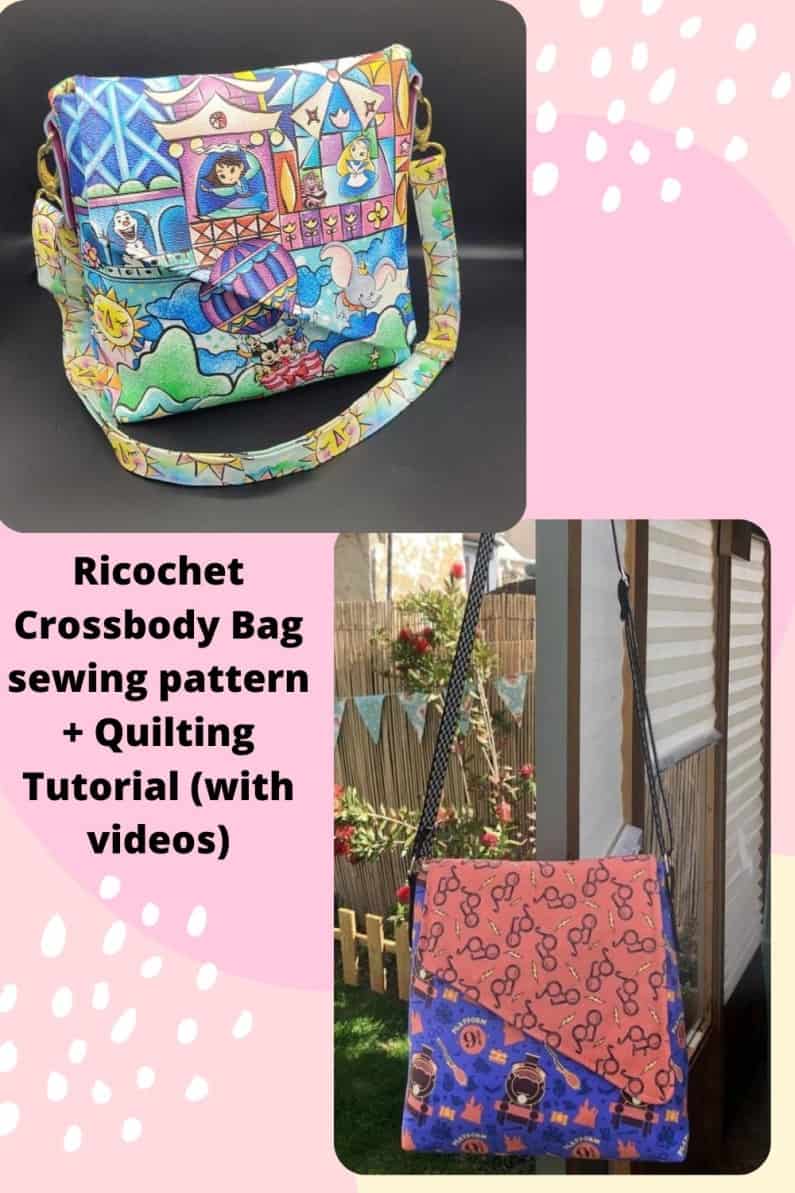 ————————————————————————————————-
QUILTING TUTORIAL FOR THE RICOCHET CROSSBODY BAG:
'Quilting Perfect' is a comprehensive quilting tutorial for bag makers. If you love the examples at the very top of this article that have the amazing quilting on the flap, then you'll want to grab this quilting tutorial so you can sew your own just like it.
The tutorial contains full instructions and templates to create three stunning quilt designs on either faux leather or cork leather. A full video tutorial is included within the pattern download.
The techniques used are specifically for these materials but could be adapted to use on other materials.
We all love to quilt on our bags but this tutorial will help you raise your game and create complex quilting designs that will make your bags the envy of all of your friends.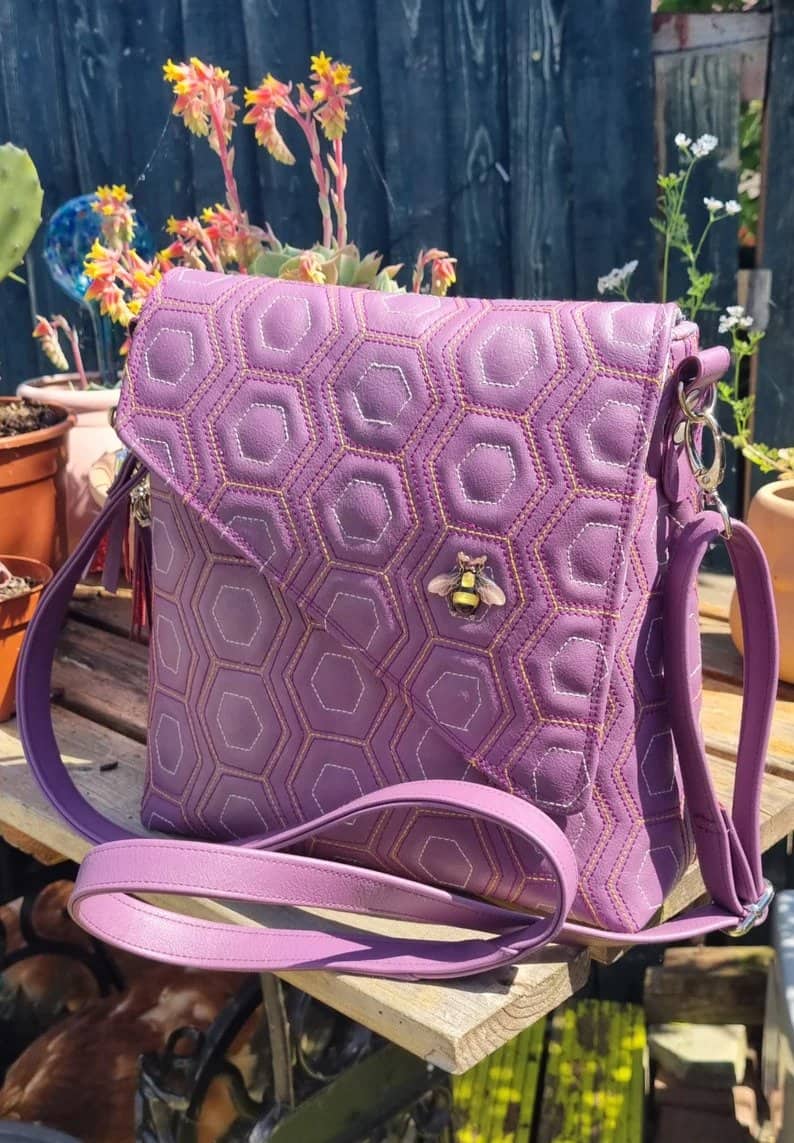 These designs can be used on any bag made from the appropriate materials. Use on the whole bag or perhaps just as an accent.
This listing does not contain the Ricochet bag pattern, just the quilting tutorial.
What will you need to be able to create them? A Teflon foot is ideal for sewing these sorts of fabrics. Silver pens (removable leather marking pens). Patience and accurate sewing skills.
—————————————————————————————————–
If you would like to download the pattern, or the quilting tutorial, or both, you can click on the blue button below. Pick your option from the drop down box.
And if you would like to see other bag sewing patterns from this designer then you can click on the red button below.
More ideas for purses and handbags to sew
Want even more purses and handbags to sew? Our shop is packed full of hand-picked favorites from talented designers, big and small. Here are a few recent additions you might like. Check them all out in our shop.