Printable sewing journal and notebook
|
All posts may contain affiliate links.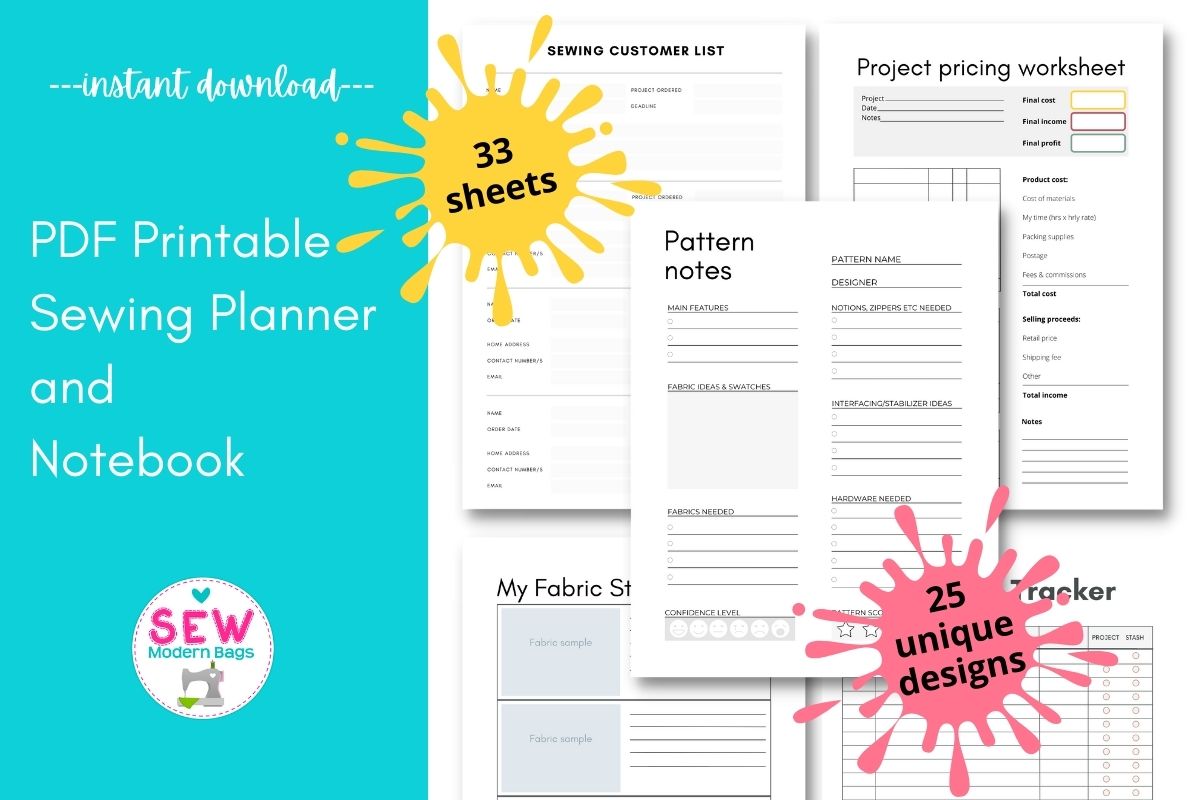 With 33 different sheets and 25 unique page designs, this Sewing Journal and Notebook will become the latest (and favorite) tool in your sewing supplies. Print just the sheets you need to organise your stash, your time, your patterns or your work in progress projects.
Pick and choose which pages you will need based on your project, and then pick from a page with the titles and prompts already filled in for you, or pick the page without the text so you can add your own headings, titles, and details. Many of the pages come with and without text so they are totally versatile.
This sewing journal has been designed especially for those who sew bags, purses, accessories, and home decor projects. There are still pages for garment sewers too of course, including garment project pages and design pages, and pages for recording measurements. But bag sewers will particularly enjoy using the hardware inventory pages, the project costing worksheet, and the project and pattern notes.
Hardware inventory
Project and pattern notes
Product/project pricing worksheet – how much did it cost to make? How much profit did you make if you sold it?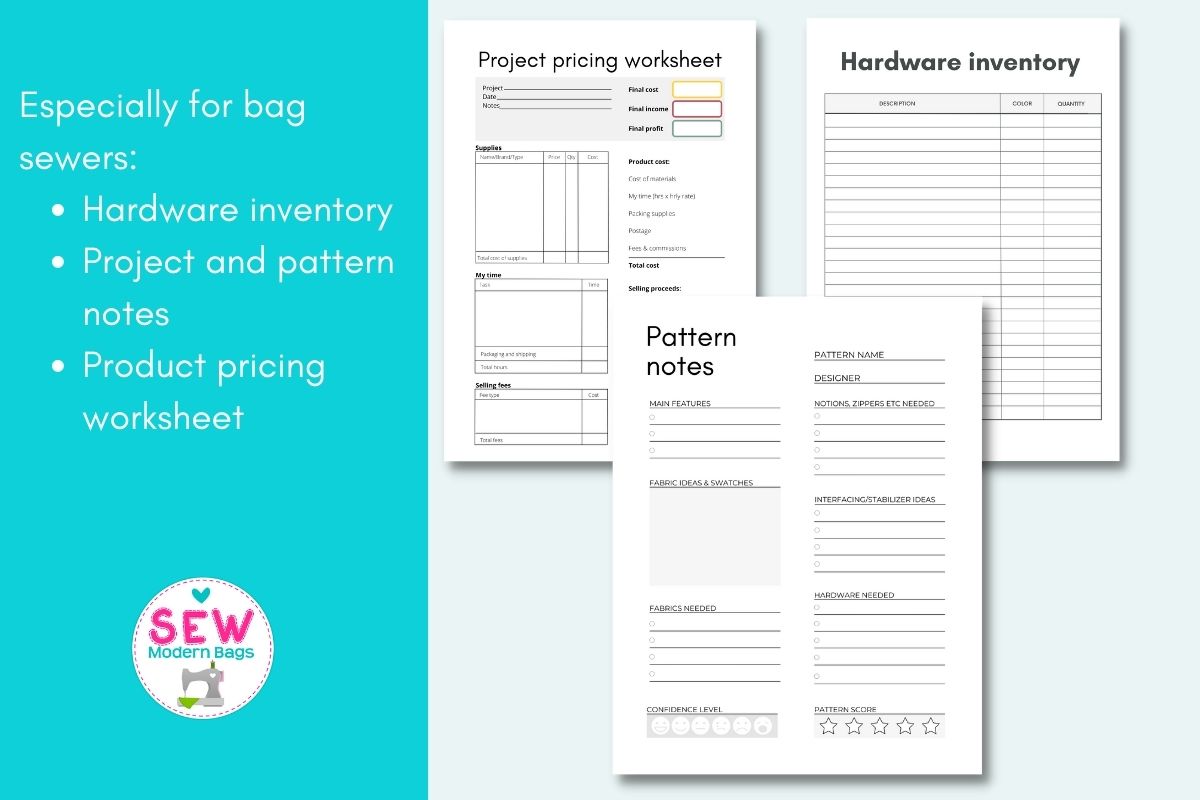 For the garment sewer, pages to plan garment projects, a croquis for your own fashion sketches, and sheets for recording measurements, your own or a friend/client's.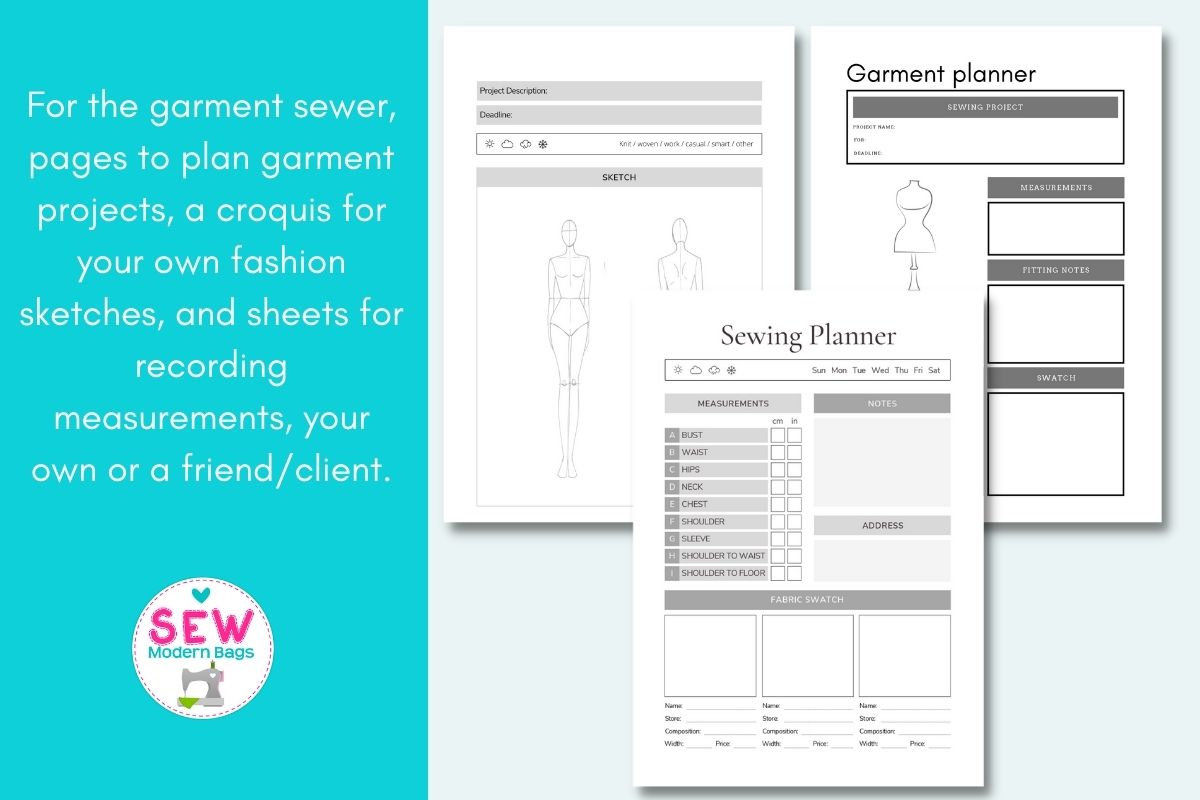 Sew to sell? Then you'll find handy worksheets to keep track of your clients, their orders, and project deadlines. There is an invoice to fill in, a services price list to hand out to prospective customers, and the all-important project pricing worksheet so you can work out your costs, how much to charge and how much profit you'll make on your project.
Pages to organize your sewing business:
invoice
customer records
project costing worksheet
services price list to complete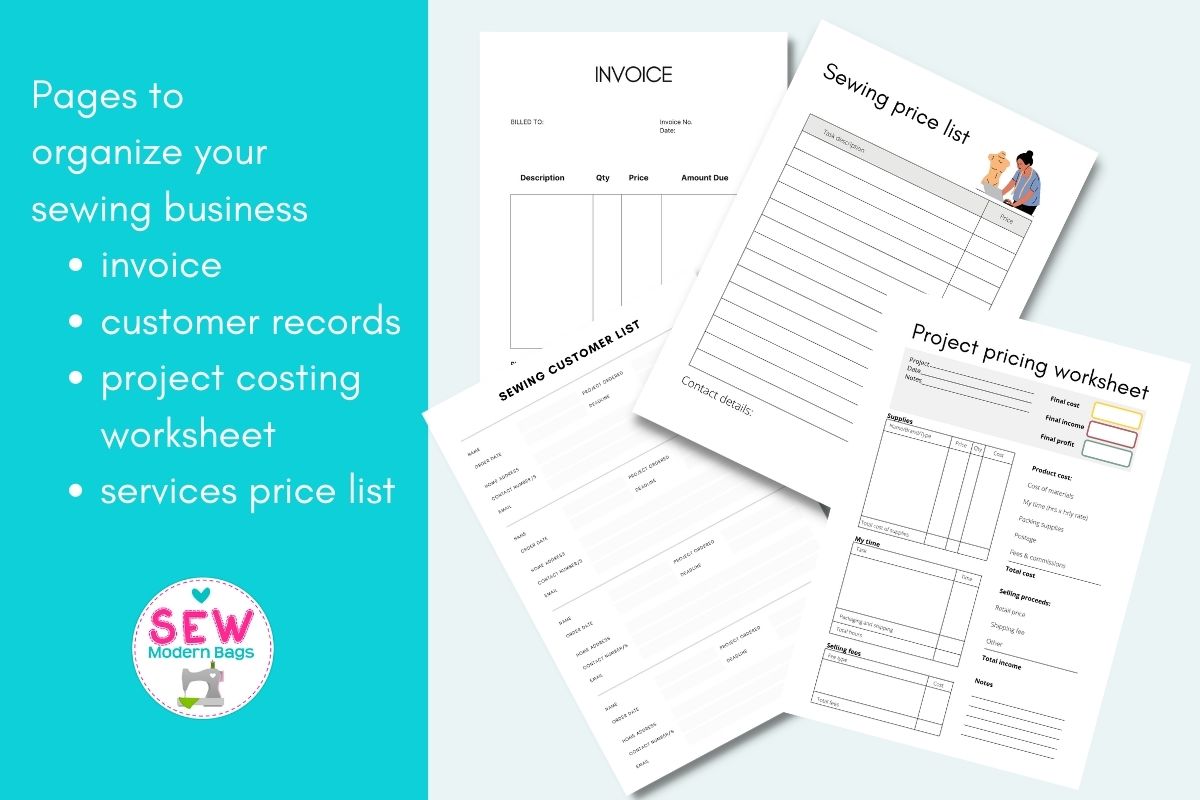 Like to stay organized? Then you'll love the 4 different pages for recording your fabric stash, a spending tracker, 2 to-do lists, a hardware (or materials) inventory page, and the sewing task lists.
When planning a project you can use the shopping list pages to keep a note of exactly what you need so you never come home and find you've forgotten something important at the sewing store.
4 pages for recording your fabric stash
Two different to-do lists
A spending tracker for hardware, fabric, interfacing, notions etc
Hardware inventory sheet
Sewing task list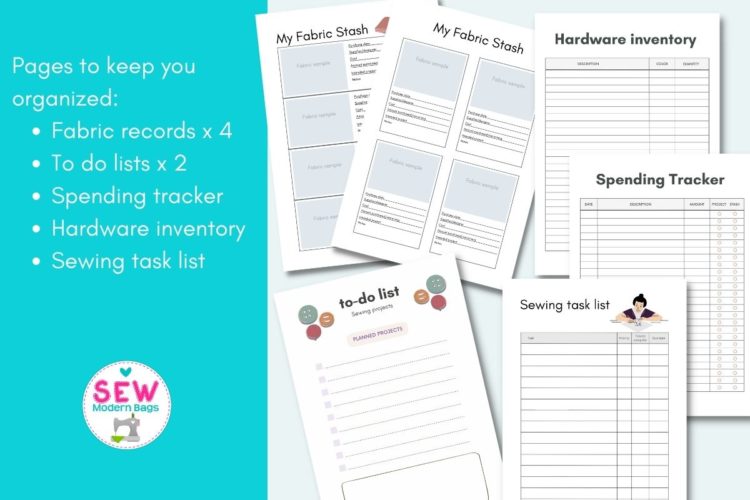 Keeping your digital patterns organized can sometimes be a challenge but we think the pattern notes sheet will help. It can be used two ways:
1 – use it to record what patterns you have in your stash and make a note of the basics, i.e. type of bag, main features, hardware and fabric needed, designer. This can help you pinpoint your next sewing project with ease and see immediately if you have the right materials on hand before you even track down and open the PDF file. It also acts as a pattern inventory so you don't buy the same one twice – yes it's happened to us several times.
2 – use it to keep a record of a sewing project planned, in progress, or completed. Use it as a shopping list as you plan your next project, record the materials you used or plan to use. Record the zipper type, any notions and hardware needed or used. What interfacing will/did you use? If you plan to sew this bag again, it can help you decide if the interfacing was to your liking or do you want to try something different next time? Lastly, give this pattern a score or rating and perhaps use the back to write notes to help you next time you sew one, or record info about your customer.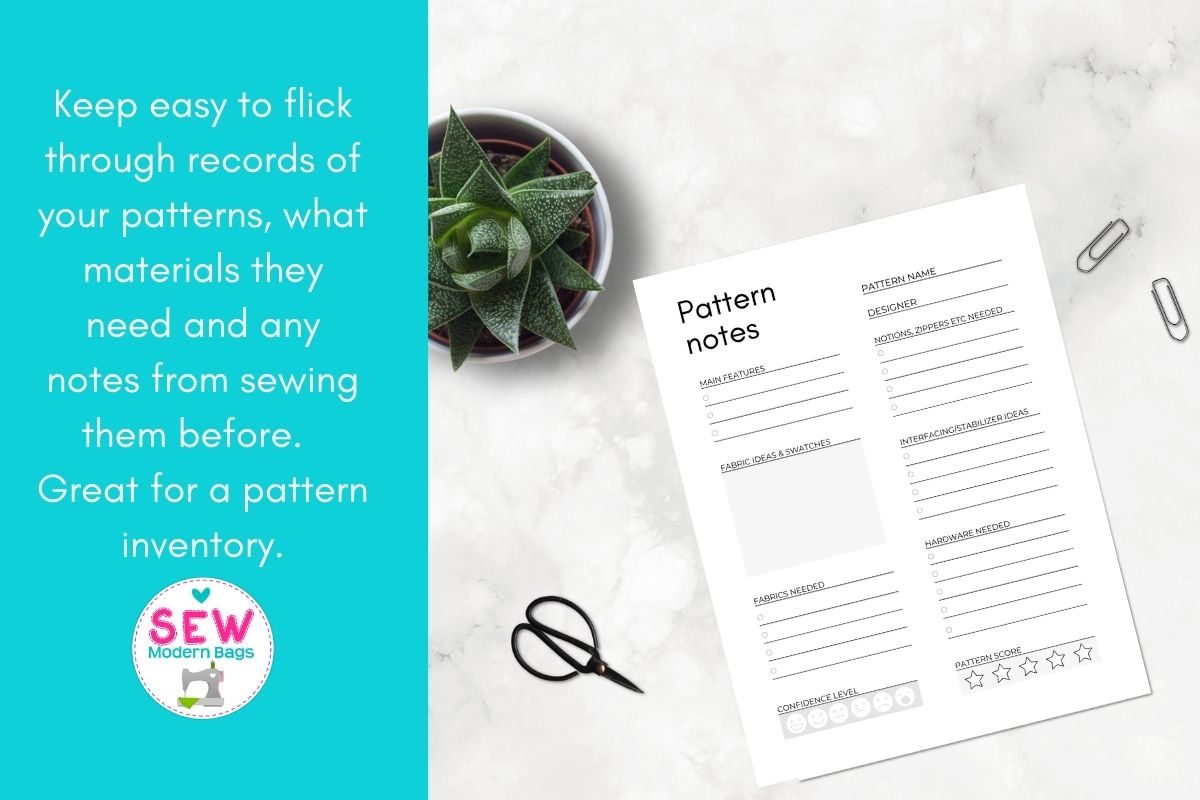 Other pages we think you'll use often. These sheets can stay on your sewing table to be used every day. Jot down a note about a seam allowance, a measurement or a sewing machine setting in the 5-minute reminders. Note down the materials and supplies you need on the shopping list pages. Plan out your sewing calendar with the monthly goals, whether it's to sew a particular pattern, learn or practice a new sewing skill, or anything else sewing related. Use the handy fractions to decimals calculator to tell you how many inches are 2.625. (It's 2 and 5/8ths of an inch)
Monthly goals for planning your sewing time and learning new skills
2 types of shopping list and 2 without text/titles
A handy fractions to decimals reference table
Quick 5 minute notes sheet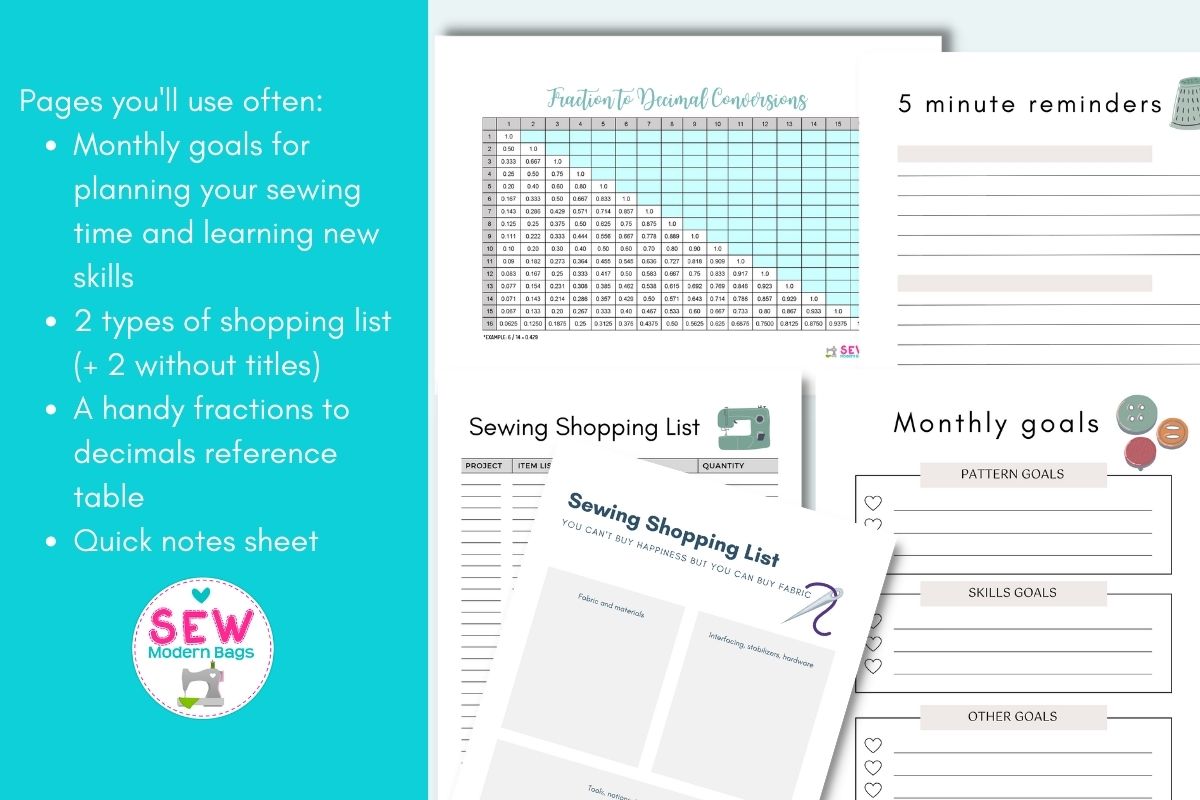 For many of us, our fabric stash is one of our most treasured and admired possessions – and right so! But it does have a tendency to expand, sometimes into other rooms, or hidden boxes under the bed, or behind the towels in the linen cupboard (shhh, don't tell my husband). So keeping an accurate record of what you have, where you bought it, how much there is left, (and where you hid it), can be important.
The pack includes two different record sheets for recording your fabric hoard or purchases, and each version comes with text, and also in a version without text so you can record any information that's relevant or interesting for you.
Keep a detailed inventory of your fabric stash
Never run out of your favorite lining colors
Know instantly if you have enough for the pattern you want to sew
Pages without text included too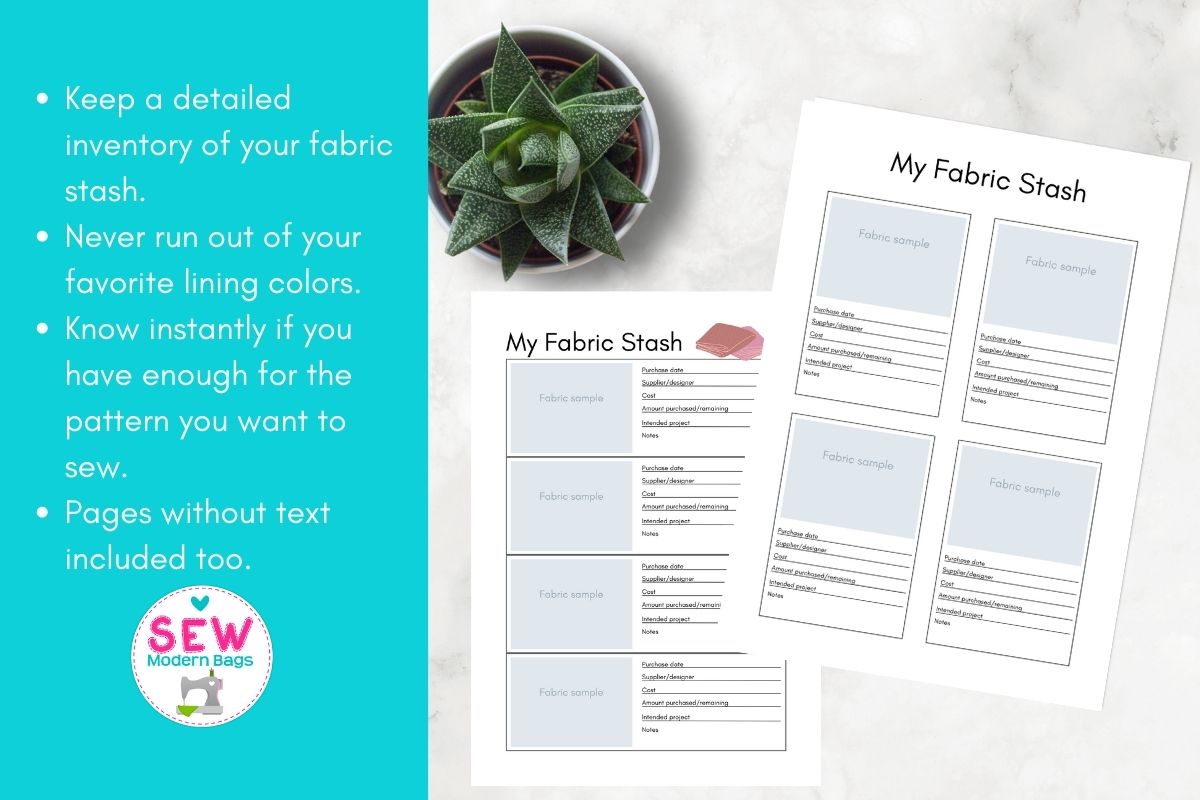 Like to make sketches of designs you see or inspirational ideas? These pages allow you to jot down your ideas or plans for future projects. I use them to plan out bag sewing projects where I'll be using several different fabrics, to audition them against each other and record which fabrics look best in what position on my bag.
I also keep a couple of sheets in my purse and have been known to grab one out in a coffee shop to take a quick sketch of a purse I like carried by one of the other customers!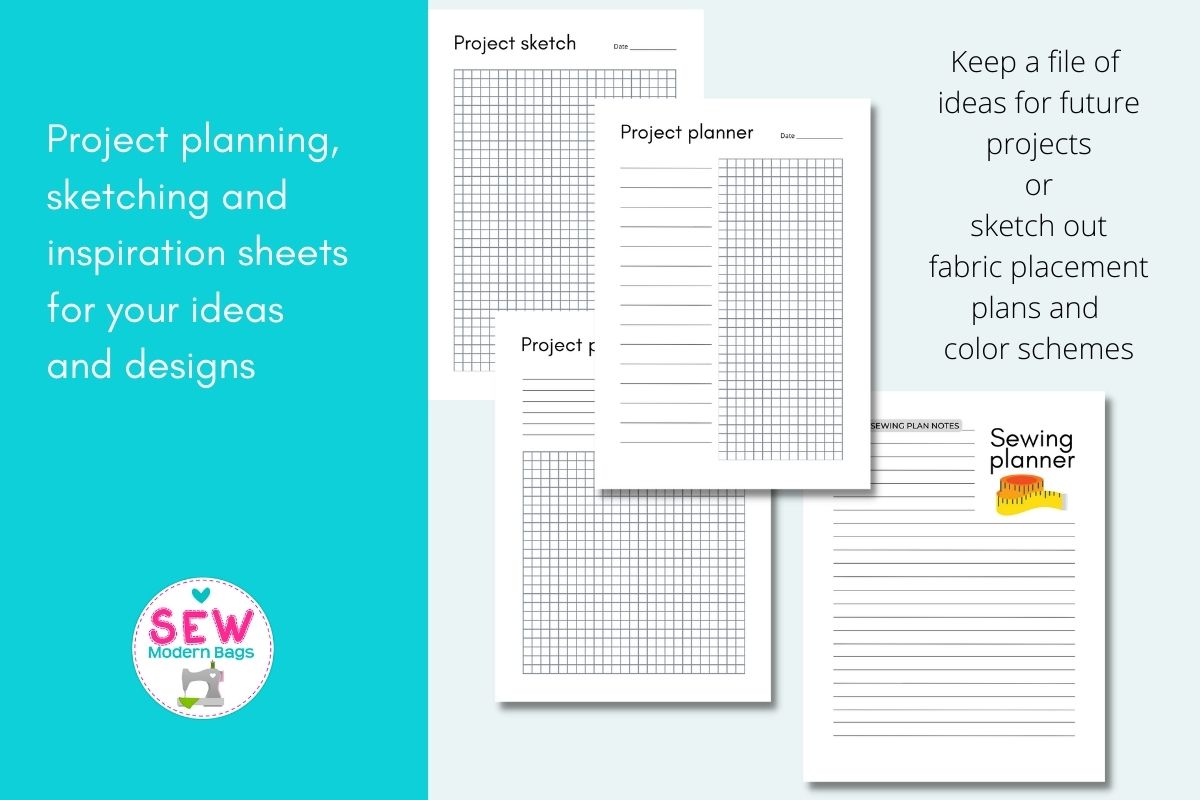 All of these are print-at-home pages. Download the digital PDF file and print the pages you need, all of them or individually, on A4 or Letter paper. Use fit to page in your print settings and the pages will automatically resize to fit your paper.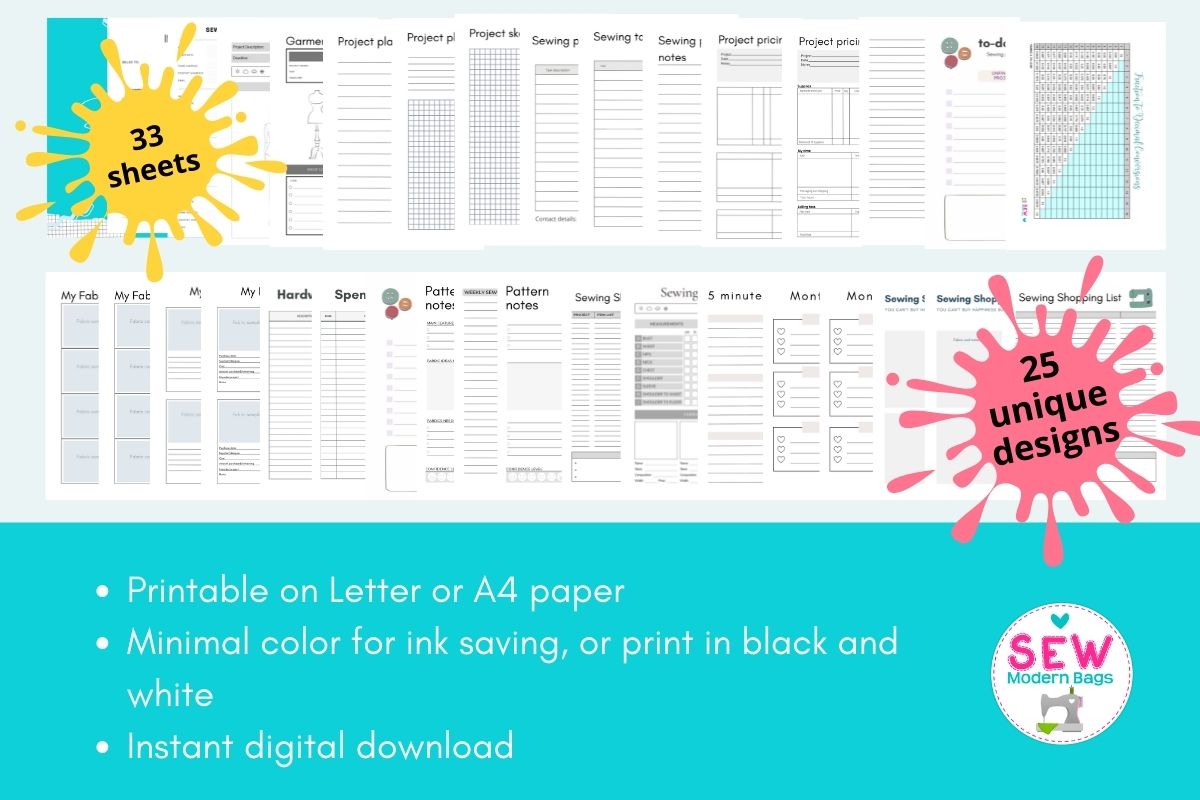 Download:
Please note this is a digital download PDF file, not a paper product we will send to you in the mail. Please download immediately after check out. Print, fill, organize, sew, enjoy.