Small Traveling Craft Bag free pattern
|
All posts may contain affiliate links.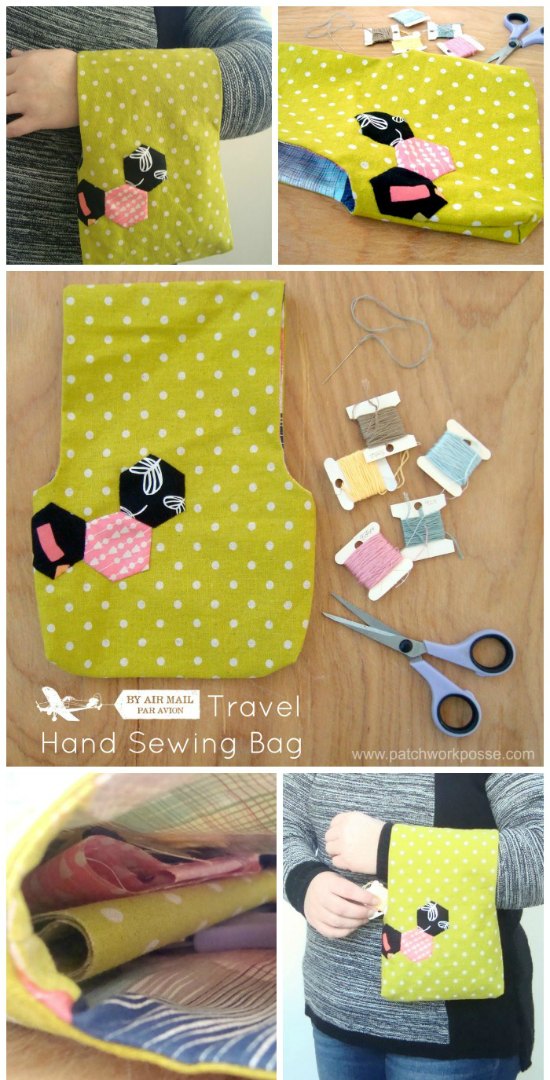 Here's a great little sewing project for those of you who like to sew or crafft on the go.
If you are always digging around in deep bags, looking for your sewing supplies and projects, then this Small Travelling Craft Bag might be just what you need.
You can hang it on your arm or when you sit down you can slip it over the arm of an armchair. And it is very easy for you to slip your hand in and grab your embroidery, thread, scissors, hexagons, templates or whatever you've got in there. It even works great for crochet or knitting balls of yarn.
Because you can sit anywhere with your Small Traveling Craft Bag you can also take it in your car or on an aeroplane. It works with most kinds of travel.
You can make the bag super simple just with exterior fabric and lining or as the creative designer has done you can add some hexagons on the front for a little fun addition. If you choose to add some hexagons then you can add as many as you like.
When finished the Small Traveling Craft Bag will measure approximately 10″ by 8″. On the bottom, there is a little box pleat so it makes the bag a little nicer inside. It's also reversible so you can pick and choose what fabrics you'd like to show off.
If you click on the link the designer has kindly added a page on her website for free printable hexagon templates of various sizes. Just pick which size you want depending on whether you like smaller or the larger ones.
Click here for free printable hexagon templates
What is needed to make the Small Traveling Craft Bag
12″ by 20″ quilting weight fabric for the outside of the bag
12″ by 20″ fabric for the inside lining
Three scraps of fabric for hexagons