Ambrosia Bag FREE sewing pattern
|
All posts may contain affiliate links.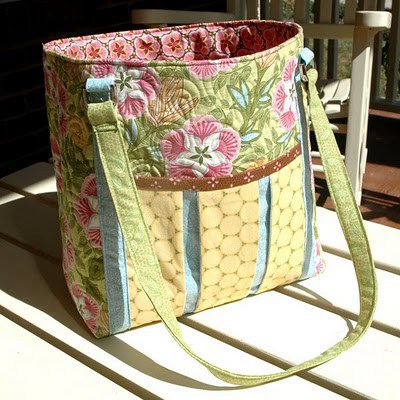 [UPDATE – sadly this pattern has been withdrawn from Amanda's website, the link now goes to a broken page and we've not been able to find it anywhere else. We are sorry when this happens, and a bag we recommend is no longer available, but these things are outside of our control. In the meantime, you might like to look at these FREE TOTE BAG PATTERNS]
Craftsy instructor Amanda Murphy has the most exquisite sewing skills, and a fabulous eye for color, fabric and design. Here she's put together for us a free PDF tote bag pattern that we think you'll enjoy sewing and using. Featuring pleated pockets for plenty of storage and strong straps, you'll be able to pack everything you need in this handy tote bag.
A full materials list is included in the download and this project is a great one to use up smaller pieces that co-ordinate.
Sew more tote bags and you'll be happier - we promise 😉
When you just need to sew and don't want to get into a really complicated project, you can't beat a classic sewing pattern for a tote bag. We've got 50 of our favorite tote bag patterns hand-picked for you in the store. Go to the shop page to find them all saved by category.