Polly Cross-body Pouch pattern
|
All posts may contain affiliate links.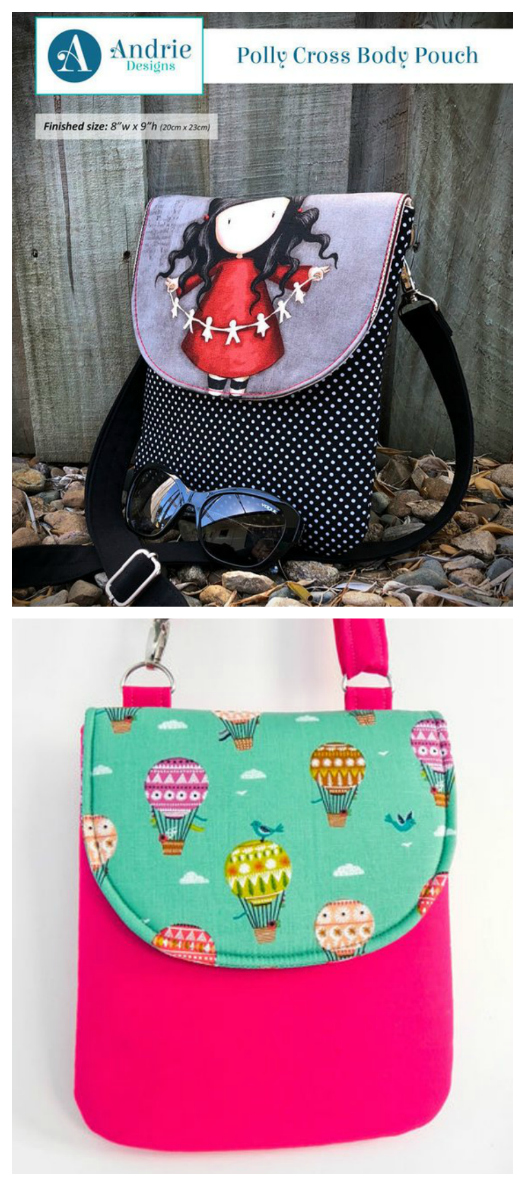 This designer always creates simply designed bags with an easy to follow sewing pattern. Andie Designs is one of our favorite sewing pattern designers and we think you'll enjoy sewing any of her patterns. This one is a great one to start with and is rated as easy, so ideal for confident beginners.
The Polly Cross Body Pouch is one of her classic designs that is suitable for an advanced beginner sewer.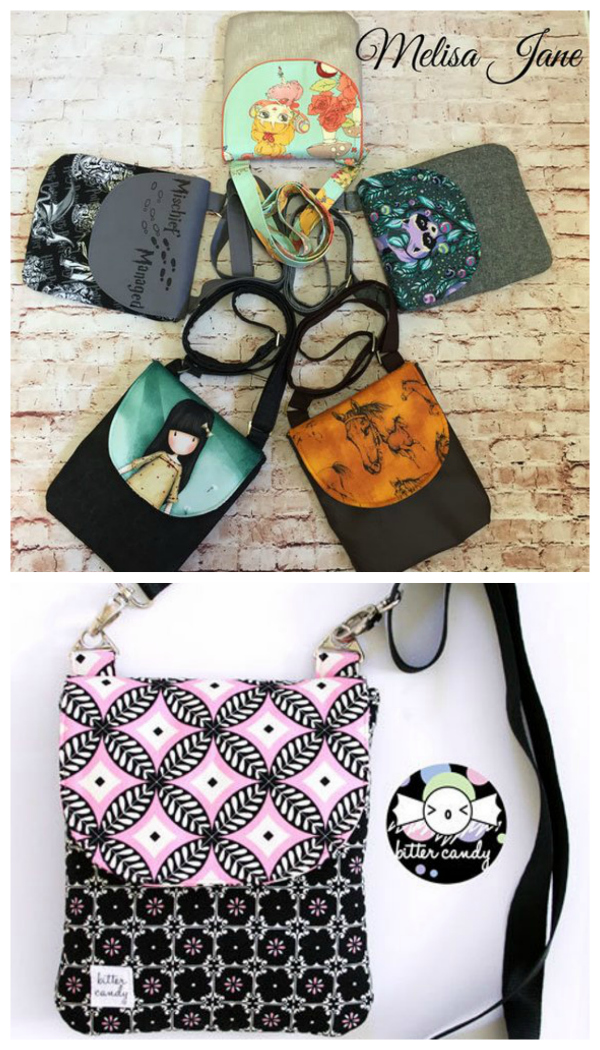 The flap of the bag gives you a great opportunity to show off a favourite fabric of yours. We think this bag looks stunning with a soid color for the body (or a small print), and then a larger feature print for the flap of the bag. Just look at some of the examples here for inspiration. The adjustable strap is generous in length, allowing you to wear the pouch cross-body or simply on one shoulder. The pouch is a super quick sew, making it perfect for last minute gifts.
The Polly Cross Body Pouch, when finished, is 8″ wide by 9″ high.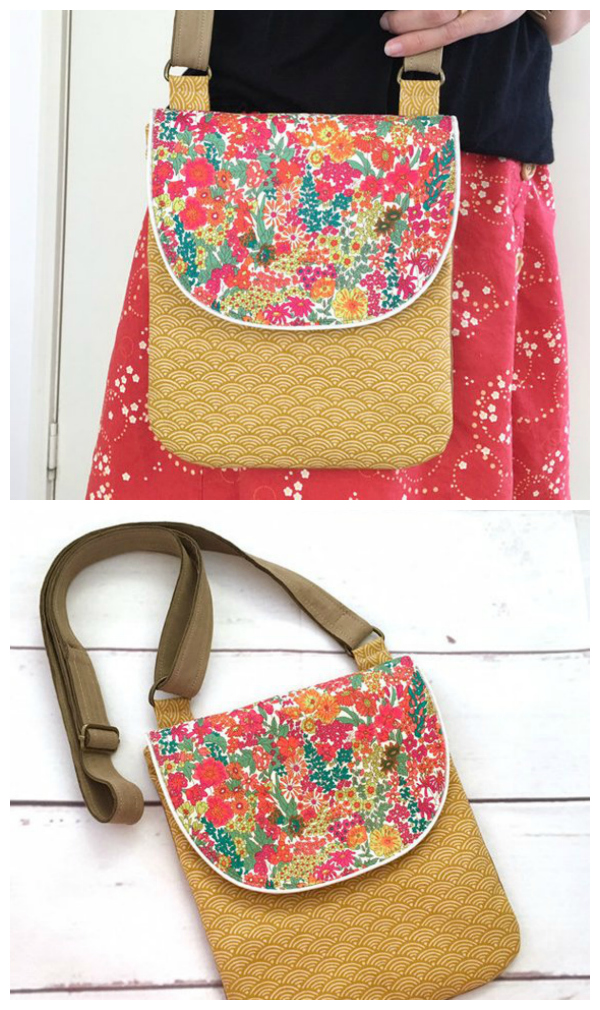 Under the flap is a zipper pocket on the front of the bag which might be great for your phone, keys, or small wallet. Whatever you need to keep easily on hand. Don't be concerned about the zipper if it's your first time. The instructions will take you through it step by step, and you can always practice on some fabric scraps until you feel confident.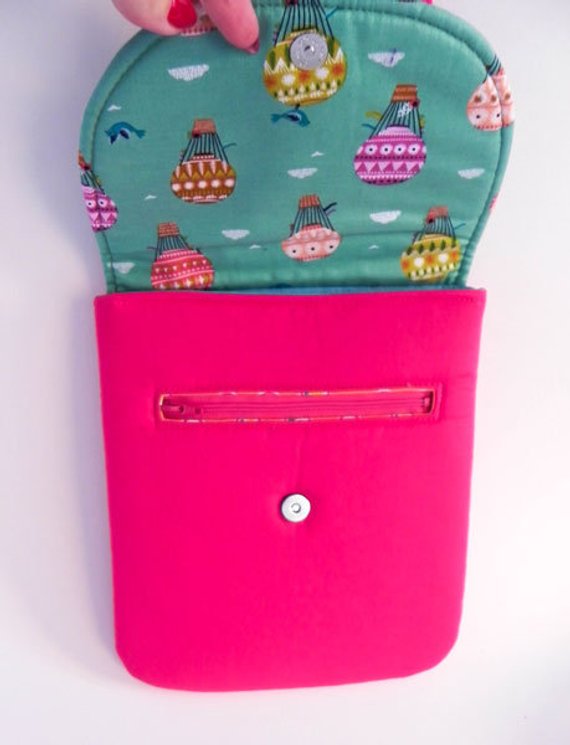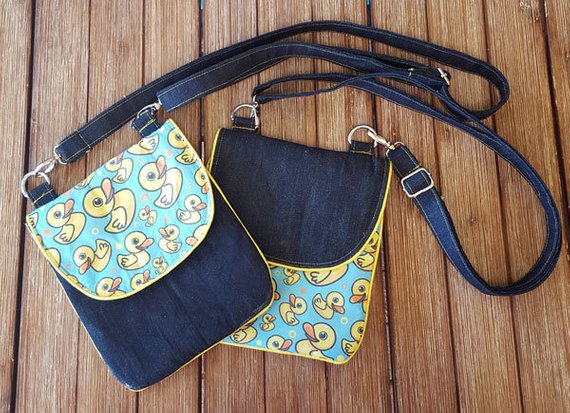 What you will need to make the Polly Cross Body Pouch
3/8 of a yard of quilting cotton fabric for the outer body and flap
3/8 0f a yard of quilting cotton fabric for the lining and pocket
4″ by 66″ of fabric for the strap and connectors
1-3/4 yards of 20″ wide light-medium weight fusible interfacing (i.e. Pellon Shapeflex SF101)
28″ by 11″ of stable foam interfacing by Annie's Soft (or equivalent foam) OR Fusible Fleece (i.e. Pellon Thermolam 971F)
1-1/2″ by 3″ of Firm Fusible Stabilizer (i.e. Pellon's Peltex #71F)
One 3/4″ magnetic snap – check out our resources page for lists of our favorite purse hardware suppliers
Two 1″ D-rings
Two 1″ swivel hooks
One 1″ slider
One 6″ long coordinating zipper
Sew more crossbody bags and you'll be happier - we promise 😉
For the easiest shopping and days out, you can't beat a crossbody bag for leaving you hands-free. We've got 60+ of our favorite crossbody bag patterns hand-picked for you in the store. Go to the shop page to find them all saved by category.