Plait Handle Tote Bag pattern
|
All posts may contain affiliate links.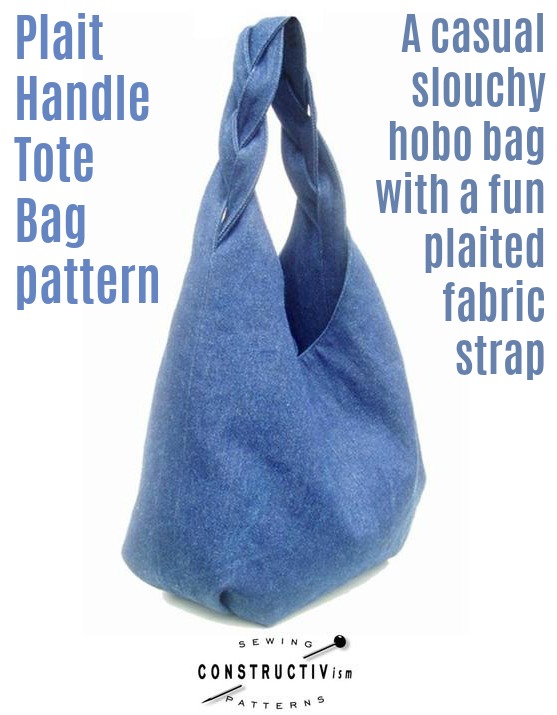 This is a wonderfully casual slouchy hobo bag with a fun plaited fabric strap. We love how the braided strap just seems to grow out from the body of the bag in a very natural and organic way.
This very talented designer has braided the handle of this tote using the super-cool "mystery plait" technique used in traditional leather crafting. She has adapted it to make it in fabric so that the handle emerges seamlessly from the body of the tote, giving a unique designer look and a satisfyingly thick, strong handle. The base has a pleated detail to give a soft and up-to-date shape.
The tote is fully lined with an internal pocket and has been made in a great practical everyday size. This design would suit medium to heavyweight cotton, canvas, linen, denim, etc.
What you will need to make the Plait Handle Tote Bag
1.25m length (120 -140 cm wide off the roll) of medium to heavyweight fabric for the exterior & facing
80cm by 70 cm piece of fusible (iron-on) medium -heavyweight interfacing
50cm length (120 -140 cm wide off the roll) of medium to heavyweight fabric for the lining. Please note that choosing a lining which is not too lightweight will help add structure to the tote
Please note measurements are written in centimetres only (not inches).
The pattern: Your pattern download will have an instruction file with 7 pages of clear step-by-step instructions with photographs and drawings. The instructions assume some basic sewing experience but are highly detailed & can be followed by a confident beginner. You will also have accurate, computer-drawn pattern files. One file is sized for printing on A4 (210 x 297 mm) paper, the other for printing on US Letter (8.5″ x 11″) size. Obviously, you will only need to download and print one, either A4 or US Letter size.
See all patterns by this designer
Sew more tote bags and you'll be happier - we promise 😉
When you just need to sew and don't want to get into a really complicated project, you can't beat a classic sewing pattern for a tote bag. We've got 50 of our favorite tote bag patterns hand-picked for you in the store. Go to the shop page to find them all saved by category.