Paradigm Crossbody Bag sewing pattern
|
All posts may contain affiliate links.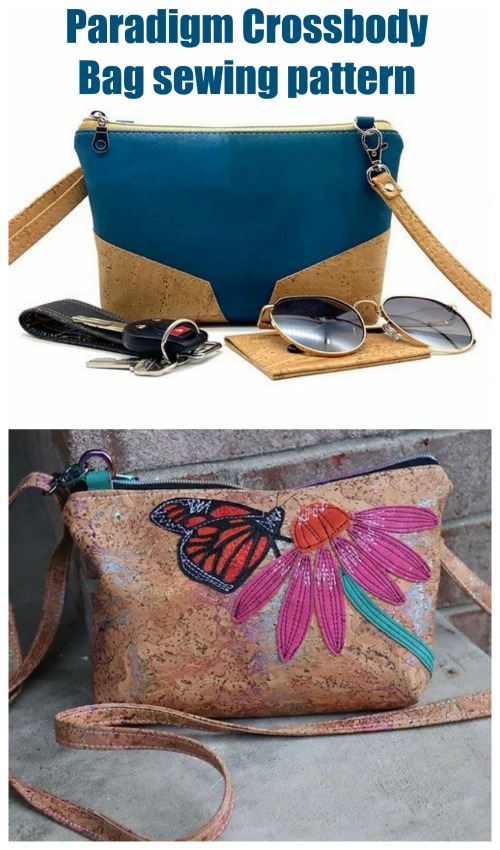 Here's a small but spacious crossbody bag that converts to a clutch. The Paradigm Crossbody Bag features a main open pouch, one back zipper pocket on the outside, and four different customization options to give you several different looks from the same pattern. This is an awesome beginner bag including learning how to install zippers!
This bag pattern doesn't require a lot of hardware and is great for those who are dipping their toes into zipper prep. It has multiple options for customization (the flat lay designs lends itself perfectly to applique work), making this mini crossbody bag a versatile and fun pattern to sew.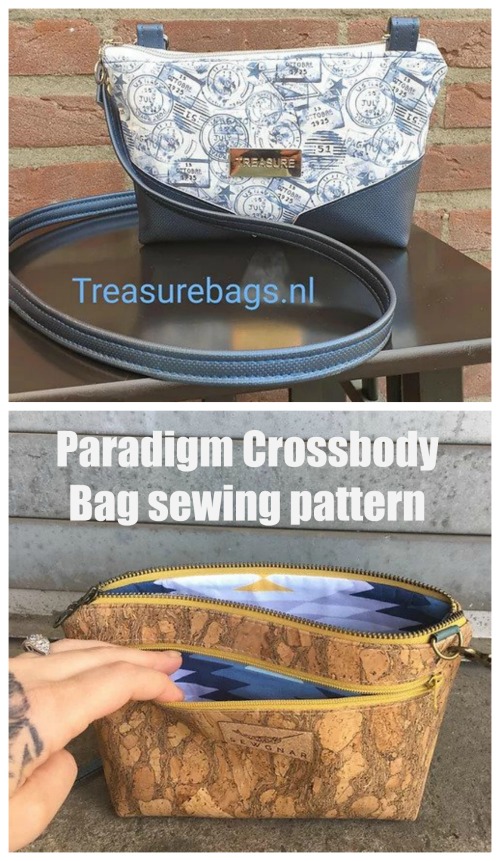 The outside of this pattern is designed for use with non-fraying fabrics cork, vinyl, thin leather, or kraftex, however, with some additional interfacing and imagination, it can easily be converted to use all cotton throughout. We really like the style with the pretty cotton print for the main body of the bag and cork or vinyl for the styled corner accents – so cute.
Skill level:
Suitable for a confident beginner sewer, needs to sew zipper
Sizing info:
When you have finished making yourself a Paradigm Crossbody Bag it will measure approximately 6" (15.25 cm) tall by 9" (22.75 cm) wide with a 2" (5cm) base.
What you will need to make a Paradigm Crossbody Bag:
Fat Quarter of Exterior Main Textile – cork, vinyl, leather, etc,
Fat Quarter of Lining Fabric – Cotton,
Fat Quarter medium weight interfacing (decovil light, pellon 808, Vilene H250),
One 10" (25.5cm) zipper – #3 or #5 coil zipper or zipper by the yard + zipper pull,
One 8" (20.5cm) zipper – #3 or #5 coil zipper or zipper by the yard + zipper pull,
Two 0.5" (13mm) d-rings,
Two 0.5" (13mm) lobster clasps,
Two 7mm Double Cap Rivets,
Rivet setting tools,
Fabric hole punch (radial or hand punch),
Clips (Wonder Clips, alligator clips, etc.),
Optional – one .5" (13mm) strap adjuster/tri-slide,
Quick-dry fabric glue or Double Sided Tape,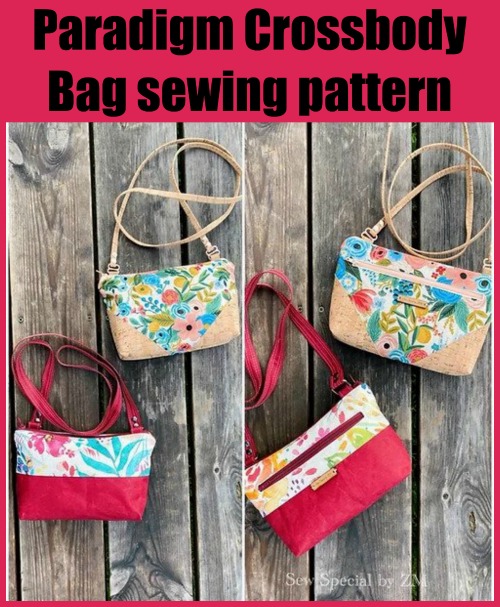 The pattern is an instant download PDF sewing pattern, 12 pages in total, including 8 pattern pieces. Print at home on 8.5″ by 11″ paper. This PDF includes full step-by-step instructions as well as measurements in both metric and imperial. Click on the light blue button below to get the pattern.
This is a great pattern from designer, SewGnar. If you would like to see more patterns from SewGnar then click on the red button below.
Click here for more patterns from SewGnar
Sew more crossbody bags and you'll be happier - we promise 😉
For the easiest shopping and days out, you can't beat a crossbody bag for leaving you hands-free. We've got 60+ of our favorite crossbody bag patterns hand-picked for you in the store. Go to the shop page to find them all saved by category.