All posts may contain affiliate links.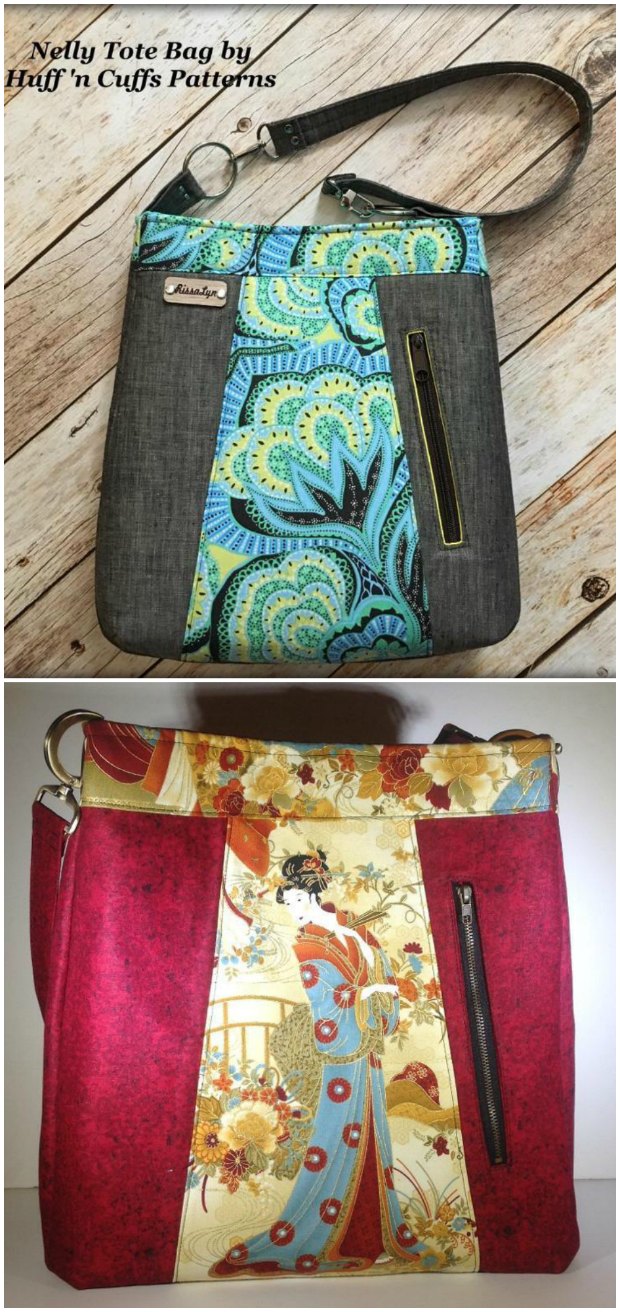 Do you have a very special fabric you've been keeping or a fabric with a large scale print that just doesn't seem to fit well on any of your existing bag patterns? Then Nelly might be just what you are looking for.
With a striking central panel, there is room to show off your favorite fabrics without overwhelming the entire bag with a large scale print. Mix a solid with a featured fabric for a stunning look.
This bag has plenty of pocket options including an unusual zipper pocket on the outside and a hidden pocket too – which is optional. The bag can be made with or without the concealed compartment.
Sizing / Finished Measurements:
Height 14 Inch
Width 13 Inch
Depth 5 Inch
Materials:
Exterior fabric – approx. 1 to 1.5 yards
Lining fabric – approx. 1 to 1.5 yards
Contrast fabric – approx. 1/2 yard quilting weight
Light to medium weight woven fusible interfacing – approx. 2 to 3 yards e.g. Pellon SF101
Stabilizer – 11/2 inch by 3 inch (3 inch by 3 inch if doing hidden pocket) e.g. Peltex 71f
Fusible fleece – approx. 1 yard e.g. Vilene 630 or 640, Pellon 987f or Soft and Stable Foam
Extra firm non-woven interfacing – 71/2 inch by 11/2 inch e.g. Craftfuse 808 or Decor Bond 809
7 inch zipper
1 magnetic snap (2 magnetic snaps if doing the hidden pocket)
2 x 1 – 1 1/4 inch D rings or O rings
2 x 1 inch swivel snap hooks