Miss Sarah Clutch bag sewing pattern
|
All posts may contain affiliate links.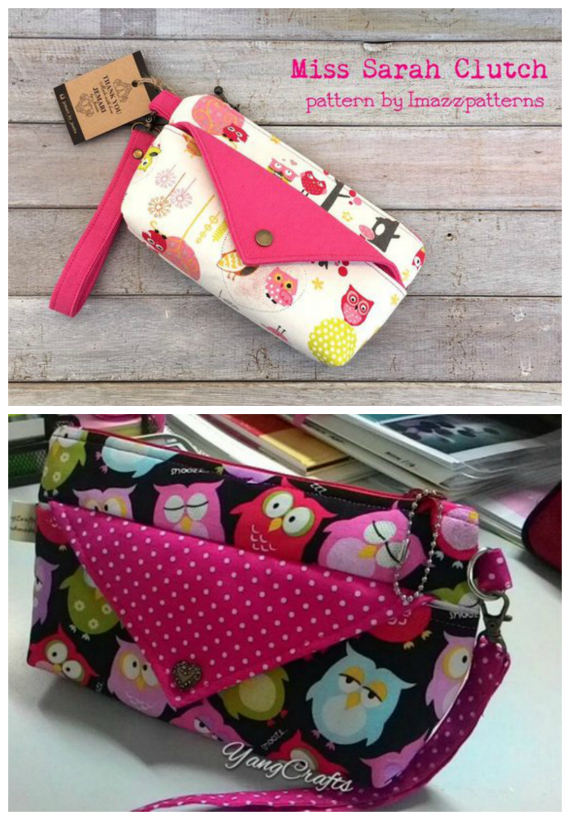 [UPDATE – this clutch pattern is no longer available. But don't worry we've got LOTS more clutch bag patterns you can try. CLICK HERE for an archive of ALL the clutch bag sewing patterns on the site.]
Miss Sarah is a small size bag suitable for carrying cosmetics and small items like keys and stationery. The front pocket comes with a cute flap and can store tissue papers or notes safely. The zippered compartment is safe and spacious enough for a handphone and compact powder.
You can add pockets if you wish to make the clutch more organized, the instructions are in the appendix.
Suitable fabrics to use are cotton or linen. Medium-thick interfacing can provide good structure to the bag.
The pattern for Miss Sarah comes in 2 sizes – regular and small. The small one can be used as a coin pouch or other tiny items (brooches, jewelry).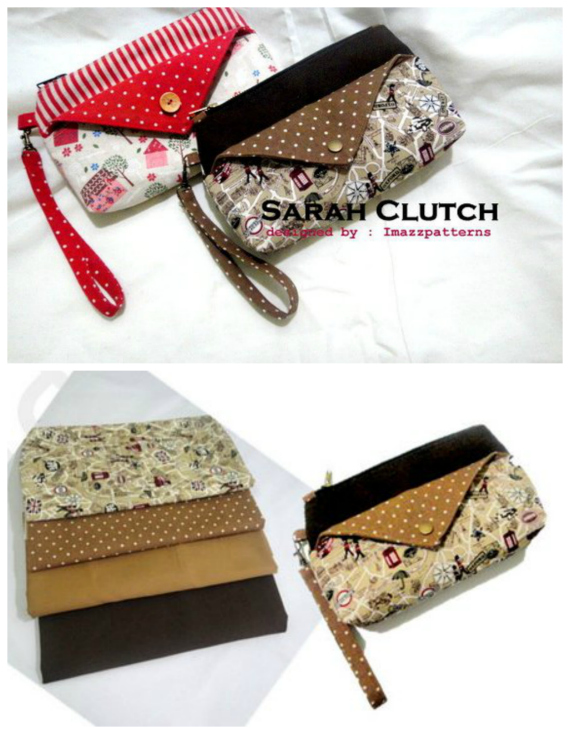 The pattern comes with a very detailed tutorial which explains:
how to install magnetic buttons
how to make pockets
how to make a bag strap
how to make a flap
To make Miss Sarah you will need to have basic sewing skills and have completed a few simple bags.
When finished Miss Sarah will measure approximately:
Big Sarah – 6 inches (15cm ) high by 9 inches ( 23 cm) wide
Small Sarah -5 inches high by 7 inches wide.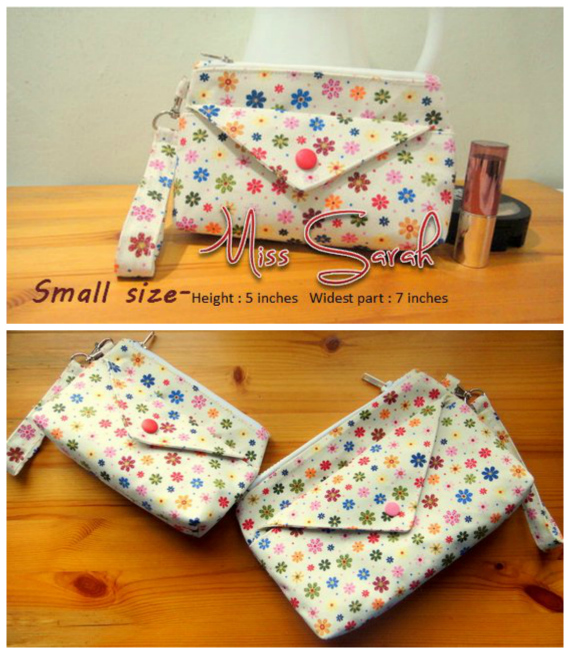 What you will need to make the Miss Sarah Clutch
¼ yard of cotton for the main fabric exterior, like quilting cotton fabric
¼ yard of lining
¼ yard of fusible interfacing
One magnetic snap button (18 mm) or any other type of button of your choice
One small decorative button
One zipper – at least 8 inches ( if the zipper is longer, shorten it )
One D-ring ( optional )
One swivel hook