Creative's Tote Bag sewing pattern
|
All posts may contain affiliate links.

Here's a great pattern for a very popular Tote Bag.
The Creative's Tote Bag has the following features:
it's a large sized bag that has been designed specifically with the creative maker in mind
it comes with several pocket options – both inside and out, allowing you to completely customise it to suit your needs
it comes with both a handles option and a shoulder strap option
is suitable for an advanced beginner sewer.
The finished size of the Creative's Tote is approximately 13″ (33cm) wide at the base by 5″ (13cm) deep by 15″ (38cm) high in the centre.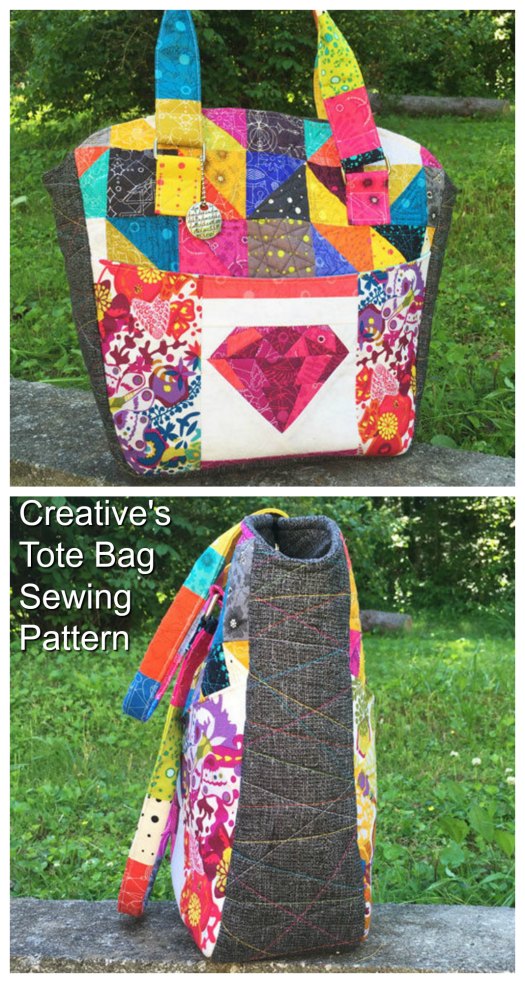 What you will need to make the Creative's Tote Bag
5/8yd (58cm) of quilting cotton fabric for the exterior
5/8yd (58cm) of quilting cotton fabric for the lining
Up to 3/4yd (69cm)of quilting cotton fabric for the outer pockets
Up to 1yd (91cm) of quilting cotton fabric for all the lining pockets
Up to 1¾yd (1.6m) of quilting cotton fabric for the handles, strap and piping
Up to 3½yds (3.2m) of a 40″ (100cm) width Light-medium weight fusible interfacing (i.e. Pellon Shapeflex SF101, Legacy Shapeflex L-SF101)
5/8yd (58cm) of Soft and Stable Foam Interfacing (or equivalent foam)
3″ by 6″ (7.6cm by 15cm) of Firm Fusible Stabiliser (i.e. Pellon's Peltex #71F, Legacy #71F)
Four ¾" (18mm) size magnetic snaps (Two to close the tote and one each for the mainlining pockets)
Six 1½" (3.8cm) size rectangular rings (Four for the handles and two for the shoulder strap)
One 1½" (3.8cm) size slider (for the shoulder strap)
Cotton cording or premade piping