Mini Sunray Pleated Clutch Bag pattern
|
All posts may contain affiliate links.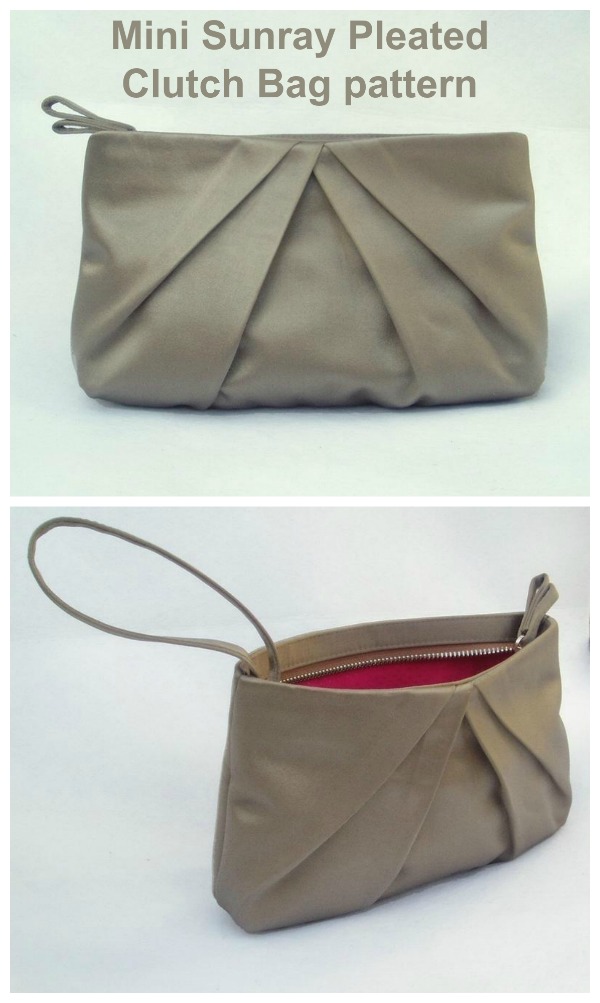 You can see where the designer of the Mini Sunray Pleated Clutch Bag pattern got her inspiration for its name when she describes it as a neat clutch bag with radiating pleats like the rays of the sun.
With the Mini Sunray Pleated Clutch Bag, you have the option to add a useful wrist strap that you can pop in or out, converting the clutch into a wristlet as you please.
It's closed with a sunken/ hidden zip construction for a clean, professional-looking finish. The clutch is fully lined & has an internal pocket for extra practicality. It's a cute but practical shape for evening or weddings.
This design would suit medium to heavyweight satins incl. shantung, brocades, jacquards…or lighter weight fabrics with the addition of some fusible interfacing to add body. It's a fantastic way to use vintage or reclaimed fabrics. It is not so suitable for fabrics which crease heavily, such as pure linens.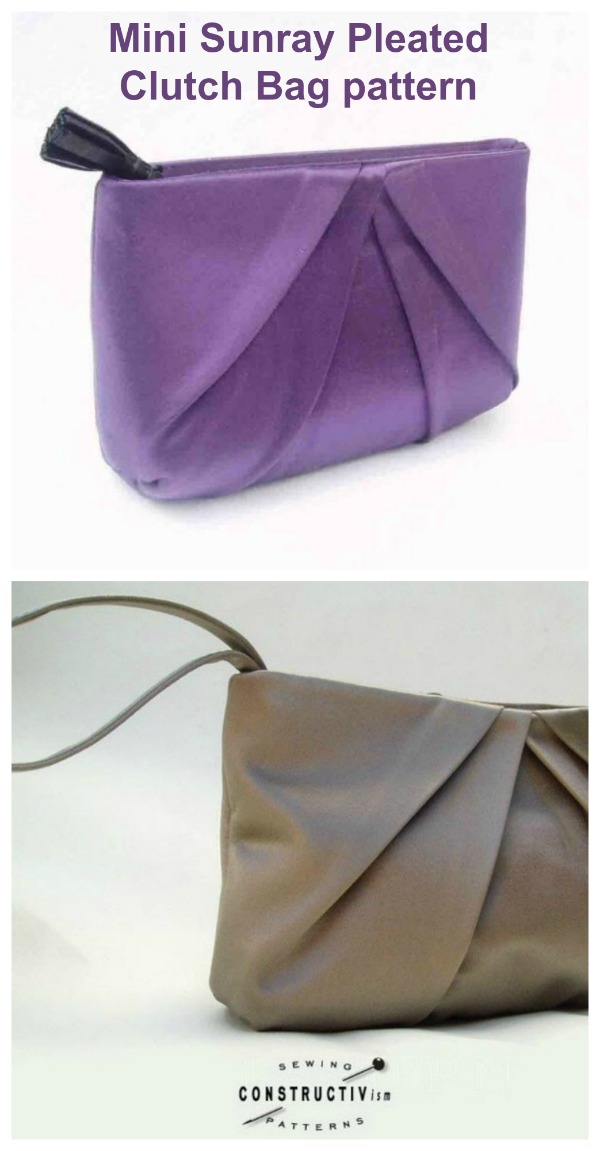 When you have finished making your Mini Sunray Pleated Clutch it will measure approximately 19cm (7 1/2″) wide by 13cm (5″) tall with a 5cm (2″) wide base at the widest part.
What you will need to make the Mini Sunray Pleated Clutch
A piece of fabric approximately 35cm by 60cm (14" by 24") for the clutch exterior. If buying off the roll you will need a 35cm (14") length.
A piece of fabric approximately 65cm by 20cm (25 1/2" by 8") for the lining. If buying off the roll you will need a 20cm (8") length.
Mid-weight fusible woven interfacing: Required for Pocket, facings & optional strap. In addition, all but the very stiffest fabrics will benefit from fusing interfacing to the entire front & back panels to add body.
Non-Fusible Stabilizer: For a firm/ boxy clutch use non-fusible heavy-weight interfacing.
One closed-end zip, minimum 25cm/10" length (longer is fine as the excess can be trimmed). The zip can be nylon or metal but it's important that the width of the teeth are not narrower than 6mm (3/16th").
1.5cm to 2.5cm (5/8" to 1") width fusible hemming tape.