Mia Snap Pouch easy sewing pattern in 3 sizes
|
All posts may contain affiliate links.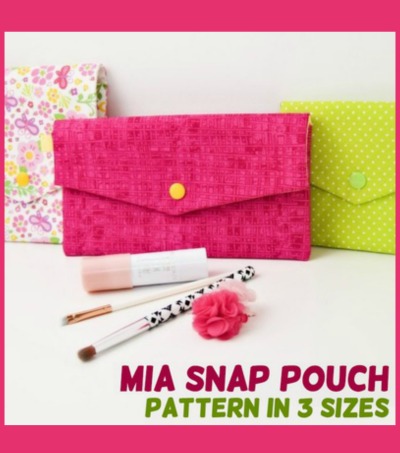 This gifted designer has produced pouches in three sizes, to store and protect all your bits and pieces, including a clutch bag size! No matter what you need to store, protect, carry or organise, the Mia Snap Pouch is perfect for the job.
The pattern includes 3 standard sizes, however, once you see how it goes together, you could change the dimensions to sew these in any sizes you need. Make up an entire collection in sizes that all store inside each other, like those fun Russian wooden dolls that nest together. I digress…
This simple one pocket envelope style snap pouch is really quite addictive to sew. It's a scrap-friendly pattern that can take less than 30 minutes to sew and only uses small amounts of fabric.
When the designer made this pattern she came up with an incredible number of ways of how to use these pouches. Here are just a few of those ideas:
cosmetics,
first aid supplies,
feminine products,
or simply a lip balm,
a pack of tissues and your keys,
as a tea bag case,
earbud case,
for pills,
epi-pen and medical supplies,
travel storage for jewelry,
hair accessories,
and treasure rock pouch for the littles,
an essential clutch for evening outings,
a travel cosmetic pouch,
a rotary cutter storage pad,
a sunglasses case,
or simply a pencil pouch.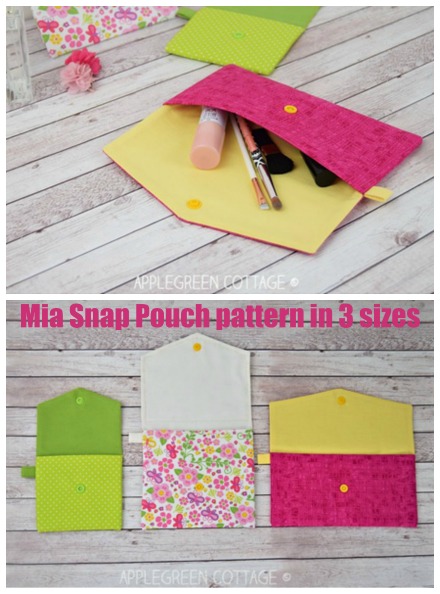 The Mia Snap Pouches have the following features:
Three sizes, including the clutch bag size,
Easy and quick to sew, even for beginners,
Slimline for taking up less room in your pocket or purse,
Optional tab, so you can easily attach a wristlet strap to use it as a minimalistic clutch, or to attach it to your keyring,
Fully lined with no exposed seams.
When you have finished making each of the 3 Mia Snap Pouches they will measure approximately:
Small = 4½″ (11.5 cm) wide by 4½″ (11.5 cm) tall by ¼" deep (0.5 cm) deep,
Midsize = 6″ (15 cm) wide by 6″ (15 cm) tall by ¼" (0.5 cm) deep,
Wide = 8″ (20 cm) wide by 4½″ (11.5 cm) tall by ¼" (0.5 cm) deep.
What you will need to make the Mia Snap Pouch:
The pattern:
includes 11 printable pattern piece pages, and 10 tutorial pages with full instructions, clear step-by-step photos, plus tips to help you get the best results. You can print on either A4 or Letter-sized paper. The dimensions included are in both inches and centimeters and cutting dimensions are included as well as full-sized pattern pieces.
See all the patterns by this designer here
This pattern isn't quite right for you? We've got lots
more ideas for storage and organizers you can sew
to share on our
Pinterest
board dedicated to exactly that. Click below to follow this board, then Pin and save your favorite sewing patterns to your own boards for later. Don't forget to pin this article too.
More storage and organizers to sew
Want even more ideas for projects to sew for storage and organizers? We love to sew bags that help to keep things neat and tidy. Check out a few recent storage ideas to sew from our store.