Mercato Tote Bag FREE sewing pattern – 3 sizes with video
|
All posts may contain affiliate links.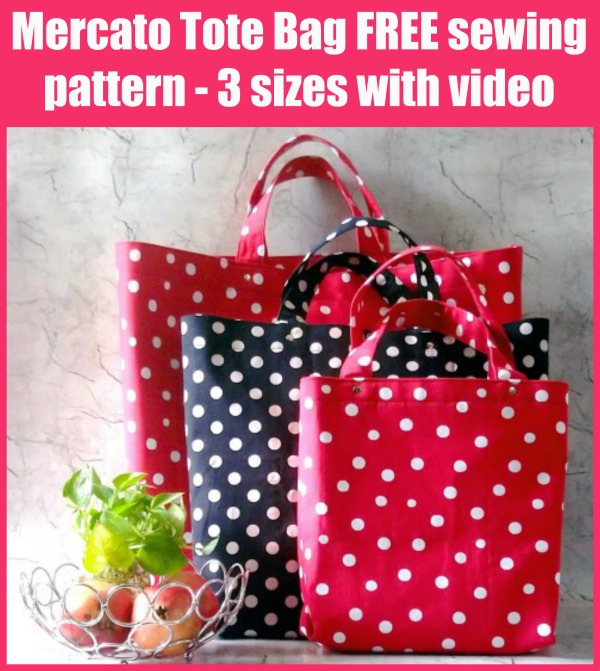 The Mercato Tote is an eco-friendly, reusable, and durable market tote bag that makes a great go-to bag for the Farmers Market, grocery store, beach trips, or running other errands. With its extra-secure handles and large capacity, the Mercato Tote is the perfect bag to carry groceries, library books, art supplies, etc. There are three sizes of the bag included in this one pattern.
Features of the Mercato Tote Bag:-
Magnetic snap closure,
French seams,
Unique boxing technique,
Lined and unlined versions,
Hanging Slip Pocket.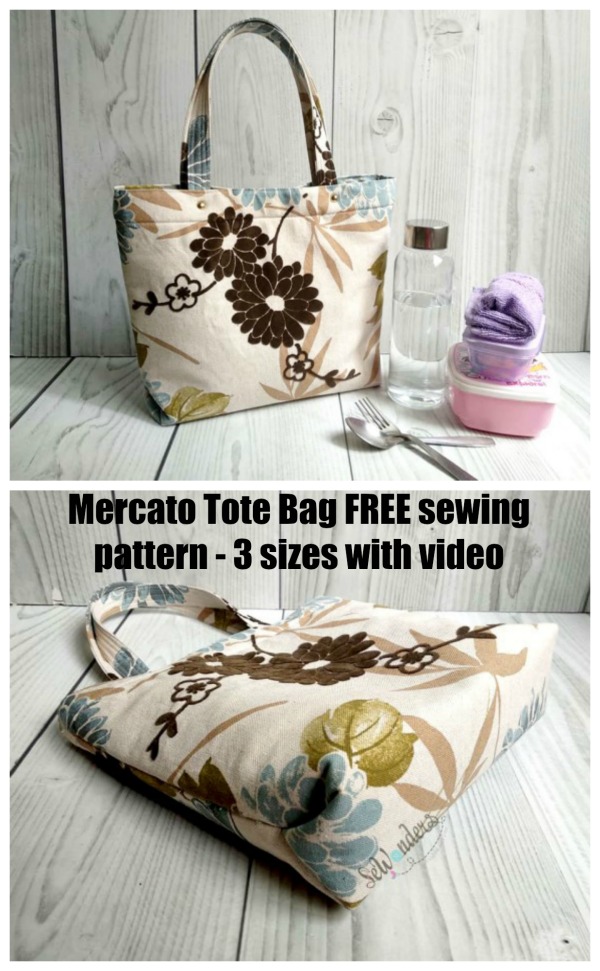 It's a simple tote bag pattern that can be made in under an hour with only a few seams and is well worth the little time you need to make it.
The design requires minimal cutting, magically creates boxed corners without actually having to cut and sew the corners, and has enclosed seams which is great for an unlined version! 
The side seams of the Mercato Tote are finished using french seams for durability which is a popular technique among garment makers. French seams are a type of seam finishing where the raw edges on the inside are totally encased in an extra row of stitching. Hence, this seaming technique is perfect for making an unlined version which is included in the pattern instructions. So, based on your fabric choice you can make a lined or an unlined Mercato Tote bag.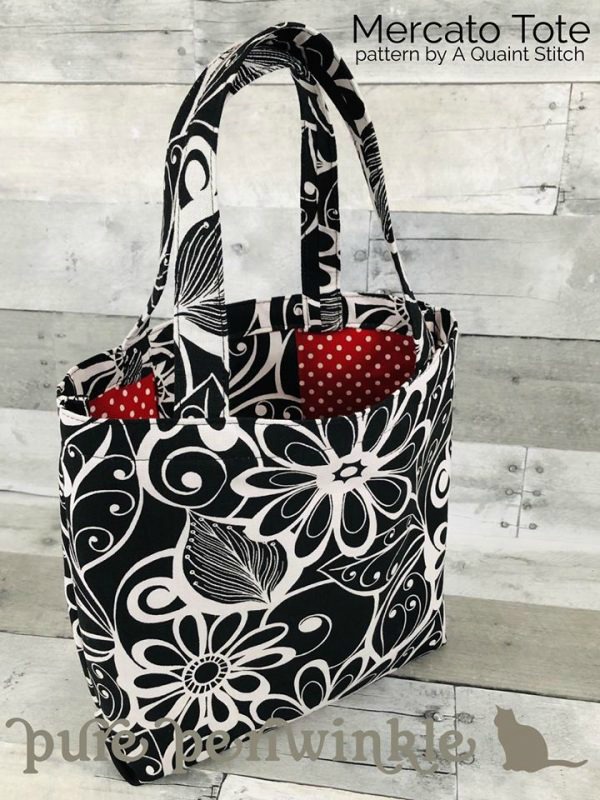 The base of the Mercato Tote has a triangle boxed corner which is fully enclosed on the inside of the tote. The method to make this type of boxed corner is slightly different when compared to the normal boxed corner tutorials. Here the boxed corner is automatically formed by a simple folding step when sewing the side seams using the french seam technique.
If you are a visual learner and would like to see how the tote comes together, Di Scarrott of Bags of Love by Diane has a lovely 59-minute instruction video of the making of the Mercato Tote.
Or here is a 12-second video by Amita of SeWonders showcasing the small size as a lunch bag.
Sizing info:
Instructions are provided to make the Mercato Tote in three different sizes, as follows:-
Large = 17" high by 17" wide by 6" deep.
Medium = 12" high by 14" wide by 4" deep.
Small = 10½" high by 10½" wide by 3" deep.
Skill level:
The designer rates her project as suitable for a beginner sewer. You will need basic sewing skills and must be familiar with sewing patterns and be able to sew straight seams.
Recommended materials:
The designer recommends using medium to heavyweight fabrics such as décor weight fabrics, cotton canvas, duck cloth, waxed canvas, oilcloth, etc. Such fabrics are sturdy, stand up on their own, last long, and do not require any interfacing. You should choose fabrics that don't fray easily.
Quilting weight cotton can be used for the exterior and lining as well, however, it will result in a floppy bag. Fuse a layer of woven interfacing to the wrong side of the cut fabrics if using quilting weight cotton. Use waterproof fabrics for the lining for an easy to clean option.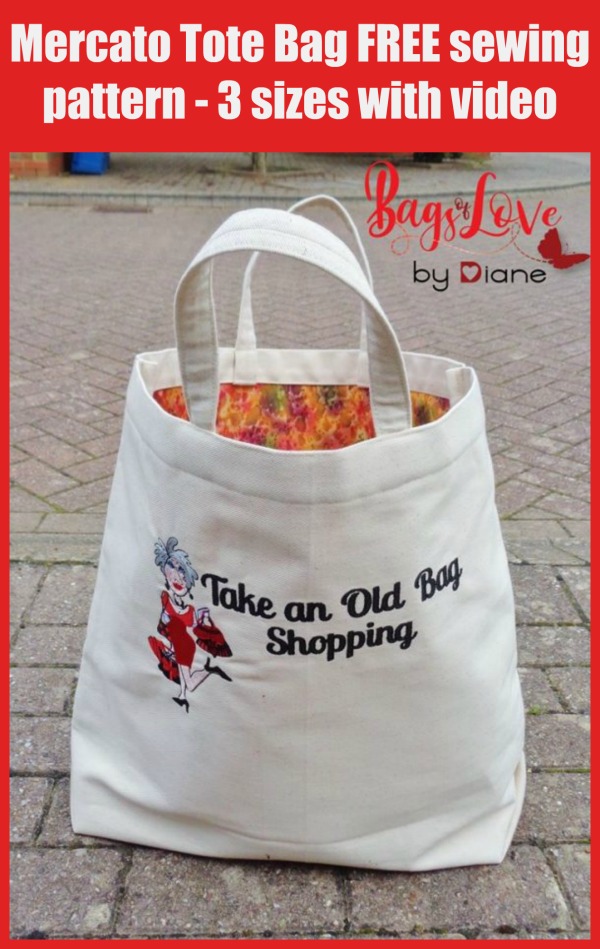 What's needed to make a Mercato Tote Bag:-
Large = 1 yard of at least 44" wide exterior fabric and 1 yard of at least 44" wide lining fabric.
Medium = ¾ yard of 36" or wider exterior fabric and 1 yard of 36" or wider lining fabric.
Small = ¾ yard of 36" or wider exterior fabric and ¾ yard of 36" or wider lining fabric.
5 yards of 1" wide cotton/nylon webbing.
The pattern includes 21 pages of concise step-by-step instructions with color photographs to help you through each step. You can download the pattern by clicking on the light blue button below.
Liking this free pattern? Great! You would make our day if you 'bought us a coffee' to help with the site running costs. Thank you.

A Quaint Stitch is so generous for offering this free pattern for you to sew. Don't forget that all of these freebies are offered as a "try me" in the hope that you will like their patterns and go on to try a paid one. A Quaint Stitch always offers beautiful bags to sew. You can find a selection of them below.
More Tote Bags to sew
Everyone needs (a lot) more than one tote bag. They are a staple pattern in every sewing pattern collection and so versatile and adaptable. Check out a few recent tote bag patterns to sew from our store.