Lea Mini Fabric Bin pattern
|
All posts may contain affiliate links.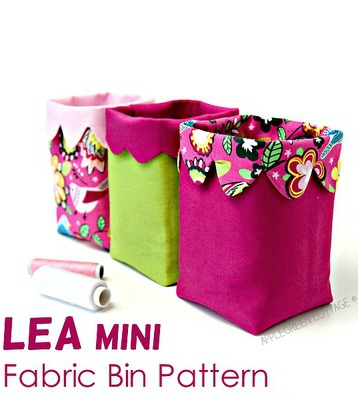 We are delighted to share with you this sewing pattern for the Lea Mini Fabric Bin. These pretty scalloped fabric baskets are a must sew and as the designer says – every table and desk needs one.
These cute fabric baskets with their fold-over scalloped tops make great DIY mini bins.
The designer has made two versions in the pattern, a standard mini bin and a simplified version with shallower scallops for beginner sewers but I am sure you will agree that both are totally adorable.
You can make a set of these and use them in a whole number of different ways. The designer points out that you could make a set and put them on your mantel filled with dried flowers, or in the bathroom for your small toiletries, or in your sewing room filled with threads.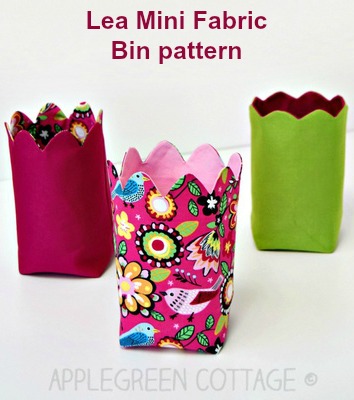 And just to make the pattern even better, these mini fabric bins keep their shape with fusible interfacing and as an added bonus they are completely reversible.
The fabric bin will be approx 3.5 inches by 3 inches on the base and 5.5 to 6 inches tall unfolded or approx 4 inches when folded down.
What you will need to make a Lea Mini Fabric Bin
Two pieces of 12″ by 8″ midweight cotton fabric.
One piece of 12″ by 8″ light to medium weight fusible interfacing.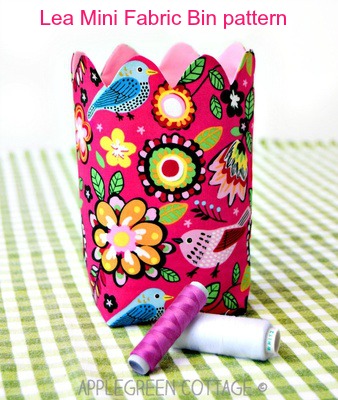 Add this fun pattern to your stash and start sewing these cute little fabric baskets today – but warning – these could be addictive!
See all the patterns by this designer here
This pattern isn't quite right for you? We've got lots
more ideas for storage and organizers you can sew
to share on our
Pinterest
board dedicated to exactly that. Click below to follow this board, then Pin and save your favorite sewing patterns to your own boards for later. Don't forget to pin this article too.
We think you'll like these patterns for storage and organizers to sew
We know our readers just love to sew storage and organizer projects so we've got lots of them. We've handpicked some of our favorites to feature in our pattern store. These are some of the most popular that are readers are sewing now!