Illusion Shoulder Bag sewing pattern (with videos)
|
All posts may contain affiliate links.
The Illusion Shoulder Bag is a practical, elegant, and eye-catching bag. With a touch of soft curves and slim lines, the design creates an illusion of a streamlined body – hence the name. I could definitely do with the illusion of a slimline body these days so anything that has a waist line is a winner in my book!
Accentuate with chunky metal hardware, the bag goes well with stylish office wear. Minus the hardware, and adding some pretty colors the bag will exude a softer, casual look suitable for women on the go.
So go ahead – choose your favorite materials, colors and style, and start making this classy bag – especially for you!
Skill Level:
Ambitious beginner / Intermediate.
Sizing info:
13 inches (32.5 cm) high by 11 inches (27.5 cm) wide at the top by 3 inches (7.5 cm) deep.
Video tutorial:
The designer has included suggestions two YouTube sewing tutorials she recommends with this pattern. The first one is 37 minutes long from Sew Be It Quilts and is a relaxing walk-through with no talking, that you can watch here:
And the second very detailed YouTube video tutorial is 2 hours and 55 minutes long from That's Sew Nova that you can watch here:
Materials needed:
3/4 of a yard of exterior (main) fabric/vinyl,
1/2 a yard of accent fabric,
1/2 a yard of lining fabric,
1 yard of Decovil Light OR medium fusible interfacing (for the exterior),
1 yard of interfacing OR foam stabilizer OR fusible fleece OR batting (for the lining),
A piece 3″ by 11″ of Decovil Heavy or another thick interfacing (for the bottom panel of the exterior) OR 4″ by 12″ if using medium interfacing,
Four Metal Strap ends – 1 inch (width),
Eight rivets and tools (use any type of rivet you have),
One Zipper end (optional ),
One 13-inch zipper,
One 10-inch zipper,
One 9-inch zipper.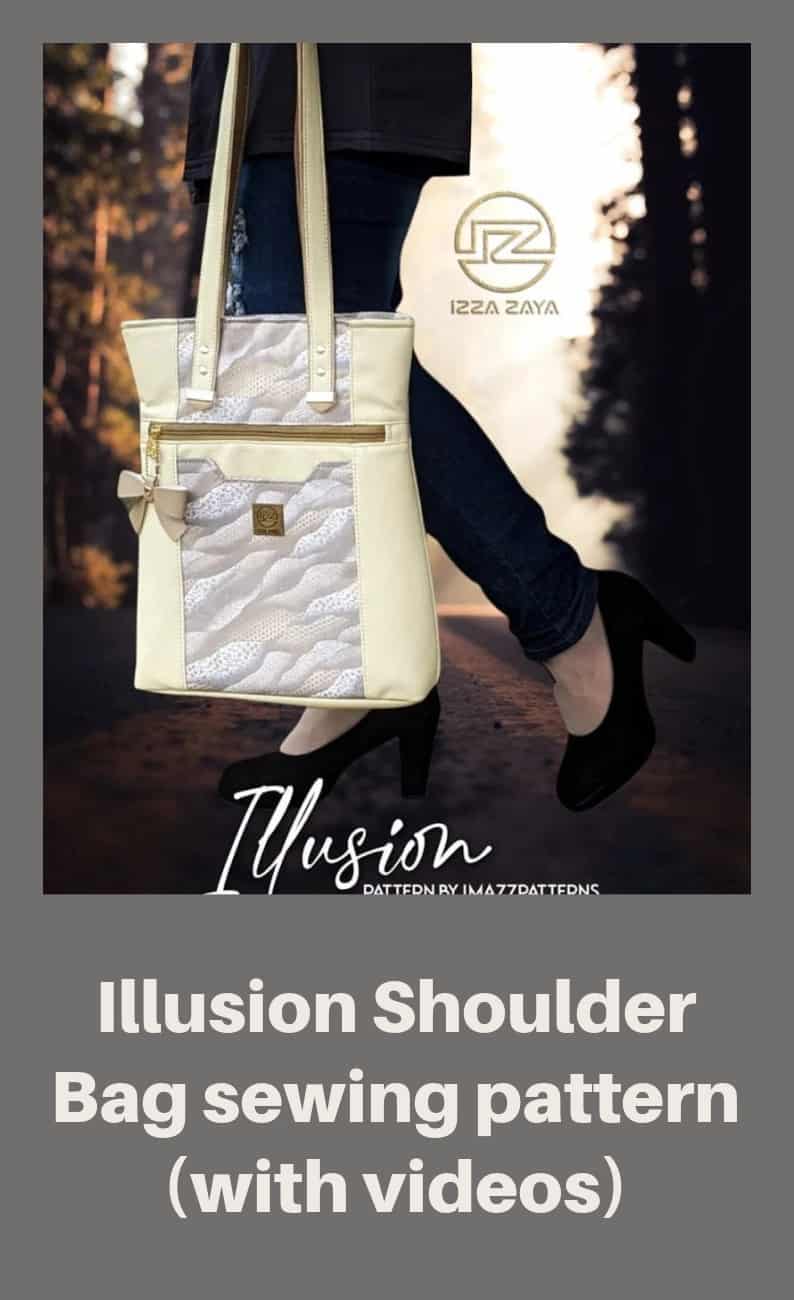 The pattern:
You will receive twenty-six pages of complete step-by-step tutorials, written instructions with illustrations and photos, extra info, and ten pages of pattern tiles that need to be assembled. Seam allowances are included in the pattern.
If you would like to download the pattern you can click on the blue button below.
And if you would like to see other bag sewing patterns from this designer then you can click on the red button below.
This one wasn't quite right for you? What about these instead?
Want even more purses and handbags to sew? Our shop is packed full of hand-picked favorites from talented designers, big and small. Here are a sample selection you might like. Check them all out in our shop.