How to sew a lingerie bag
|
All posts may contain affiliate links.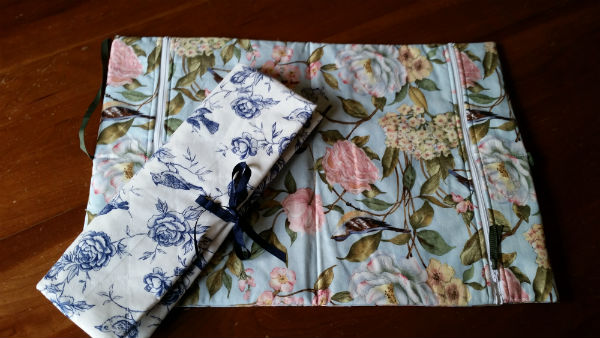 Do you follow the Craftsy blog? They have articles most days from guest bloggers, and some of their instructors. If you follow the sewing blog you can often pick up great sewing tips and tricks from the experts.
Today we have a lingerie travel bag tutorial for you, from Linda Reynolds. This double compartment bag can either be used to sort your undies, or take it away travelling and use one side for clean and the other side for worn.
We think if you checked the size carefully, you could also use this bag for carrying your sandles, shoes and flip flops in your luggage too.
Here is what you need to make the bag:
½ yard of material for the outer shell, either a washable cotton or silk or satin – your choice
Two 14 inch (longer is better) nylon zippers, in a coordinating color
½ yard soft fusible batting
½ yard lining material, either a simple, washable cotton or a synthetic lining material
Ribbon to tie the bag together
Find the pattern and tutorial here
Keep organized with these storage and project bag ideas to sew
Want even more project bags, storage and organizers to sew? Our shop is packed full of hand-picked favorites from talented designers, big and small. Here is a sample selection you might like. Check them all out in our shop.