Go Green Fold Away Reusable Duffle Bag and Backpack sewing pattern (2 sizes)
|
All posts may contain affiliate links.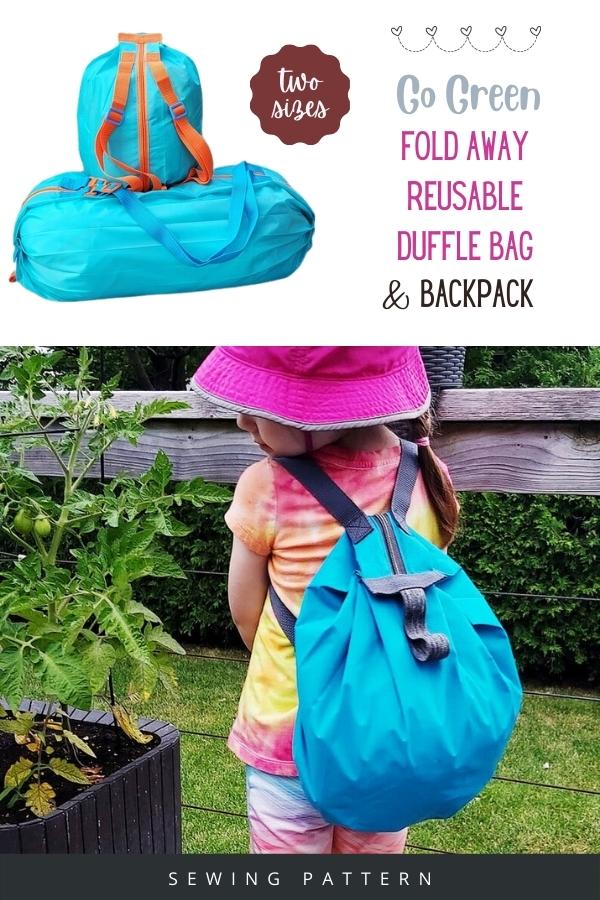 This is the Go Green Fold Away Reusable Duffle Bag and Backpack pdf sewing pattern from the designer RLR Creations Sewing. Two sewing patterns for two different bags come together for great value.
The designer has added to the Go Green Collection with a brand-new style of eco-friendly, sustainable bags to help reduce your environmental impact.
The Go Green Fold Away Reusable Duffle Bag and Backpack are quick, inexpensive, and easy to make reusable bags that fold up small enough to fit in a bag, pocket, or even the glove box in your car, then quickly expand into a large duffle or spacious backpack.
Lightweight, waterproof, and best of all compact making them perfect for on-the-go convenience and practical for countless uses.
The Go Green Fold Away Bags are a great sew and sell item, quick and easy to make and an ideal addition for your next market.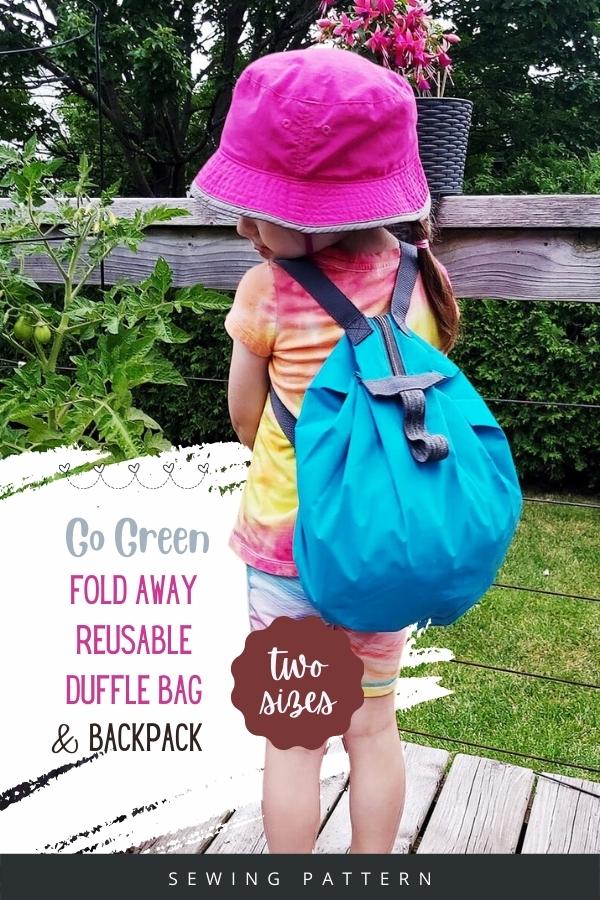 This project comes in two sizes as follows:
The Large size folds to 3" by 3" by 1½" thick and quickly expands to a large capacity of 17" long, 15" high and 11" wide. It's perfect to tuck in a beach bag to tote home wet and sandy clothes and towels. It's ideal for college kids to tote laundry back and forth to wash, then easily folds to store in a dresser drawer. You can pack along with camping or travel gear, keep one in your car for those unexpected times you may need a bag to tote stuff. Long adjustable handles for hand holding or carry on the shoulder.
The Small size folds to 3" by 3" by 1½" thick and opens to 12" long, 10" high and 8" wide. It features adjustable straps that you can easily wear as a backpack or carry on a shoulder, making it the ideal hands-free bag for on the go. Waterproof and Lightweight makes them ideal for a day at the pool. Tuck one in a kid's sports bag to bring home dirty clothes and shoes. It's perfect for everyday adventures from shopping to a hiking trip while camping. Tuck one in your purse for easy convivence to carry extra stuff you pick up at a fair, adventure park, or an outdoor market.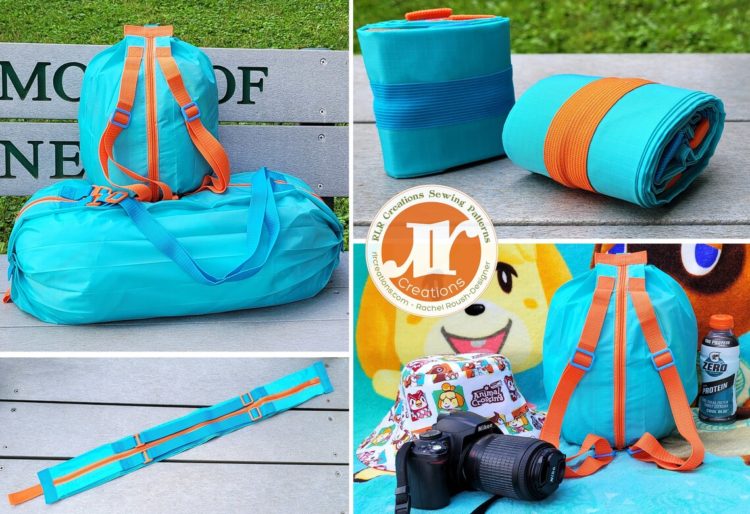 What's needed to make a Go Green Fold Away Reusable Duffle Bag and Backpack:
1 yard 60" wide 70 Denier/1.9 oz Nylon Ripstop (will make two Large, one Large and two Small, or four Small),
To make one Large – one 30" by 36" piece 70 Denier/1.9 oz Nylon Ripstop,
To make one Small- One 18" by 30" piece 70 Denier/1.9 oz Nylon Ripstop,
1" wide Nylon Webbing/Strapping. For each Large- 2 yards. For each Small- (Backpack) 2 ½ yards,
*NOTE: If you prefer to make the small with carry handles rather than a backpack, you will just need 2 yards of webbing,
One 10" long piece ¾" or 1" Elastic,
For each Large: One 30" or longer #5 Coordinating Zipper- Main Closure,
For each Small: One 18" or longer #5 Coordinating Zipper- Main Closure.
Find RipStop Nylon HERE at Fabric.com or HERE on Amazon or HERE on Etsy
Check out our RESOURCES PAGE full of great recommendations and links for fabric stores and suppliers, interfacing and stabilizers, hardware resources, and zippers.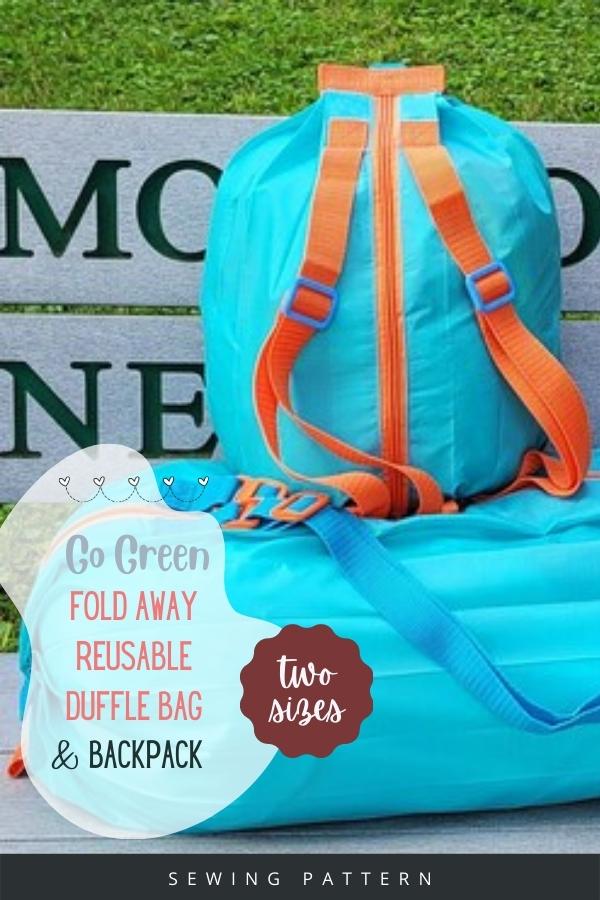 Please note that with this project there are no pattern pieces needed, so nothing to print out and tape together. There are no tricky or accurate cuts to get started. Simply start with a yard (36" by WOF) of Ripstop Nylon and easily make one or two straight cuts following the diagrams included to make the size(s) you wish!
If you would like to download the pattern you can click on the blue button below.
We think you'll like these patterns for storage and organizers to sew
We know our readers just love to sew storage and organizer projects so we've got lots of them. We've handpicked some of our favorites to feature in our pattern store. These are some of the most popular that are readers are sewing now!