Georgina Convertible Bag sewing pattern (with video)
|
All posts may contain affiliate links.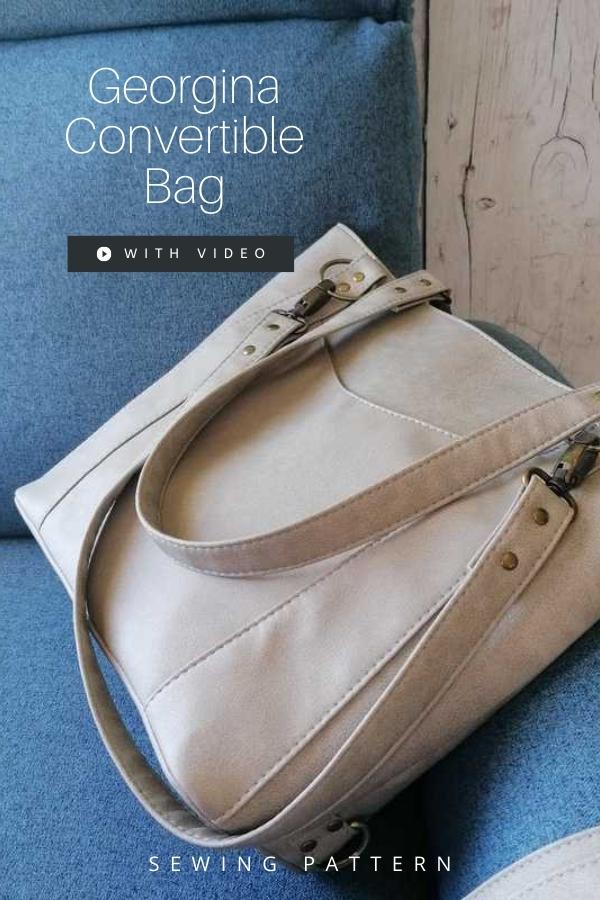 Georgina is a medium size tote bag that also converts to a backpack or crossbody bag when needed. What a great way to sew up one purse and be able to use it in so many different ways.
It has two shoulder straps that convert the bag from shoulder bag to backpack. It also has a crossbody strap that converts the bag from crossbody, to backpack, to shoulder bag. It is an "all-in-one" bag!
Because of the many options, it has it works great for many uses and many occasions. Every day bag, work/school bag, diaper bag…
It is perfect for people who need the option of having free hands sometimes, while also looking stylish. It is also perfect for people who like classic bags, as they can be dressed up or down. Options to sew with less hardware for fewer conversion options and enjoy a classic tote bag, or add all the bling to make it as versatile as one bag can be!
It is also great for color blocking, mixing of materials, colors, and textures and is perfect for panels! Only got a small piece of your favorite fabric left? Feature it on the front and get a lot of impact from a small piece.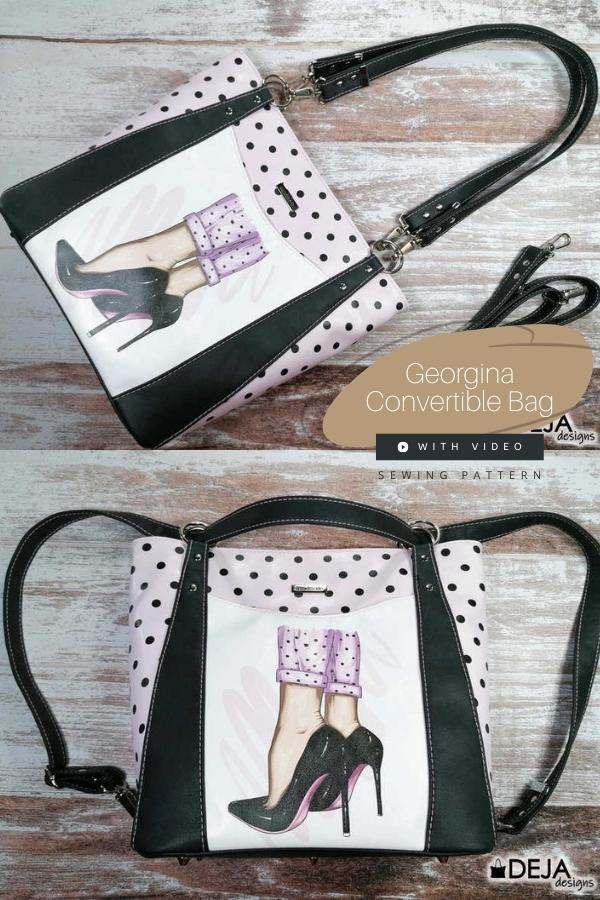 Main features:
– exterior slip and zipper pocket.
– interior slip and zipper pocket.
– metric and imperial measurements.
– step-by-step instructions with over 250 photos.
– whole pattern pieces (no fold pieces).
– all pattern pieces (except straps) available +measurements for rectangle pieces.
– can be worn in multiple ways:
With shoulder straps – as a shoulder bag or backpack.
With crossbody strap – as a crossbody bag, shoulder bag, or backpack.
Sizing info:
– 14″ wide (10 3⁄4″ wide at the base) by 12″ high by 4 3⁄4″ deep.
– (35.5 cm wide (27 cm wide at the base) by 30.5 cm high by 12.5 cm deep).
Skill level:
The pattern could be classified as adventurous beginner/intermediate. It has step-by-step instructions with over 250 photos to guide you through the whole process, as well as a video tutorial.
The pattern and video:
an immediate download PDF pattern with full pattern pieces in Letter size and A4 format as well as measurements for rectangular pieces, detailed pictures, and step-by-step instructions on how to make your own Georgina Convertible Bag. A full-length (very comprehensive) video sew-along for this bag is also available – details in the pattern download.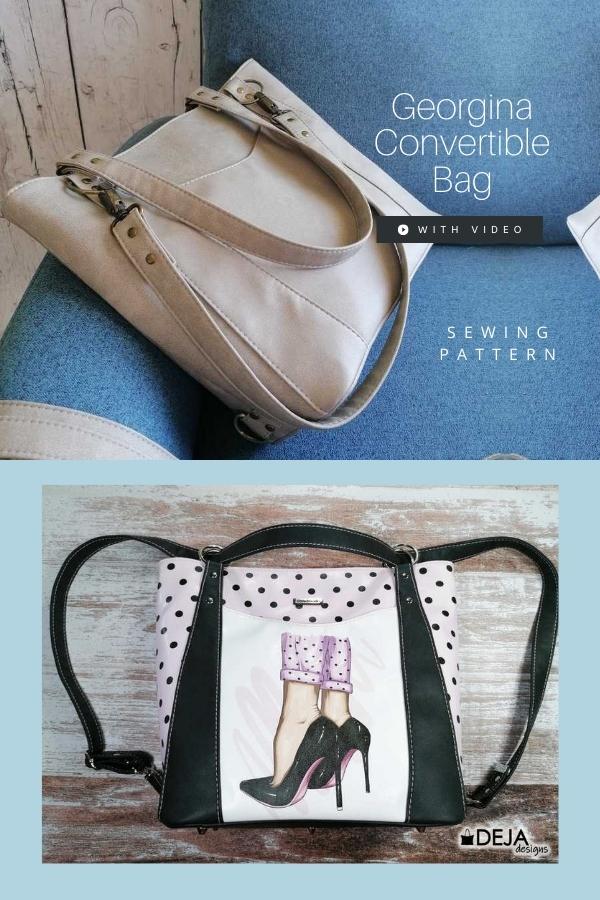 Materials and supplies needed:
EXTERIOR FABRIC, 55" (140 cm) wide: 1 yd (m) – vinyl, cork, leather, waterproof canvas or quilting cotton, home décor, canvas…
LINING FABRIC, 55" (140 cm) wide: 3⁄4″ yd (m) – waterproof canvas, cotton, canvas, home déc.
INTERFACING, STABILIZERS
– Woven interfacing (SF101 or equivalent) for all cotton/lightweight fabric pieces
– Non-woven interfacing (H250, 809 Décor-Bond or similar) for cotton straps and connectors
– Decovil Light/Foam/Fusible fleece-H640-H630 for structure (main body) – depending on materials
– Decovil Heavy – bottom reinforcement
HARDWARE
– Four D rings, 1 x Slide adjuster, 6 x swivel clips: 1" (2.5 cm),
– Four O rings (interior diameter 3.5 cm – swivel clips need to be able to go through it),
– One slim magnetic snap,
– One zipper end,
– Six Strap ends: 1" (2.5 cm) – optional,
– Five purse feet – optional,
– Thirty-two double cap rivets (8/9 mm cap diameter, various post lengths),
– 33 1⁄2" (85.2 cm) of 5# nylon zipper tape (zipper by the meter/yard) + 3 corresponding zipper pulls
– Top zipper: 16 1⁄2" (42 cm),
– Exterior (back) zipper pocket: 8 1⁄2" (21.6 cm),
– Interior zipper pocket: 8 1⁄2″ (21.6 cm),
If you would like to download the pattern you can click on the blue button below.
And if you would like to see other bag sewing patterns from this designer then you can click on the red button below.
Even more crossbody bag sewing patterns you won't be able to resist
Want even more crossbody bag sewing patterns? These are the top best selling crossbody bag patterns in our store. Take a look at the category on our shop page for even more - 60+ more!