Easy market tote bag – FREE sewing pattern, tutorial & video
|
All posts may contain affiliate links.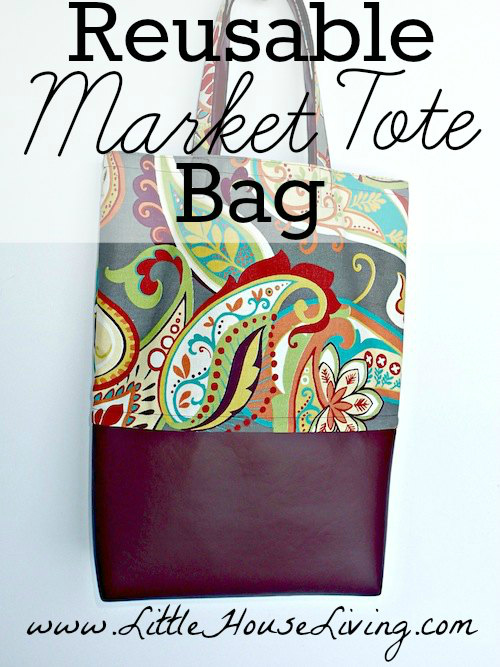 Here's a FREE Pattern, Tutorial and Video for the Easy Market Tote Bag.
Are you one of those amazing people who is trying to help the environment by using a reusable shopping bag instead of a plastic bag from the store? It's definitely the right thing to do! However, do you find that the store bought reusable bags aren't so great and tend to wear or rip too soon, especially at the bottom where they get poked by boxes and sharp edges?
If so, then here is a reusable eco-conscious shopping tote bag you can sew yourself and know that it's going to be long-lasting and hard-wearing. Oh, and it looks really good too.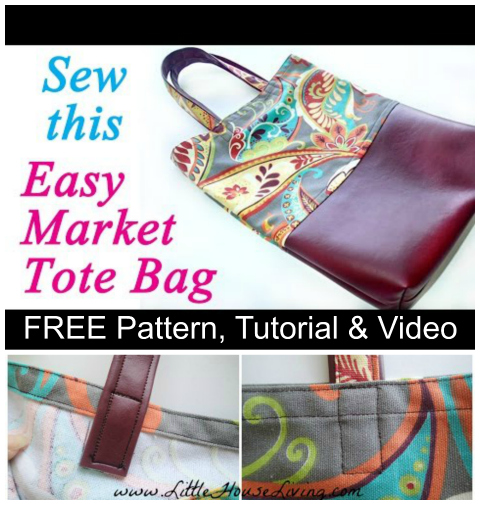 What you will need to make the Easy Market Tote Bag
Two pieces of heavyweight fabric, home decor, canvas, etc – 16 inches wide by 11.5 inches tall
Two pieces of Vinyl or faux leather – 16 inches wide by 8 inches tall
Two pieces of fabric for the strap – 22 inches long by 1.5 inches wide
Two pieces of Vinyl or faux leather for the strap – 22 inches long by 2 inches wide
Wonder clips, paper clips, or binder clips
Optional – double-sided Wonder Tape
Or if you want to make a different sized bag then cut your fabric in the size to suit the bag you'd like. If you want to make it deeper or taller, add to the height, however, if you want to make it wider, add to the width.
You'll love the handles on this shopper. The vinyl with the fabric on top makes them not only super-strong but super-comfortable too. Ideal for when you are carrying heavy loads. If you've never sewn with vinyl before, you'll be surprised how easy it is with this simple pattern. Check out the video and give it a try!
Full step by step video tutorial for the market tote bag
Click here for the FREE Pattern, Tutorial & Video
Find even more Tote Bag Sewing Patterns here
Do you want lots more tote bag sewing pattern ideas? Why not follow the Sew Modern Bags board dedicated to our favorite tote bag sewing patterns here. Pin and save your favorite bag sewing patterns to your own boards for later. Don't forget to pin this article too.
Sew more tote bags and you'll be happier - we promise 😉
When you just need to sew and don't want to get into a really complicated project, you can't beat a classic sewing pattern for a tote bag. We've got 50 of our favorite tote bag patterns hand-picked for you in the store. Go to the shop page to find them all saved by category.