Denver Backpack pattern
|
All posts may contain affiliate links.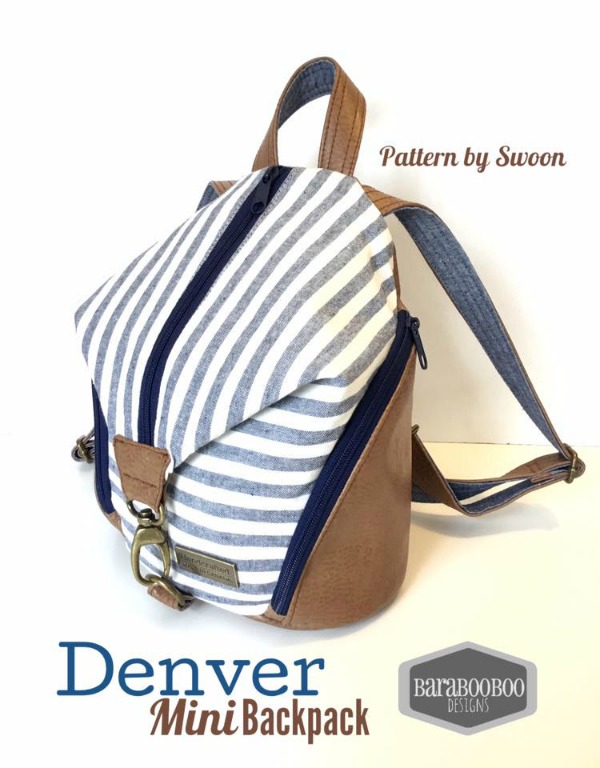 If you want the perfect for work, travel, or your everyday adventures stylish backpack then here is the Denver Backpack pattern. You'll love how it carries, how it looks, and the storage on offer. You gotta love those two-tone reversible straps.
It comes in two sizes, large and mini, and features two exterior side pockets with visible zippers for an added edgy vibe. The zippered main compartment will keep all your belongings secure while the side pockets offer plenty of storage.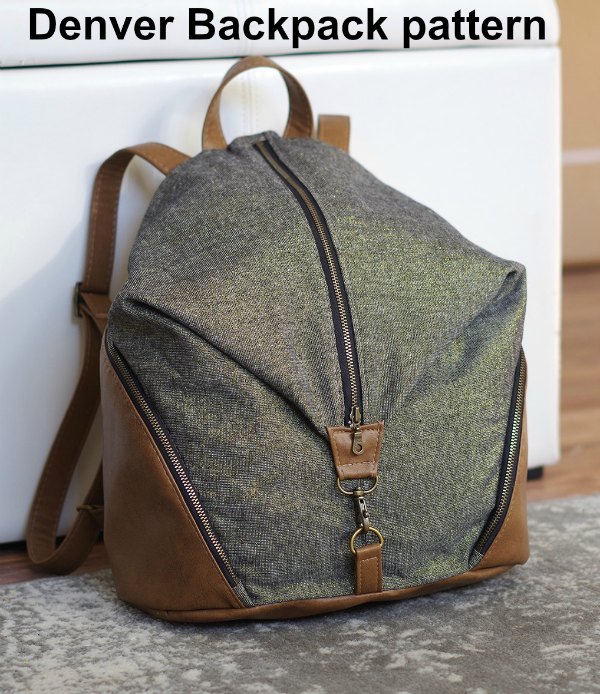 This pattern has great reviews, and being from Swoon, you know it's going to be well-written, easy to put together, and comes with the full support of the Facebook group.
Karen – This is my first Swoon pattern, & I was so impressed with the clear, well-written instructions and illustrations. The small Denver is perfect for a wallet, glasses and miscellaneous small stuff. My 8″ tablet is a snug fit. The zippers add a fun accent. I'm looking for my next Swoon pattern!

Rebecca – This bag is a fan favorite and making it, it's easy to see why. It goes together easily, the directions are clear, and if you are a visual learner there are 2 different videos on YouTube that will get you through it. The bag is very cute and the small version would be great as a child's backpack.
Sizing info:
When you have finished making the Denver Backpack it will measure approximately:
Large = 16″ by 12″ by 6″.
Mini = 12″ by 9″ by 4″.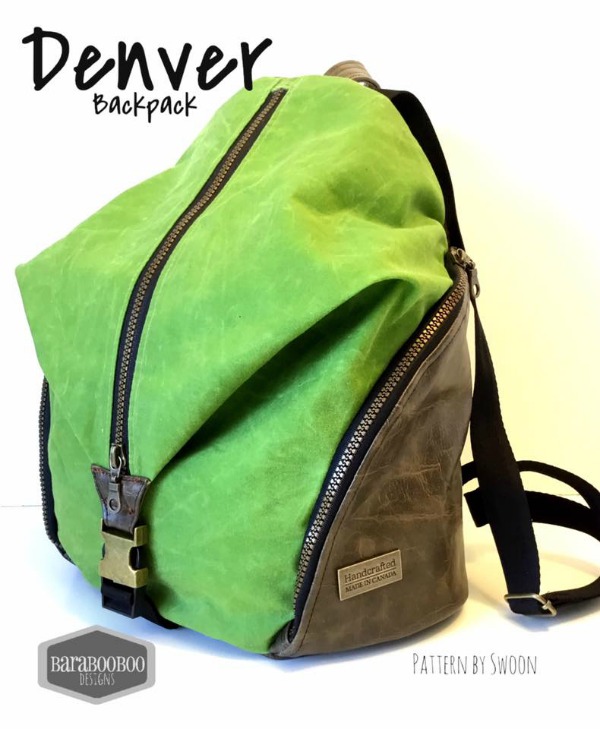 What you will need to make the large or mini Denver Backpack
Quilting weight or home decor exterior fabric. 1/2 yard (50cm) for large and 3/8 yard (35cm) for mini.
Quilting weight cotton for the lining fabric. 1-yard (1m) for large and 1/2 yard (50cm) for mini.
Contrasting fabric, woven or vinyl. 1-yard (1m) for both size bags.
Foam interfacing (Pellon Flexfoam FF77). 1/2 yard (50cm) for large and 1/3 yard (30cm) for mini.
Fusible woven interfacing (Pellon Shapeflex SF101). 3 5/8 yards (3.5m) for large and 2 1/3 yards (2.25m) for mini.
Two rectangle rings. 1″ (25mm) for large and 3/4″ (20mm) for mini.
Two strap slides. 1″ (25mm) for large and 3/4″ (20mm) for mini.
One swivel clip. 1″ (25mm) for large and 3/4″ (20mm) for mini.
One D-ring or O-ring. 3/4″ (20mm) for large and 1/2″ (12mm) for mini.
Three all-purpose zippers. 12″ (30cm) for large and 9″ (30cm) for mini.
Coordinating thread.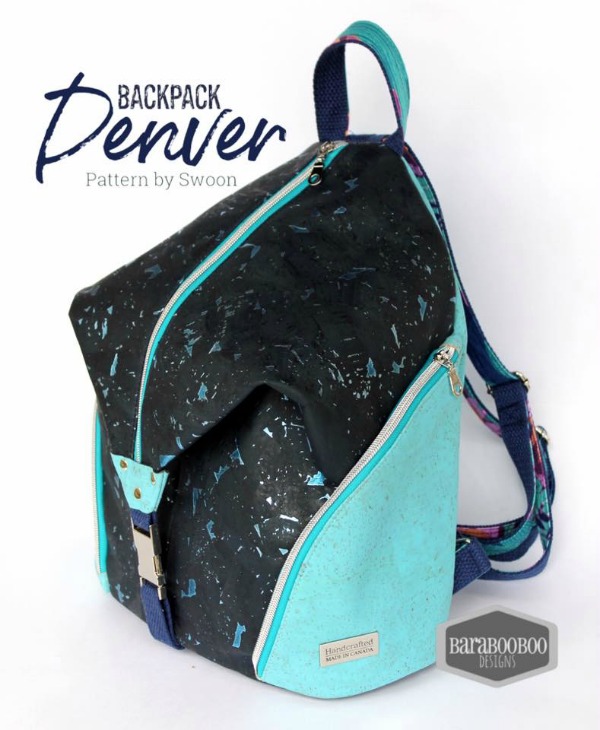 If you would like to add this pattern for the Denver Backpack to your pattern collection, you should click on the link at the end of this article. The designer says in order to complete her project you should already be somewhat familiar with sewing patterns and common sewing terms. We think you should also be comfortable with sewing zippers.
She describes her project as having a difficulty level of 3 out of 4.
If you would like to download the pattern you can click on the blue button below.
More backpack and rucksack sewing patterns -->
Want to find more bags to wear as backpacks? Why not follow the Sew Modern Bags board dedicated to our favorite backpack and rucksack sewing patterns here. Pin and save your favorite bag sewing patterns to your own boards for later. Don't forget to pin this article too.