The Dahlia Drawstring Bucket bag – Sewing Pattern
|
All posts may contain affiliate links.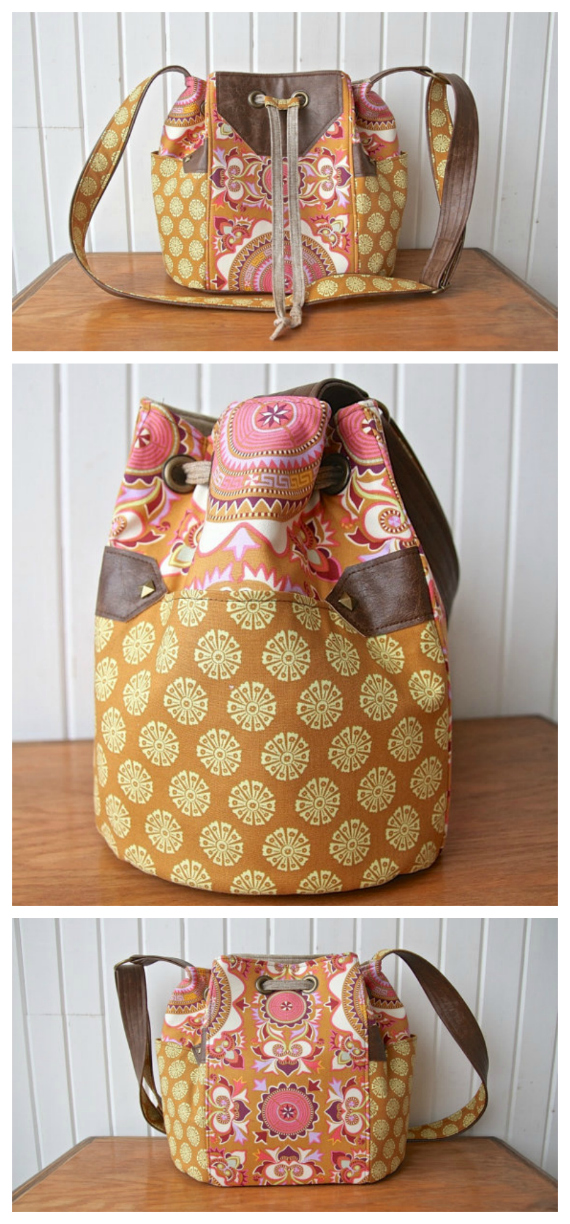 The Dahlia Drawstring Bucket bag is a cool and trendy looking medium sized bag. The bag stays closed with a drawstring closure. It has two exterior side pockets, one interior slip pocket and one interior zippered pocket.
On the exterior of the bag, there are some vinyl/faux leather accents at the side pockets, on the front of the bag, the bottom and the top side of the adjustable crossbody strap.
Confident beginners will be able to make the Dahlia Drawstring Bag. Included in the downloadable pdf pattern are some basic guidance notes showing you how to set grommets and how to make an adjustable strap with different fabrics for the top and the underside. If you have not worked with grommets before, then it is recommended that you practice setting grommets on a spare piece of fabric before you add them to the finished bag.
The final measurements for the Dahlia Drawstring Bucket Bag are 10.5″ high by 13″ wide by 4″ deep.
What you will need to make the Dahlia Drawstring Bucket Bag
3/4 yard quilt weight cotton, home decor, canvas
10″ high by 20″ wide piece of vinyl
3/4 yard quilt weight cotton lining fabric
2.5-3 yards lightweight fusible woven or non-woven interfacing
1/2 yard firm interfacing (peltex, stiff stuff or foam)
2 yards fusible fleece interfacing
One 6″ zipper
One 1.5″ rectangle ring
One 1.5″ rectangle slide
Twelve metal grommets 11mm or 3/8" or 1/2" inside hole (any of these sizes will work fine)
Hole punch and grommet setter for your size of grommets
A walking foot or a roller foot attachment when sewing any vinyl parts of this bag.
Sew more crossbody bags and you'll be happier - we promise 😉
For the easiest shopping and days out, you can't beat a crossbody bag for leaving you hands-free. We've got 60+ of our favorite crossbody bag patterns hand-picked for you in the store. Go to the shop page to find them all saved by category.