Crossbody Clutch Purse sewing pattern
|
All posts may contain affiliate links.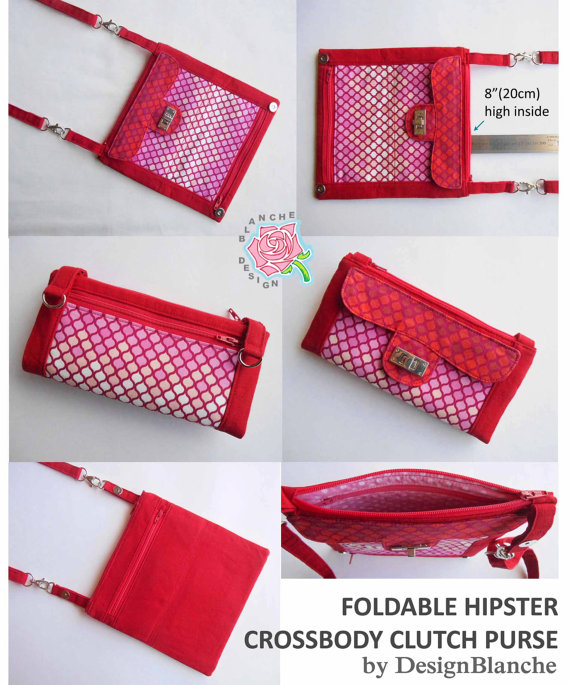 This purse design features your favorite fabric on the outer front pocket while the front edges and the back are made with medium weight fabric, making this purse very durable. This crossbody bag you will make is perfect for a casual day out or a night out when you don't want to carry a big heavy bag.
Just put your mobile phone in the front pocket closed with a twist lock and tuck your cash and cards in the pockets inside. It can also be a clutch wallet when folded in half, using two magnetic snap buttons after removing the long strap. When you carry a bigger bag, just put this folded wallet in without needing to move your items to another bag.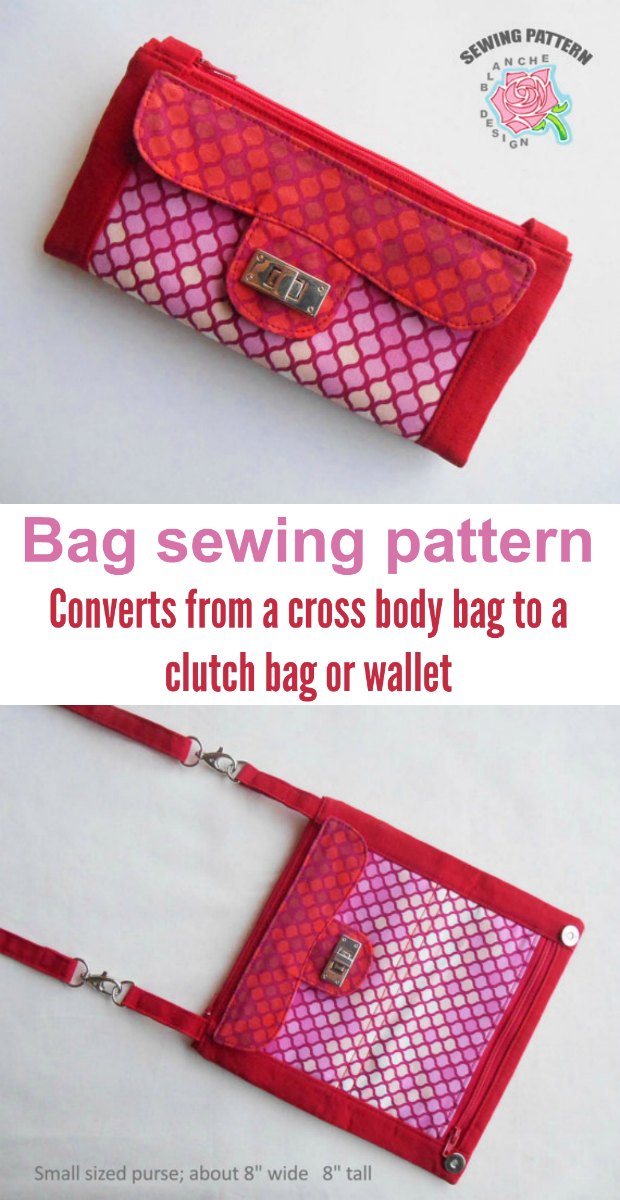 Pockets galore!
There are three zippered pockets, one on the outer front (for the foldable option) and another on the outer back, and a third one inside the bag across from the slip pocket or the card pockets. The bag itself closes with a zipper on the top as well. The interior is fully lined and interfaced for shape and durability. The strap is adjustable and long enough to cross your body.
Each of the purses is sized as follows:-
Small-sized purse = about 8″ (20.32cm) wide, 8″ (20.32cm) tall, 29″ – 52" (73.66 – 132cm) long crossbody strap.
Large-sized purse = about 9″ (22.86cm) wide, 10″ (25.4cm) tall, 29″ – 52" (73.66 – 132cm) long cross body strap.
What you will need to make a Crossbody Clutch Purse:–
Exterior fabric ½ yard (½ m),
Interior & Pocket fabric 1 yard (1m),
Med-Heavy non-woven fusible Interfacing,
Lightweight non-woven fusible Interfacing,
Medium weight woven fusible interfacing: Pellon SF101 (30 by 30cm),
Fusible fleece. About 8" by 8" (20.32 by 20.32cm),
Zippers: three 8" & one 6" for the small purse, or three 10" & one 6" for the large purse,
Two D-Rings,
Two Swivel Snap Hooks,
One Tri-Slide Ring,
Two sets of Magnetic Snaps,
One Twist Lock,
General sewing supplies,
More Crossbody Bags to sew
For versatility, you can't beat a crossbody bag. Easy to wear, fun to sew, and a wardrobe essential. Everyone needs a few of these in their sewing pattern collection. Check out a few recent crossbody bag patterns to sew from our store.