Tool Caddy Thread Catcher FREE sewing tutorial
|
All posts may contain affiliate links.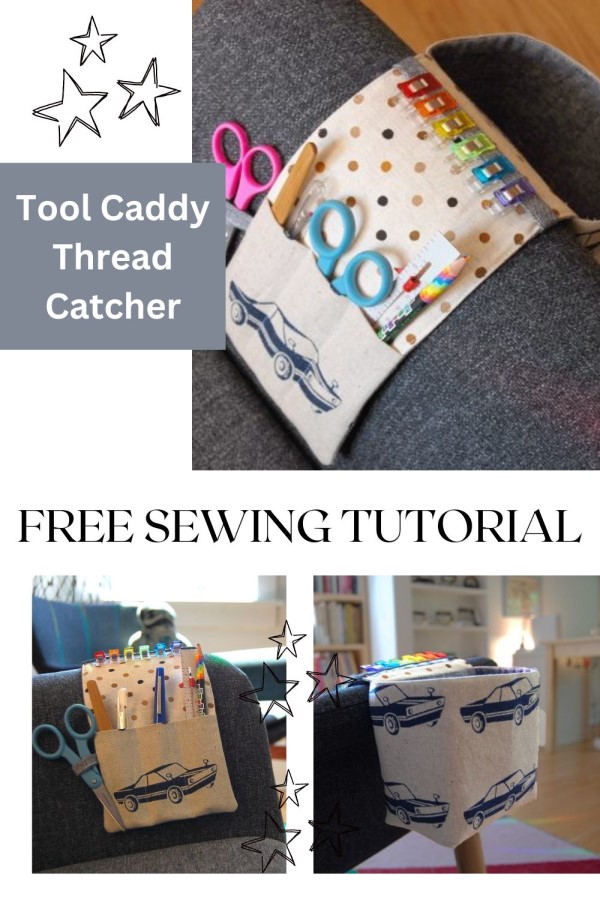 This is the Tool Caddy Thread Catcher Tutorial FREE sewing tutorial from the designer We All Sew.
What gave the designer the inspiration to make this super useful Tool Caddy Thread Catcher? This is what she said – I sat in an armchair the other day to do a bit of hand-stitch finishing on a project and found myself with a lap full of thread, scissors, clips, and needles. It wasn't easy to balance it all, there was lots of dropping this-and-that, plus I left a bunch of thread bits and scraps all over the floor.
That's when she decided a tool holder with attached thread catcher was just what she needed!
It drapes right over the arm of a chair or couch, holds all kinds of small tools, and has a big open thread catcher to keep those bits and scraps off the floor.
The pockets in the tool holder is super handy. You can even use it to hold pens and pencils when you're drawing in your sketchbook.
And how long does it take to make one? The designer says – with two or more coordinating fat quarters and a few other supplies it will take you just an evening.
Skill level:
The designer rates her sewing project as suitable for a beginner sewer.
What's needed to make a Tool Caddy Thread Catcher:-
Check out our RESOURCES PAGE full of great recommendations and links for fabric stores and suppliers, interfacing and stabilizers, hardware resources, and zippers.
If you would like to follow along with the FREE tutorial you can click on the purple button below. Note – there is no template download for this project. This is a measure and cut pattern, so its ideal if you don't have a printer at home.