Connor's Messenger Bag free pattern
|
All posts may contain affiliate links.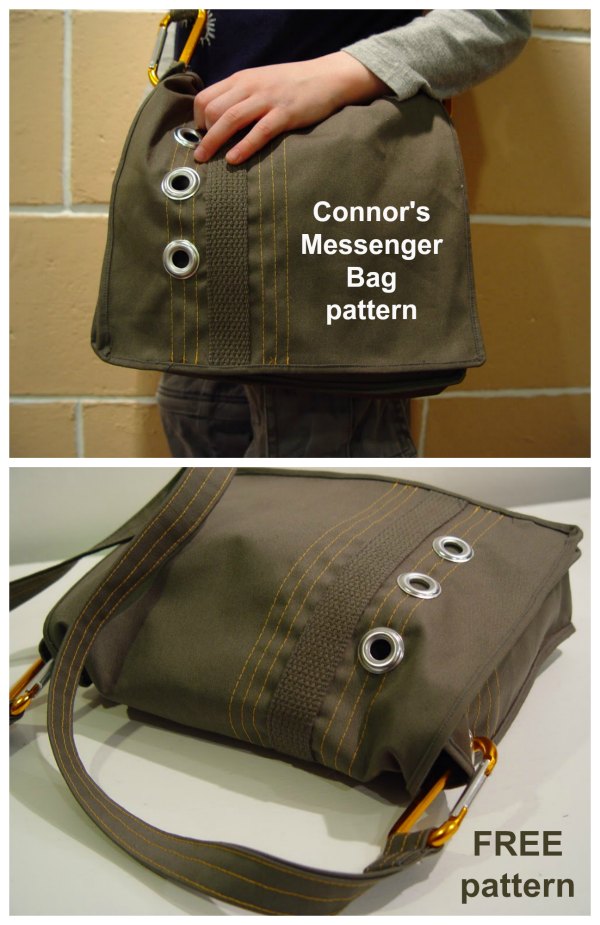 It is always lovely to see when a designer designs a project specifically to answer a particular need or problem, and for themselves or one of their family to use. Her son was the inspiration for this bag which is why she names it the Connor's Messenger Bag. 
Her son loves camping and he needed a great little bag to take on hikes or walks with easy access to his notepad and pencil, compass, camera and binoculars.
The designer added grommets, carabiner clips, and a simple contrasting thread which gives the bag a unique style. A simple optional pocket was added to the inside.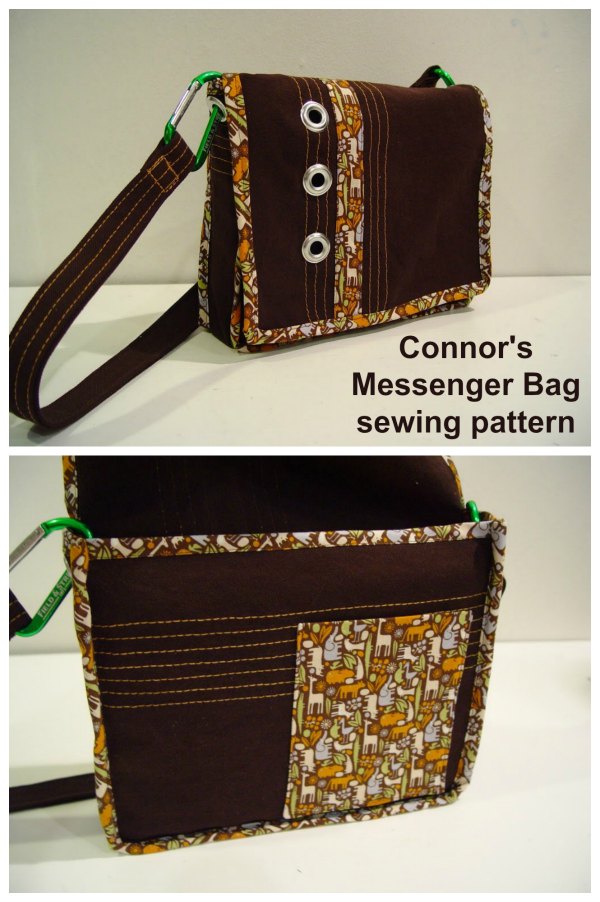 Connor's Messenger Bag is a simple bag made from heavy twill or denim or even canvas. The hefty weight of the fabric helps give the bag it's shape. It's unlined for a quick simple project.
When making the green version of this bag the designer used a heavy-duty twill and the bias tape was made from the same material. She comments that it was quite heavy and a little difficult to work with since it was only 1/4″ wide, but it has a nice effect. The other version of the bag was made with brown denim.
When you have finished making the Connor's Messenger Bag it will measure approximately 10.5″ long by 8.5″ high by 2″ wide.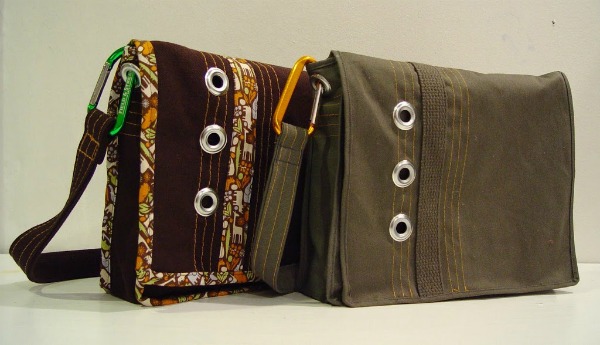 What you will need to make Connor's Messenger Bag
9″ by 11″ piece of fabric for the front
11″ by 18″ piece for the back and flap piece
3″ by 27″ piece for the side piece
4″ by 36″ piece for the strap (The designer recommends a piece 4″ by 44″ for older boys)
5″ by 11.5″ piece for the optional pocket
Two carabiner clips
One 20″ piece of 1″ wide cotton webbing (the kind for belts) or a piece of fabric 1.5″ by 19″
Approximately 100″ of seam binding (the designer has included a great tutorial on making seam binding)
Five grommets from a 7/16″ grommet kit
Thread (in the color of your bag's fabric and a contrasting color for the decoration)
This isn't quite what you are looking for? We have links to thousands of bag sewing patterns, tutorials, sewing videos and tips and lots more on our Pinterest account. Come and follow us, and save some of your favorites to your own boards for later.