Carriers Conquest Bag sewing pattern
|
All posts may contain affiliate links.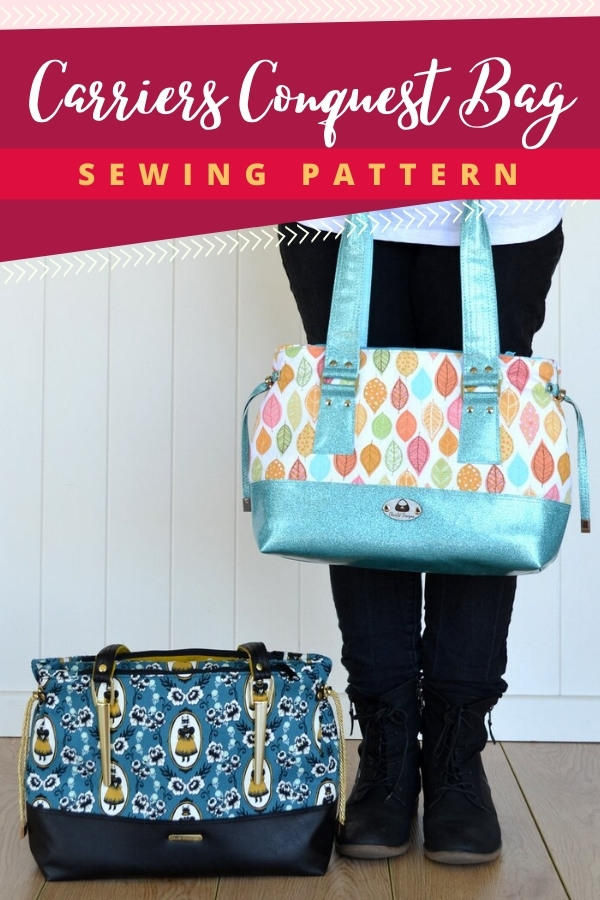 This is the Carriers Conquest Bag sewing pattern. It's a great carry-all bag for when you need more space, and a pocket for everything. This lovely roomy bag really does have it all, and its well worth the effort to sew this intermediate project. There are so many great features on this bag, that you'll learn a LOT just from sewing this project and pick up great tips for use in your other bags too.
If you like pockets then the Carriers Conquest is loaded with pockets that will help you be super organized. This was the designer's first pattern to feature her unique quick access phone pocket. She can't live without that now and you won't be able to either!
This lovely bag also features two spacious top edge zipper pockets, with the front zipper pocket also containing two slip pockets. The roomy center compartment closes with a flap and a magnetic snap.
Inside are two more slip pockets and a clever pocket which the designer included to hold a wallet up to the ChrisW Designs Penny Inn size.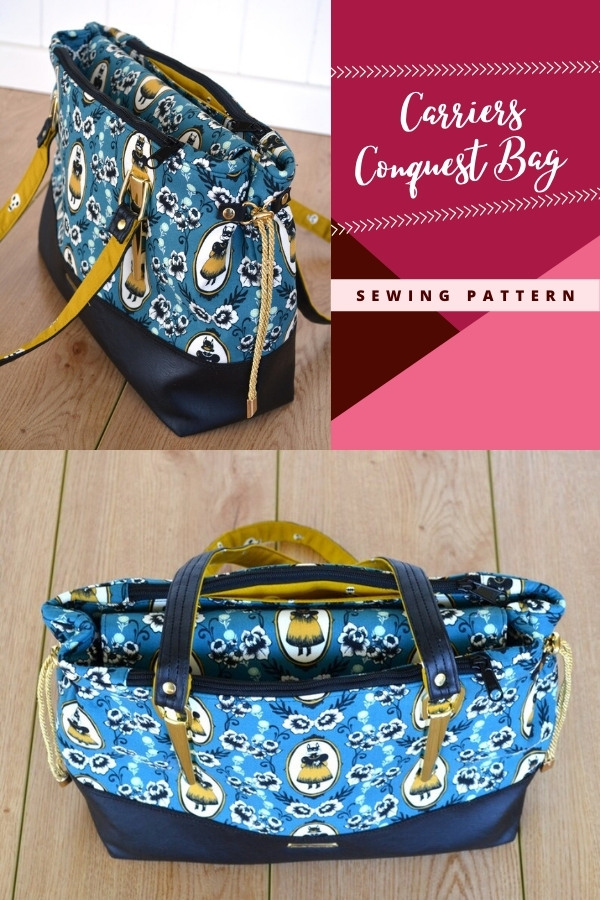 Materials recommendations:
You can make your bag from all fabrics or a combination of fabric and vinyl or pleather. Choose from making your own strap connectors or using metal connectors for added bling!
Sizing info:
When you have made your own Carriers Conquest Bag it will measure approximately 38cm wide by 25.5cm high by 11.5cm deep (13″ wide by 10″ high by 4 ½" deep).
Skill level:
The designer, Chris W Designs, rates her project as suitable for intermediate sewers.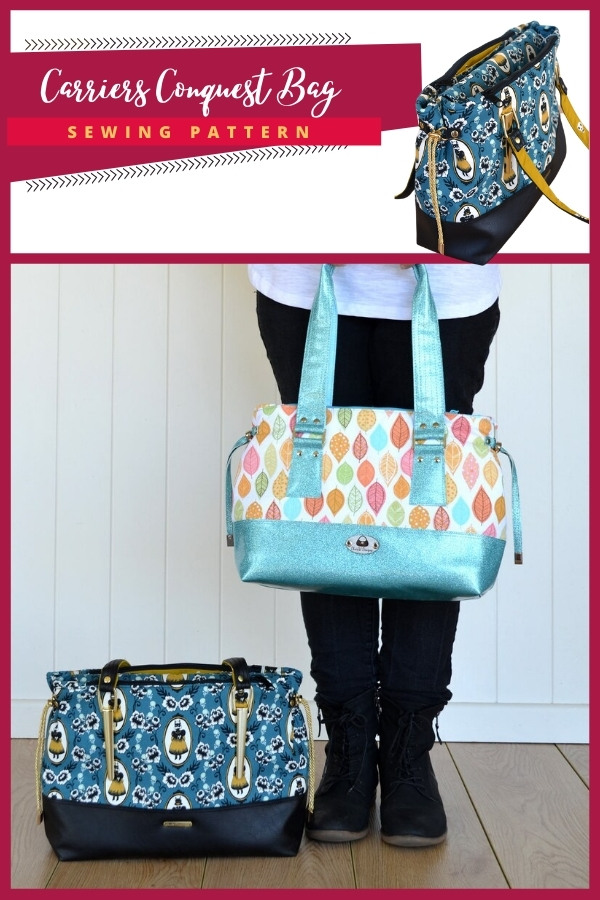 What you will need to make a Carriers Conquest Bag:-
Materials list – Note yardage is meant as a guide and may not be exact,
Exterior Fabric: Quilting weight – 90cm (1 Yard) of 112cm (40″) wide fabric,
Lining Fabric: Quilting weight – 115cm (1 ¼ yard) of 112cm (40″) wide fabric,
Accent Fabric: Quilting weight – 45cm (½ yard) of 112cm (40″) wide fabric,
Fusible Interfacing: Light-mid weight – 4.6m (5 yards) of 56cm (20″) wide interfacing. (Suitable choices would be Pellon Shape-Flex SF101, Therm O Web Heat & Bond Soft Fusible Woven, Vilene #G700 however please allow for different widths),
Decovil 1 or Peltex 71F or Fast2Fuse or TimTex: 30cm wide by 15.5cm high (12″ wide by 6″ high),
Fusible Fleece such as Thermolam Plus or Vilene H640: Two 3.5cm wide by 59cm long (1 ⅜" wide by 23 ¼" long) for Strap Padding,
Template Plastic (Or plastic cutting mat from the dollar store): 31.7 cm wide by 11.5cm high (12 ½" wide by 4 ½" high),
5mm (3/16″) Piping Cord – 36cm (14″),
X2 #5 Handbag Zipper: 30cm (12″),
X2 Double Cord Locks,
Cord to fit your Cord Locks: 74cm (29″),
Regular Magnetic Snap: One 18mm (11/16″),
Four 3.8cm (1½") wide by 1.2cm (½") high Inner Diameter Rectangular Rings OR four Emmaline Bags "Long Johns" (Using larger inner diameter rings will require you to shorten your Strap Tabs or adjust their positioning to compensate!),
Four 12mm (½") D Rings,
Two Metal Zipper Ends,
OPTIONAL: Twenty Double Capped Rivets 9mm (Cap) by 8mm (Stem) OR only eight if using "Long Johns". NOTE: the designer highly recommends rivets for this bag or you can try 8mm stem Chicago Screws as a substitute if rivets scare you!
For OPTIONAL Wallet Pocket: Piece of metal measuring tape 21.5cm (8½") long. I used tape that is 22mm (⅞") wide but you can use whatever width you have on hand OR substitute with 1.2cm – 2cm (½"-¾") Boning.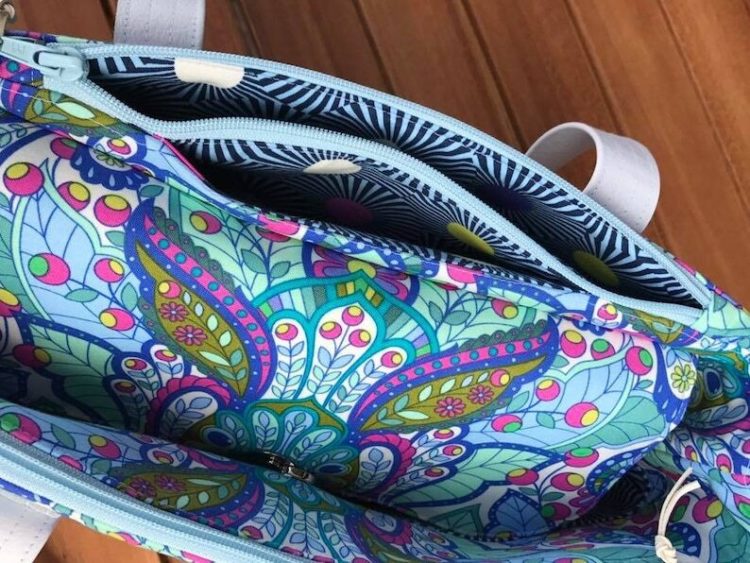 The pdf pattern for the Carriers Conquest has 43 pages of instructions which include 109 step-by-step color photos. Printing instructions and test squares to check the scale are included.
Sixteen pattern pieces are included as well as cutting measurements so you can choose which method you prefer to cut by! Measurements for both Metric and Imperial are included!
PLUS a TEXT ONLY version of the instructions (nine pages) comes bundled with your pattern for printing purposes, should you not need or wish to print all of the photos! Simply refer to your electronic versions for photos if needed. This saves on ink.
If you would like to download the pattern you can click on the blue button below.
More storage and organizers to sew
Want even more ideas for projects to sew for storage and organizers? We love to sew bags that help to keep things neat and tidy. Check out a few recent storage ideas to sew from our store.