Bucket Bag sewing pattern (two sizes and video)
|
All posts may contain affiliate links.
The Bucket Bag pdf sewing pattern comes in two sizes and these drawstring bags are perfect for knitting, sewing, or embroidery projects on the go. These handy bucket bags with the drawstring top have plenty of storage possibilities, project bags for your crafts, (knitters love them), or toy bags for the kids for all the small toys and bits and pieces, and lots more.
Choose if you want an optional external pocket, or if you want to use some fancy and sturdy leather handles. Instructions are given for fabric handles also.
The end result is a beautiful quality product. Fully lined with internal pockets and a stylish but simple drawstring closure.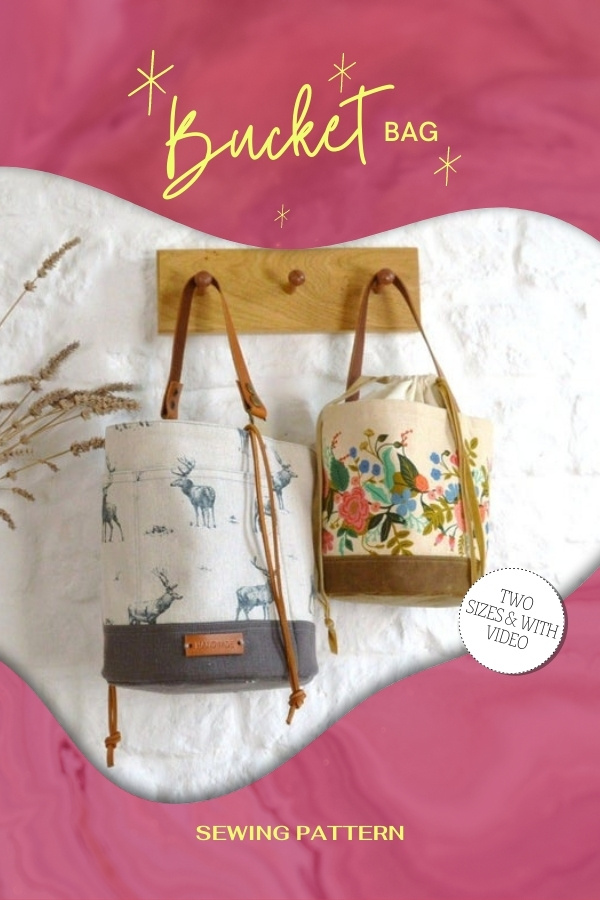 You can fit lots inside these bags. The smallest is really cute, and ideal for small projects on the go like socks, booties, or Christmas decorations! The large will take a small afghan or sweater. Have fun choosing coordinating colors, or make the whole bag in a beautiful plain – the possibilities are endless!
Sizing info:
When you finish making your own Bucket Bags they will measure approximately:-
Large = 9.5″ High (not including drawstring section) by 13.5″ wide across the opening when laid flat – large sweater projects.
Small = 7.5″ High (not including drawstring section) by 10.25″ across the top opening when laid flat – perfect for sock, hat, or bootie projects.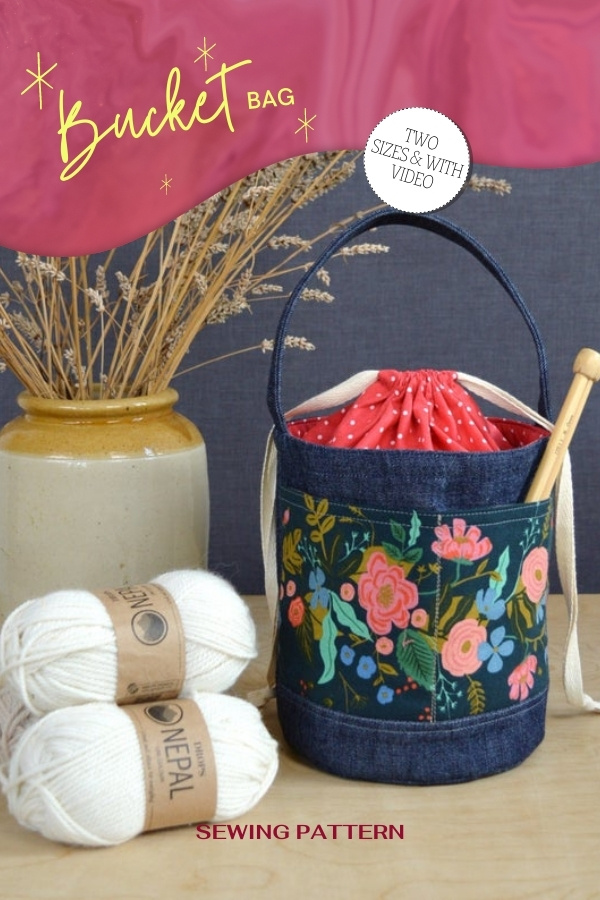 This is a nice project for an advanced beginner who has already tried a couple of bag projects and is not afraid of attempting a circular base!
If you would like to watch a YouTube video tutorial showing you how to make a Drawstring Bucket Bag then here's one from Jess of OklaRoots. Just sit back and click the play button and enjoy.
With the pdf pattern you will receive thirteen pages of clear, easy-to-follow step-by-step instructions and color photos to make this bag and a set of full-scale computer-drawn templates that do not need to be scaled – simply print, cut out and assemble the templates and use them to make the size of your choice! Templates are provided so no need for measuring but if you do want to work from measurements, full instructions are provided so you can just measure, cut, and sew.
If you would like to download the pattern you can click on the blue button below.
And if you would like to see other bag sewing patterns from this designer then you can click on the red button below.
See more patterns from this designer here
We think you'll like these patterns for storage and organizers to sew
We know our readers just love to sew storage and organizer projects so we've got lots of them. We've handpicked some of our favorites to feature in our pattern store. These are some of the most popular that are readers are sewing now!