Bergen Bag sewing pattern
|
All posts may contain affiliate links.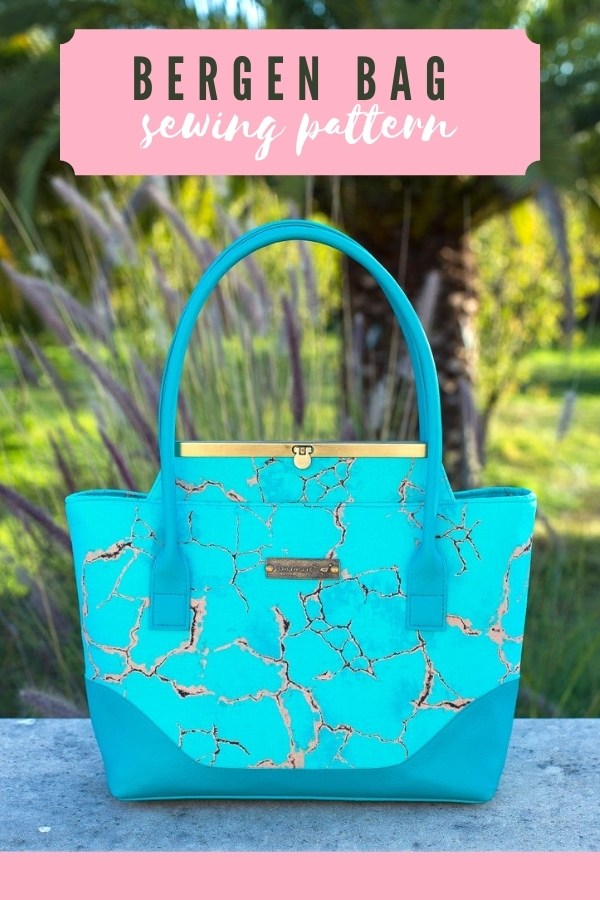 The designer Pink Pony Design really does make fabulous bag sewing patterns and this one is a real gem. The Bergen Bag really is the perfect everyday handbag! This firmly structured bag is big enough for a book or iPad on top of the necessities, and it has been designed with travel in mind.
The Bergen Bag has many open slip pockets so everything has its proper place. There's even a large safe zipper lining pocket, with room for both boarding passes and passports.
The designer has incorporated many different design options into this sewing pattern. It can be made with a bag frame (open-ended or closed) or zipper closure, with handle connectors or without, or with high or low bottom decor.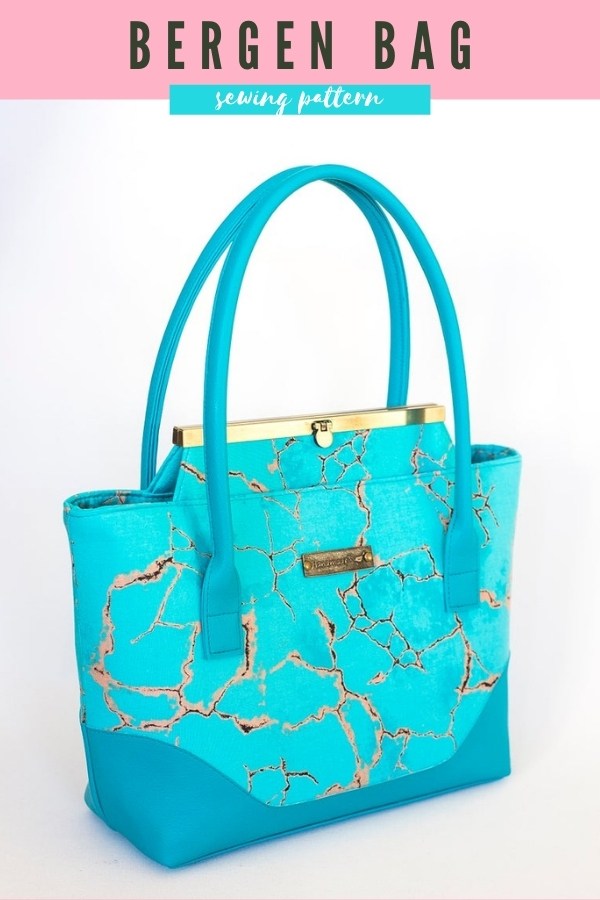 Skill level:
The designer has rated this bag project as suitable for an intermediate bagmaker. It's described as not terribly technical or difficult, but having a few bags under your belt before trying this design is recommended.
Sizing info:
When you have finished making your very own Bergen Bag it will measure approximately 10″ (25 cm) high by 13″ (33 cm) wide by 4″ (10 cm) deep at the base.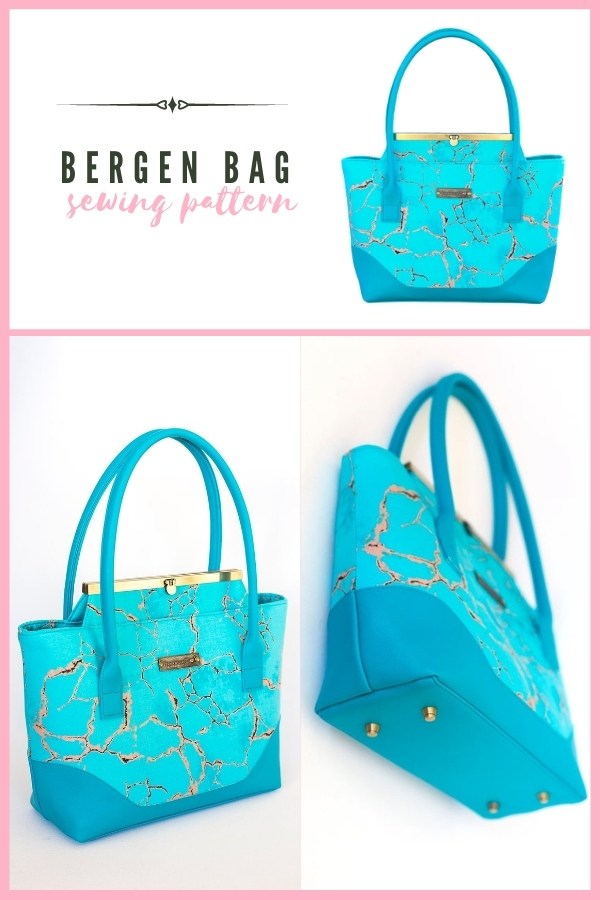 What you will need to make a Bergen Bag:-
½ yard (45cm) of exterior fabric – Cotton fabric, vinyl, faux leather, or cork fabric (patterned exterior), please consider the bulk when sewing, not all domestic machines will be able to handle sewing the layers with fabric thicker than cotton. More fabric will be needed if you want a certain part of the print for the front of the bag.
½ yard (45cm) of vinyl fabric – Vinyl, faux leather, cork, or similar where the edges can be left raw, but please consider the bulk when sewing, not all domestic machines will be able to handle sewing the layers with a very heavy vinyl.
½ yard (45cm) of lining fabric – Cotton fabric for the lining.
22" by 20" (55 by 50cm) heavy fusible interfacing – Fast 2 Fuse Heavy, Pellon 72F Peltex 2 Sided Fusible or Pellon 71F Peltex if you prefer one-sided fusible.
1-yard (90cm) of thin fusible interfacing – Fusible interfacing for lining and all cotton fabrics like Vilene G700 woven fusible or Pellon SF101 Shape-Flex.
One purse frames 7 1/2" (19cm). You can use the closed-ended frames or the open-ended ones like from Emmaline Bags as you prefer.
OR if you're making the version with zipper closure:
One #5 Zipper 14" (35cm) (or longer) – should match the exterior fabric if you wish to have a zipper closure for your bag. If you're uncomfortable replacing zipper pulls, choose an open-ended zipper.
One metal zipper end – You can use one of these, or you can choose to sew a little cover of your own design.
Four 1" (2.5cm) rectangle rings or D-rings with 1" (2.5cm) interior measurement. Only needed if making handle connectors.
One 14" (35cm) #3 zipper (or longer) – Should match the lining fabric and not have a big/bulky pull.
Four bag feet: If desired.
Rotary cutter, cutting mat, and ruler.
Double-sided wash away quilting tape, the designer recommends.
Fabric glue & wonder clips.
This pattern comes with both inch and centimeter measurements. If you would like to add this exciting purse pattern to your collection you can click on the blue button below. 
This one wasn't quite right for you? What about these instead?
Want even more purses and handbags to sew? Our shop is packed full of hand-picked favorites from talented designers, big and small. Here are a sample selection you might like. Check them all out in our shop.