Belinda Bag (2 sizes) sewing pattern
|
All posts may contain affiliate links.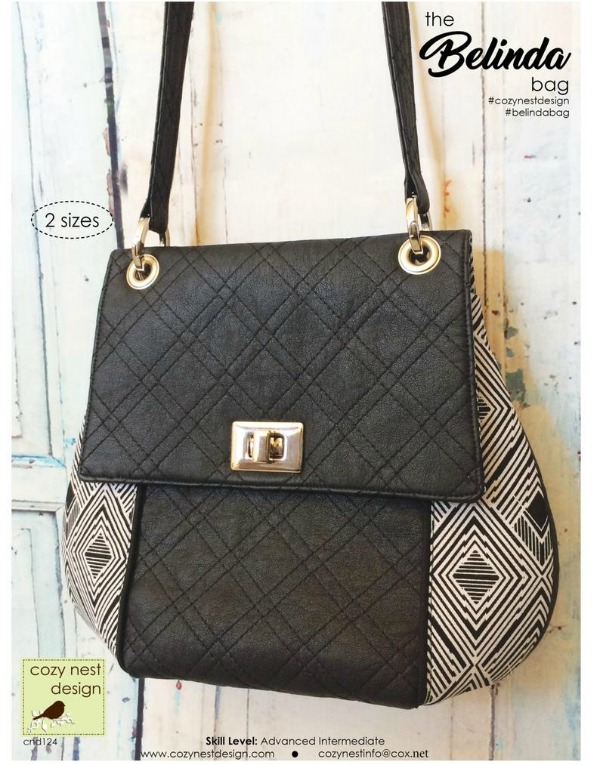 This is the Belinda Bag sewing pattern, that comes in two sizes. This is a slimline purse with plenty of style. We love the shape, the smooth rounded curves, and the darts. Grommets allow for fun strap placement options.
The Belinda bag features an interesting bell-shaped body, a pieced front panel with piping, and a generous flap for lots of pretty hardware!
There are zipped pockets on the inside and on the back help keep small items close at hand.
A graduated side panel and darts create fullness to the bottom.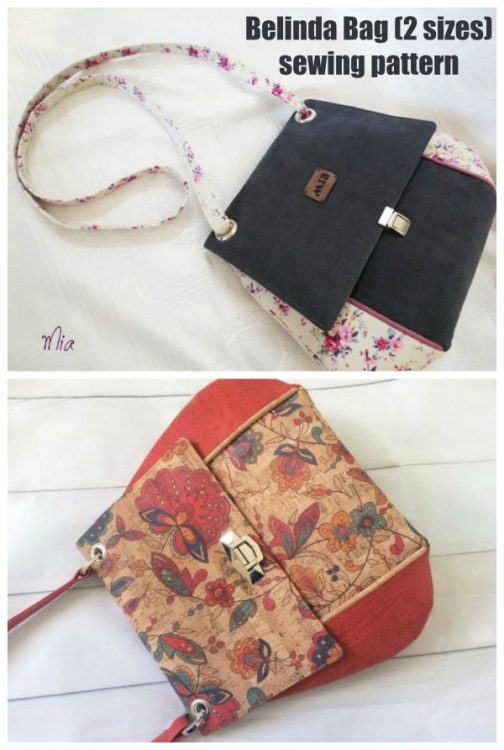 The strap can be threaded through the flap grommets or attached with a gate ring for a little added bling!
Instructions are included for the two size options! When you have finished making a Belinda Bag it will measure approximately:-
Small = 11″ (28 cm) by 9 1/2″ (24 cm) by 4″ (10 cm).
Large = 13″ (33 cm) by 11″ (28 cm) by 4 1/4″ (11 cm).
Strap length = 35 1/2″ (90 cm) long with a 17 1/4″ (44 cm) drop.
The designer rates her pattern as suitable for an advanced intermediate sewer. That's advanced because of the installation of hardware. All the sewing is doable with an intermediate skill level.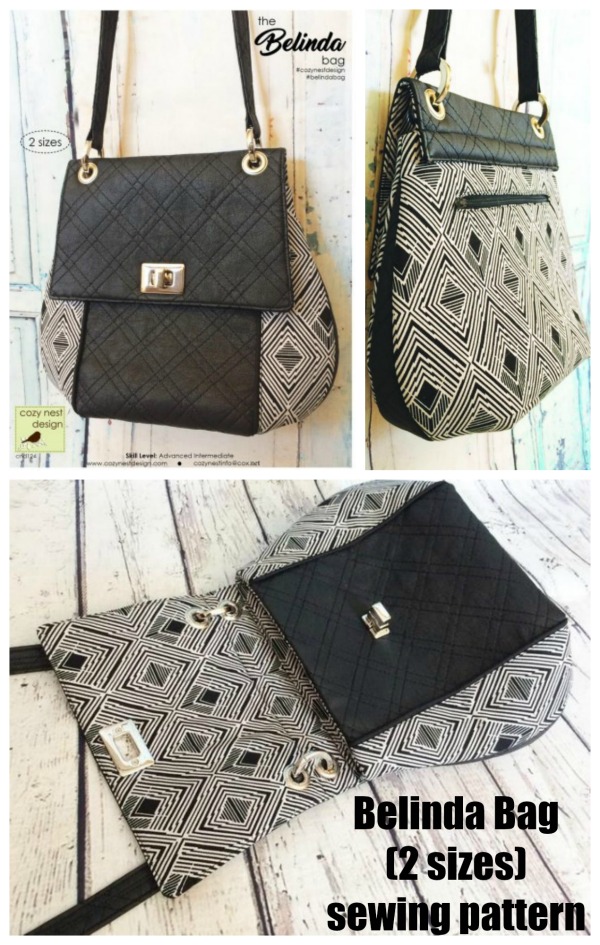 Materials needed to make a Belinda Bag (see the pattern for full details):–
Exterior fabric for the front (right and left of center) and back. Suggested: quilting cotton, home decor fabric, faux leather, light to medium weight vinyl.
Exterior Fabric for front-center, flap, strap, and side. Suggested: quilting cotton, home decor fabric, faux leather, light to medium weight vinyl.
Lining fabric for the bag lining, flap interior, and interior and exterior pockets. Suggested: quilting cotton, light to medium weight home decor fabric.
Foam Stabilizer.
Piping – prepackaged OR Piping cord and contrast fabric for piping.
One bag lock or closure hardware of choice for the flap closure.
Two zippers- all-purpose or size of choice for exterior & interior pockets.
Plastic Canvas – small piece to stabilize bag lock.
Fusible web tape double-sided for installing zippers (optional).
Zipper, cording, and walking feet (optional).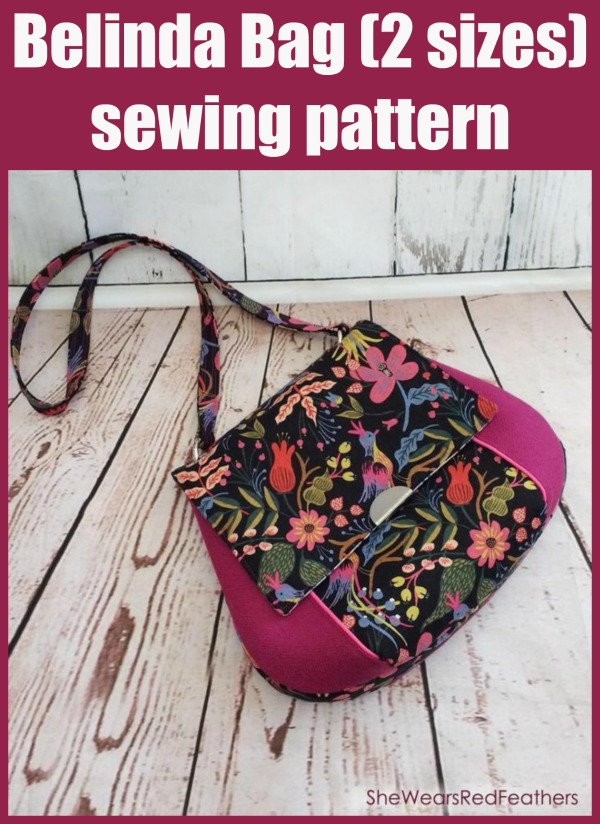 The pattern consists of:-
PDF: 29 pages (10 pages of instructions, 17 pages of pattern sheets*, 2 pages of cutting labels),
A thoroughly tested design given the thumbs up by my amazing test team,
An online photo tutorial for installing the flap grommets,
Metric and imperial measurements,
Quality line drawings and concise, detailed instructions,
Two rectangular pieces are cut based on dimensions instead of pattern pieces.
If you would like to download the Belinda Bag (2 sizes) sewing pattern then you can click on the blue button below.
This designer, Cozy Nest Designs, has lots of great patterns which you can see by clicking on the red button below.
See all the patterns from this designer here
This one wasn't quite right for you? What about these instead?
Want even more purses and handbags to sew? Our shop is packed full of hand-picked favorites from talented designers, big and small. Here are a sample selection you might like. Check them all out in our shop.