Barrelette Clutch Purse pattern
|
All posts may contain affiliate links.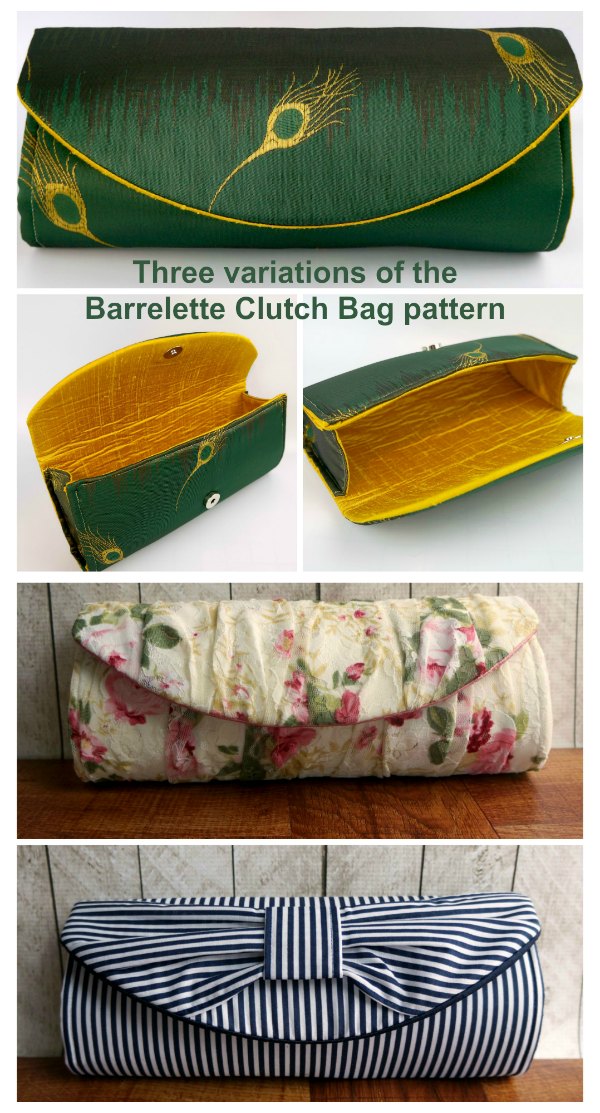 This the Barrelette Clutch Purse pattern and it is perfect for you to make as a glamorous evening purse. This purse is simple to make and as a bonus, the designer has included three variations of the clutch purse for you to make.
The Barrelette Clutch Purse is a versatile sewing pattern for creating a barrel-shaped clutch with a flap. You can make it from luxurious silks and satins for an evening clutch, or pick a beautiful patterned cotton for a more casual look.
If you wish you can add a wrist strap, purse chain, or interior pockets.
The designer describes this pattern as best for confident beginners and up.
The Barrelette Clutch Purse can be made with either one or two layers of heavyweight interfacing. One layer makes a more flexible clutch, while two layers make a stiffer clutch. You may find that some sewing machines may experience difficulty sewing through the heavy layers. The designer does provide alternate interfacing suggestions.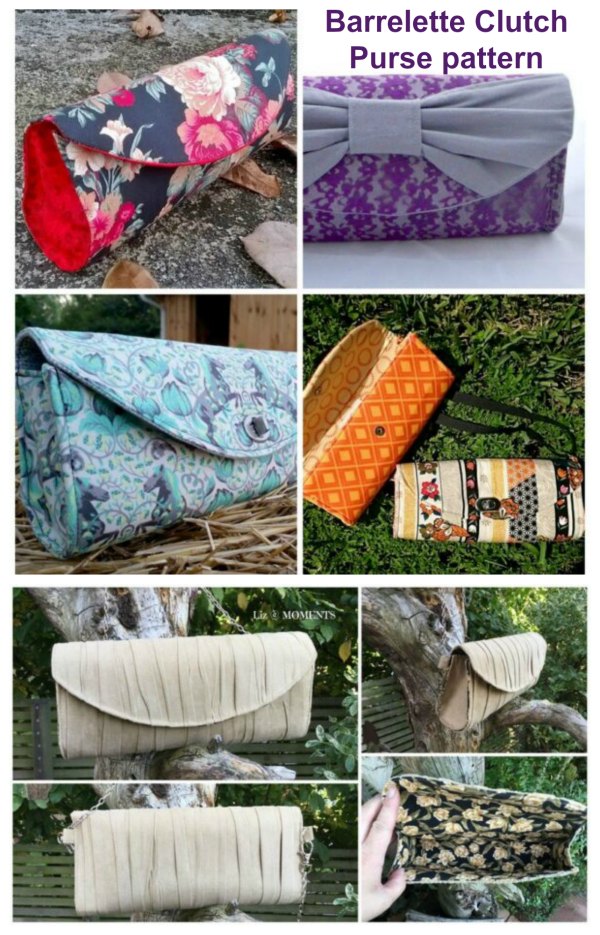 When you have finished making your Barrelette Clutch Purse it will measure approximately 10.5" (26.7cm) wide by 4" (10.2cm) tall by 2.5" (6.4cm) deep.
What you will need to make the Barrelette Clutch Purse
16″ by 16″ / 16″ by 26″ of exterior fabric (basic / gathered or bow)
16″ by 16″ of interior fabric
1/3 of a yard of fusible fleece interfacing (gathered = none)
1/2 yard of lightweight woven fusible interfacing (gathered = 2/3 yards)
1/2 yard of double-sided heavyweight fusible interfacing (peltex)
One 0.7″ (18mm) magnetic snap
Optional wrist/shoulder strap, (1-2) 0.5″ d-rings, (1-2) 0.5″ swivel hooks, one 2″ piece by the desired strap length for a fabric strap
Optional laces and embellishments
If you would like to download this pattern you can click on the link below. The pattern includes sixteen pages of instructions, with detailed diagrams and a photo tutorial. There are eight pages of the printable pattern. Pattern instructions are given in both inches and centimeters. This can be printed on letter or A4 paper.