APEXcarry Tote Bag sewing pattern (2 sizes)
|
All posts may contain affiliate links.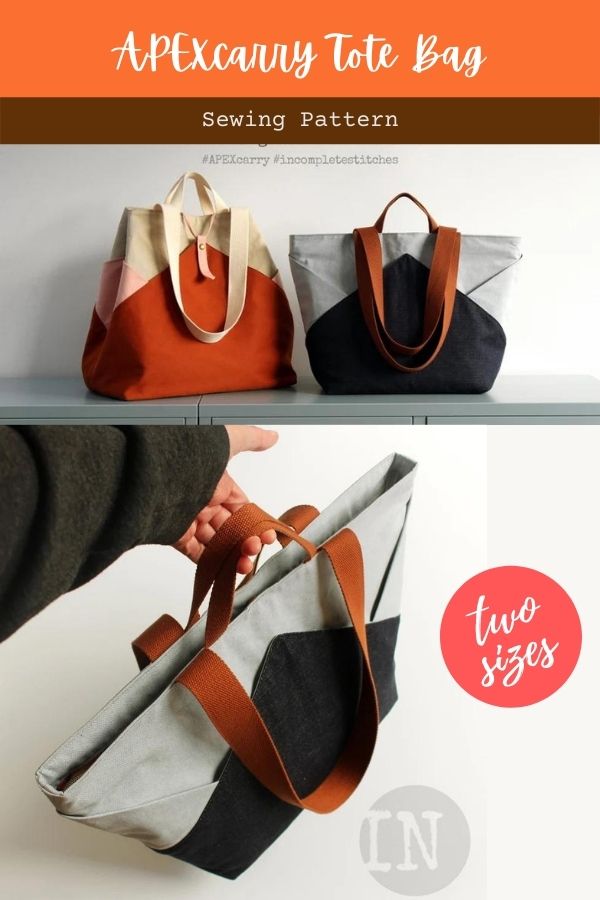 This is the APEXcarry Tote Bag pdf sewing pattern that comes in two generous sizes. There's a standard big tote and an even bigger oversized tote.
The standard tote is a great bag to be used as your general day-to-day tote. The oversized option, however, is a great size to carry everything you need for a big picnic, a trip to the beach, the entire family's swimming gear, or as a really fab overnight bag for that sneaky weekend away.
This bag has a simple modern aesthetic look with angled outer pockets that can be secured with a snap & loop closure or with a simple line of stitching.
Both bag sizes include tote and hand straps. The APEXcarry can be made as a simple open tote, with or without a magnetic snap closure and/or a side snap & loop closure. If you need a bit of extra security the pattern also provides the option to add a main zipper closure.
Inside the bag, you can use light and simple supplies or add a 20 cm or 25 cm zipped welt pocket and/or a subdivided angled pocket. The tutorial also includes instructions for adding a lanyard strap to secure a set of keys or wallet.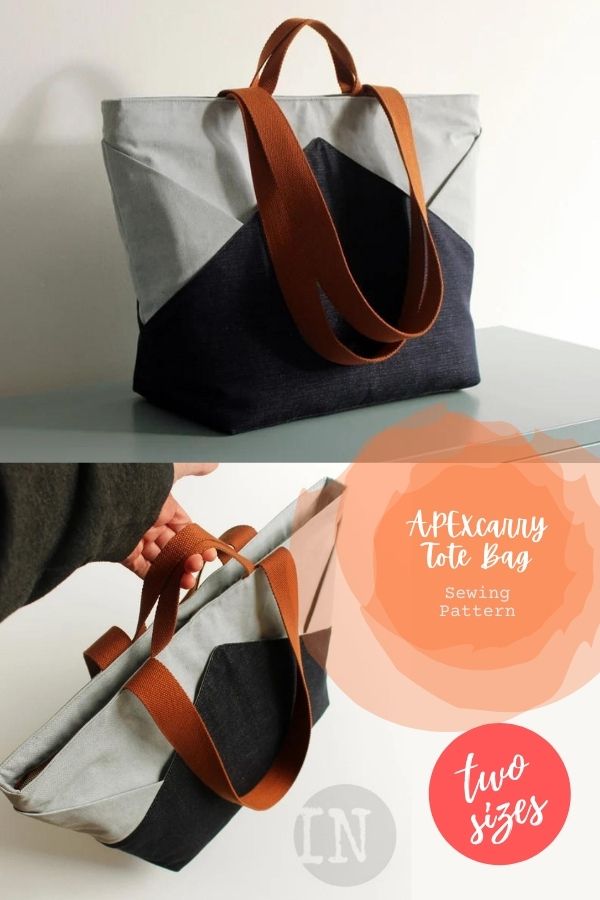 Skill level:
The designer rates her project as suitable for a confident beginner sewer. The pattern has lots of options but comes with a comprehensive PDF tutorial making it a great entry-level bag-making project.
Sizing info:
When you have finished making these APEXcarry Totes they will measure approximately:
Standard Tote Bag = 13½" (34 cm) tall by 13½" (34 cm) wide at the base by 6¾" (17 cm) deep at the base. The main opening width is 20″ (51 cm) and takes a 22″ (55 cm) closed-ended zip.
Oversized Tote Bag = 15¾" (40 cm) tall by 15¾" (40 cm) wide at the base by 8″ (20 cm) deep at the base. The main opening width is 23½" (60cm) and takes a 26″ (65 cm) closed-ended zip.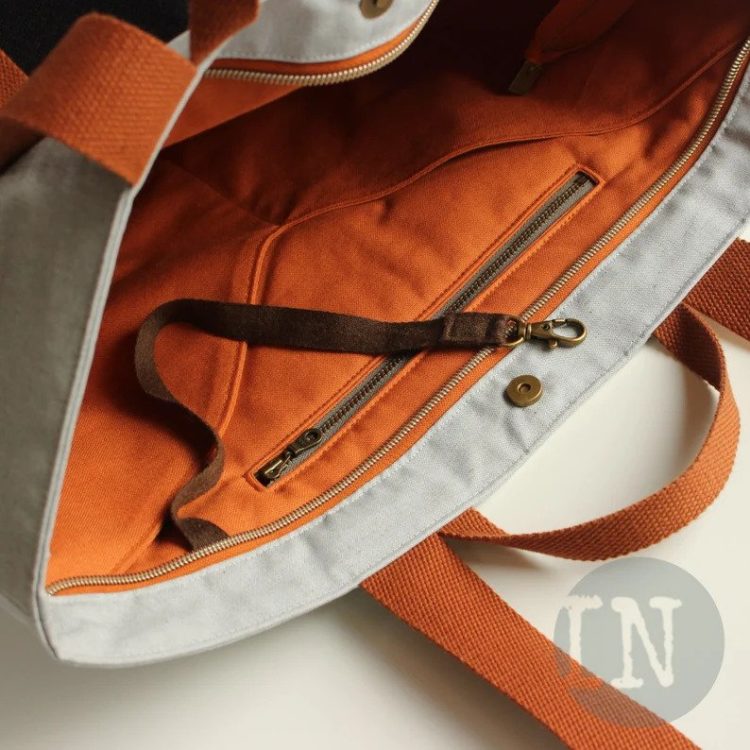 What's needed to make an APEXcarry Tote Bag:
Outer fabric: Mid – heavyweight stable fabrics. Mid/heavyweight canvas, oilskin/waxed canvas, upholstery fabrics. The Angle Pocket and Side Triangles can be made with a lighter mid-weight fabric without interfacing if desired, such as corduroy, twill, denim, and mid-weight canvases.
Lining fabric: Mid-lightweight stable fabrics. Cotton, quilting cotton, linen, lightweight cotton canvas.
Notions required include (depending on your option choice):
Tote straps (webbing or fabric).
Hand straps (webbing or fabric).
A closed-ended zip.
Optional internal welt zip.
Optional four snap fixings.
Optional swivel hook.
Interfacing.
Denim needle/needle suitable for your fabric choice.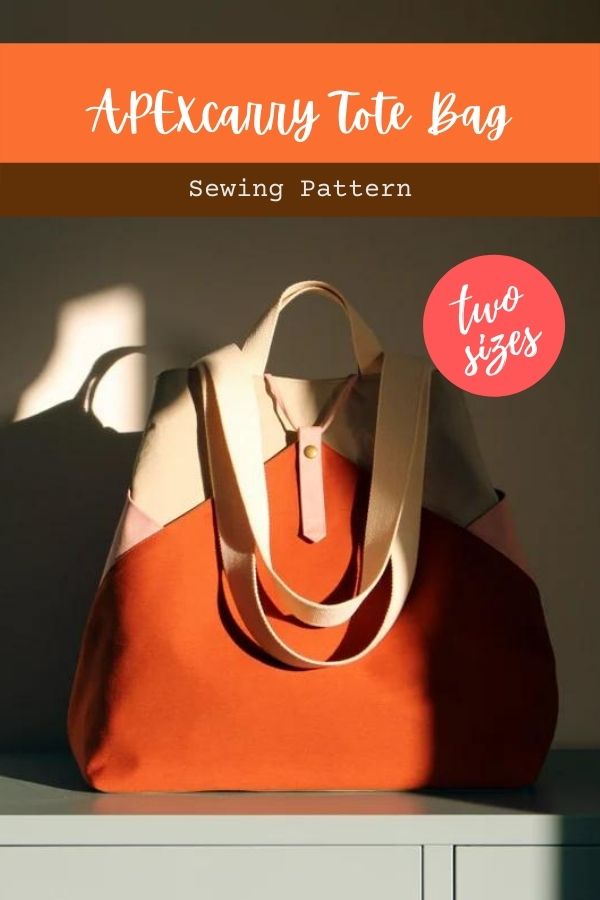 The pdf pattern includes the following:
– A detailed, extensive, illustrated step-by-step tutorial,
– A tiled print at home PDF pattern (A4 & letter),
– An A0 copyshop pattern,
– A layered PDF projector file.
If you would like to download the pattern you can click on the blue button below.
More Tote Bags to sew
Everyone needs (a lot) more than one tote bag. They are a staple pattern in every sewing pattern collection and so versatile and adaptable. Check out a few recent tote bag patterns to sew from our store.