Alanda purse free pattern + video
|
All posts may contain affiliate links.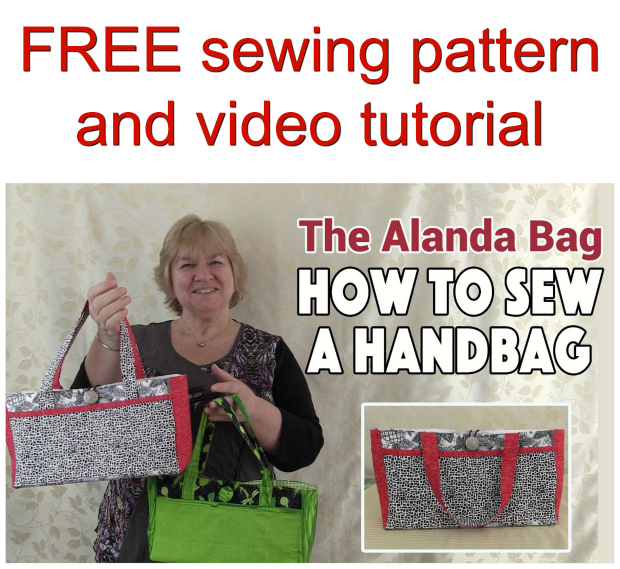 Below is a complete video tutorial on how to make the Alanda handbag. The Alanda is ideal to run up to match an outfit and for when you don't want to be carrying around a large bag. You can slip your phone in the pocket on the front so it's always handy when it rings.
The beauty of this bag is that you can add more pockets to the outside and even put some on the inside using the same method as the pocket we show you on the front. This is a complete bag-making tutorial and you will be sure to pick up some tips and tricks that you can carry through to all of your bag-sewing projects, or maybe even set you on the road to designing your own simple purse based on the things you learn in this video.
It's fairly straightforward and easier than it looks but adding the gusset can be a little tricky.  Don't worry, the video will show you everything you need to do, every step of the way.
What You Will Need:
This bag is SO simple that you don't even need to bother printing and putting together a paper pattern. Just cut your fabrics according to the cutting chart below and follow the video for how to put the bag together.
1 pce 18″ x 12″ fabric for main – quilting cotton would be great for this bag
1 pce 18″ x 12″ fabric for lining
1 pce 10″ x 12″contrasting fabric for the pocket
1 pce 1½" x 12″ contrasting fabric for pocket trim
2 pcs 4½" x 7¼" contrasting fabric  for gussets
2 pcs  4½" x 7¼" lining fabric
1 pce 18″ x 12″ medium weight interfacing for the body of the bag
2 pcs 4½" x 7¼" medium weight interfacing for gussets
1 pce 3½" x 11″ heavyweight interfacing for the base of the bag.
2 strips 64″ long and 2½" wide of two contrasting fabrics for handles
1 pce tubular elastic 8″
2 buttons
Information courtesy of the alandacraft website.