Addison Diaper Bag pattern
|
All posts may contain affiliate links.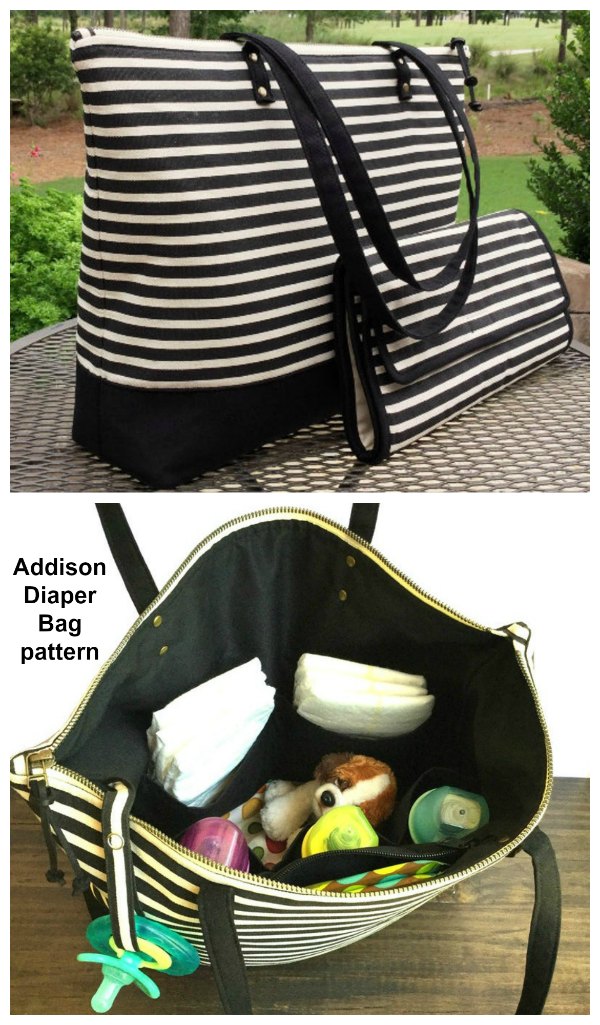 Today we are sharing with you a great sewing pattern for a diaper bag. Now don't immediately dismiss this bag because it's labelled as a diaper bag to sew and you don't know any moms. Diaper bags can make the best purses because they are large and roomy on the inside, and have pockets galore. So if you like a large bag or need to carry things around and keep them organised, the Addison Diaper bag could just be the perfect tote bag pattern you are searching for.
The Addison Diaper Bag is a chic and sophisticated large tote. It has a roomy interior and many pockets. There are five large slip pockets and one zippered pocket on the inside which makes it perfect for stashing baby bottles, diapers, wipes, lotions, and extra clothing.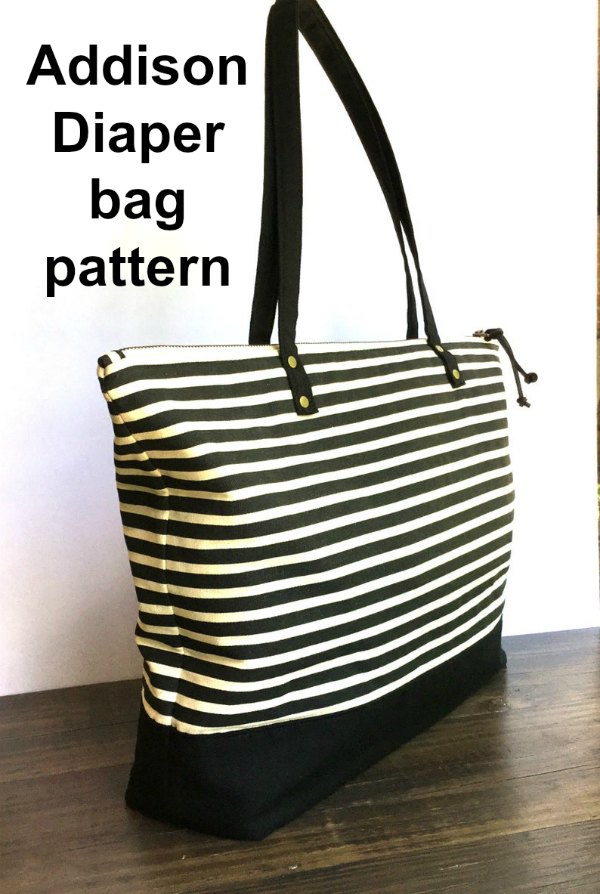 The clever designer has attached a key/pacifier holder which means you will never need to search endlessly in the bottom of your bag for those important items.
If you want you can instead use this bag as a great work tote. It can easily accommodate your laptop, files, and all your work gear. This sturdy bag bottom, yet lightweight design, makes this bag easy to carry.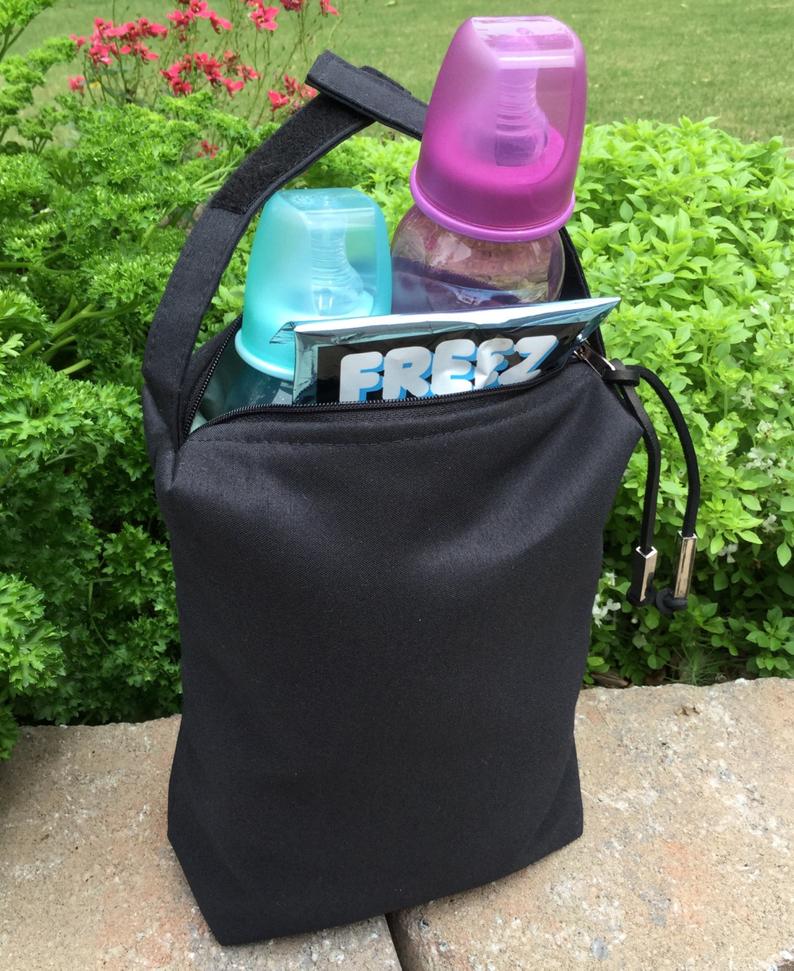 The designer as a great bonus has included two extra free patterns with this purchase as follows:
An insulated bottle bag (seen in the picture above).
A changing pad clutch (seen in the picture below, and folded in the top picture).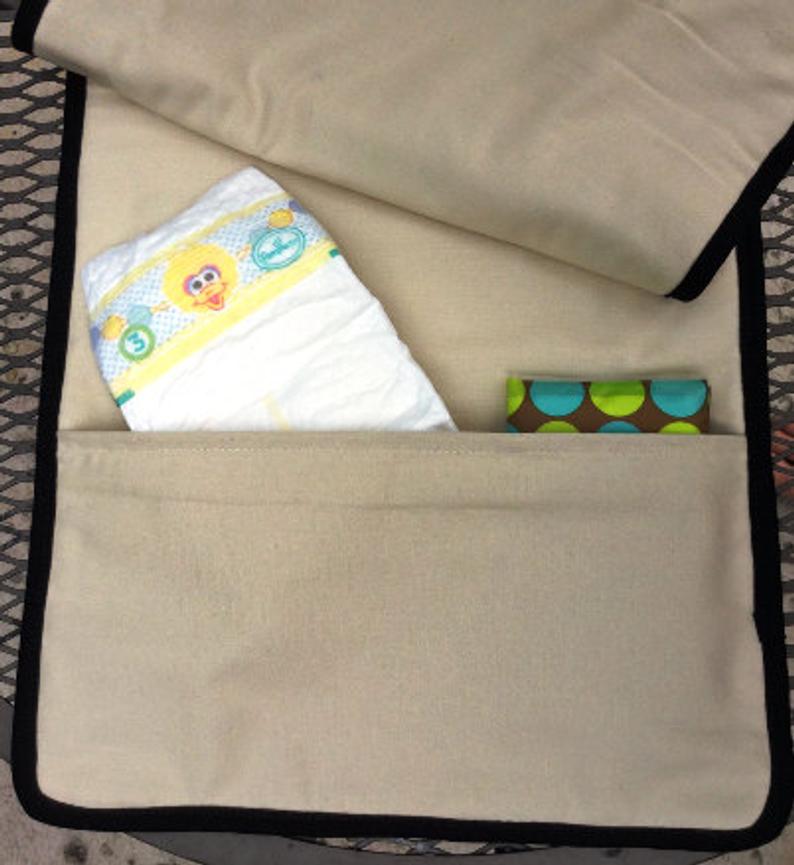 Listed below are details of all three of the digital patterns from this most generous designer.
Addison Diaper Bag details:
The finished bag is approximately 18″ wide by 12″ high by 4″ deep.
A 17″ top zippered opening.
A 10″ handle drop.
A strong 4″ by 14″ bag bottom with purse feet.
A 7″ wide by 5″ high side zippered pocket.
Three 4½" wide by 6½" high inside slip pockets.
Two 7″ wide by 6½" high inside slip pockets.
A 6″ long inside key/toy holder with snap.
Rivets at all stress points.
Insulated Bottle Bag Details:
The finished insulated bag is approximately 9″ high by 7½" wide by 3½" deep.
There is a 7″ top zippered opening.
It has a 10″ handle with velcro closure.
It has a fully lined interior with a pocket which is 5½" high by 6½" wide.
Diaper Changing Pad Clutch details:
The finished pad is approximately 12″ wide by 30″ long.
It folds to 12″ by 8″.
It has a velcro closure.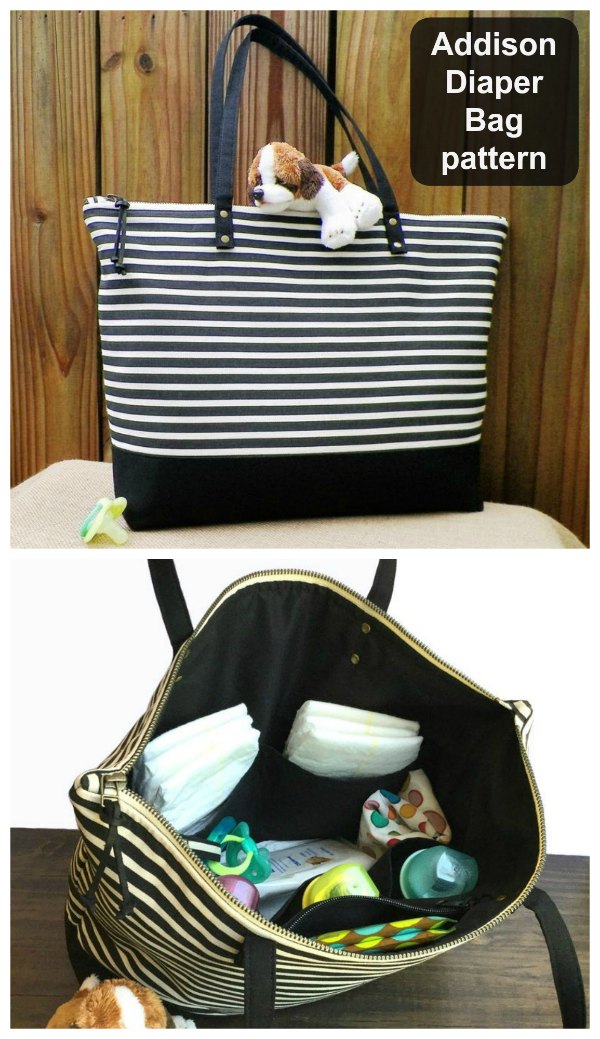 This bag pattern download includes a total of 31 pages for the three projects. It has clear step by step instructions and over 50 full color images of the actual bags in progress. Also included are templates to print out for ease of zipper and rivet placement and full size insulated bag pattern to print.
If you would like to sew the pattern for the Addison Diaper Bag then you can click on the light blue button below.
And if you like this pattern the designer Merge Patterns has many other awesome patterns that you can view by clicking on the red button below.
See all the patterns from this designer here
More Tote Bags to sew
Everyone needs (a lot) more than one tote bag. They are a staple pattern in every sewing pattern collection and so versatile and adaptable. Check out a few recent tote bag patterns to sew from our store.