Abigail Diaper Bag pattern
|
All posts may contain affiliate links.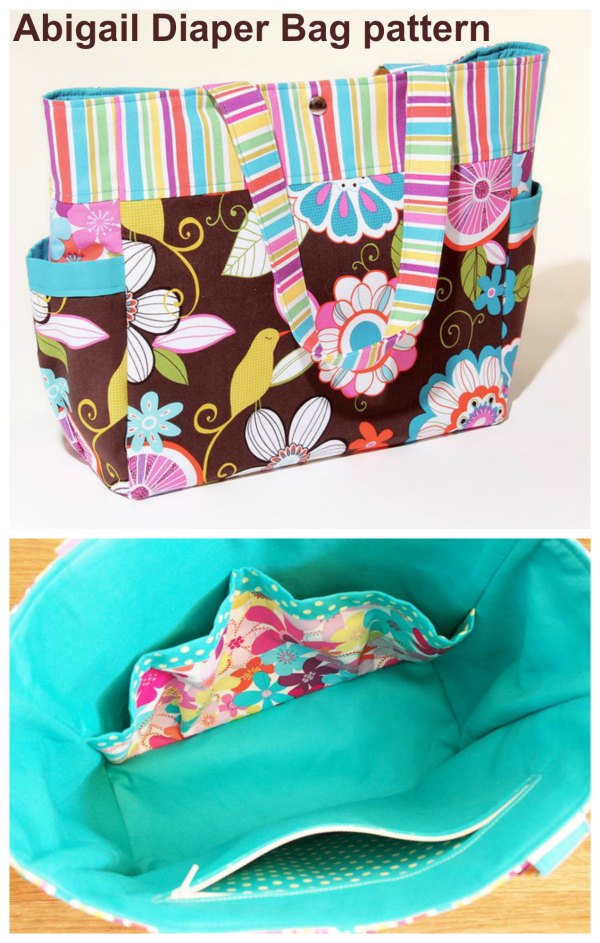 This is a great looking Diaper Bag. It's the Abigail Diaper Bag and like the designer we feel that it really is a cut above the usual mass produced shop-bought ones. It's a vibrant, modern and trendy bag where you can really show off your current favorite fabrics. Just perfect for the trendy mom about town.
The designer of the Abigail Diaper Bag pattern says it is suitable for an intermediate sewer. She also says – "It's a really versatile bag that you'll just love." So even if you don't need a diaper bag, just a good sized purse with lots of spaces to keep you organised, this one is a good choice.
This good-sized bag has the following features:
Two exterior side pockets
Two good-sized interior slip-in pockets
One interior zipper pocket
It's double interfaced for strength and durability
It has a reinforced base for stability.
When you have finished making the Abigail Diaper Bag it will measure approximately 13.75" by 11.75" by 5".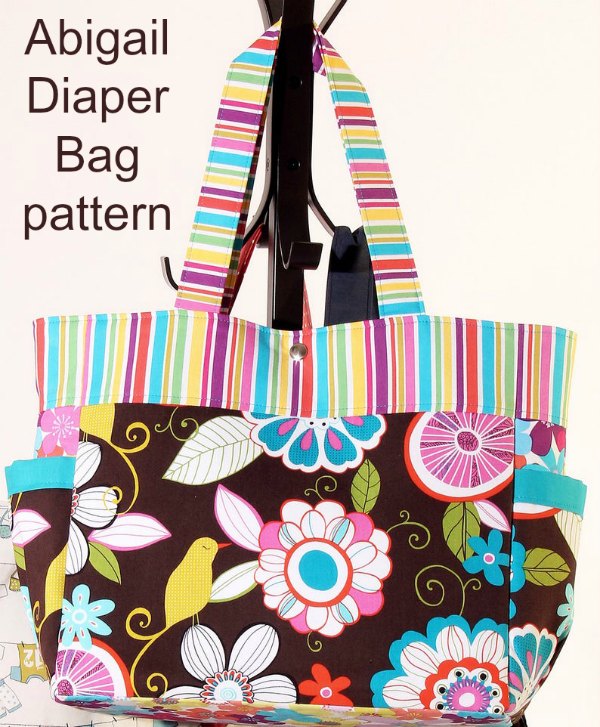 What you will need to make the Abigail Diaper Bag
Fabric 1 = 1/2 yard of medium-weight cotton print
Fabric 2 = 3/8 yard of medium-weight cotton print
Fabric 3 = 3/8yard of medium-weight cotton print
Fabric 4 = 3/8yard of medium-weight cotton print
3/4 yard of medium-weight cotton solid fabric for the lining
2 yards (35.5" wide) or 4 yards (20" wide) of medium-weight woven fusible interfacing
5/8 yard (35.5" wide) or 1 1/4 yards (20" wide) of medium-weight sew-in interfacing
Matching sewing thread
One 10" nylon zipper (or longer, as can be trimmed back to required size)
Seam ripper (optional)
1/4" double-sided basting tape (optional)
Zip presser foot
One 4¾" by 13" plastic mesh bag bottom (plastic canvas used for cross-stitch)
One 5/8" riveted press snap and fixing tool or magnetic snap