The Upgrader Designer Handbag pattern in 2 sizes
|
All posts may contain affiliate links.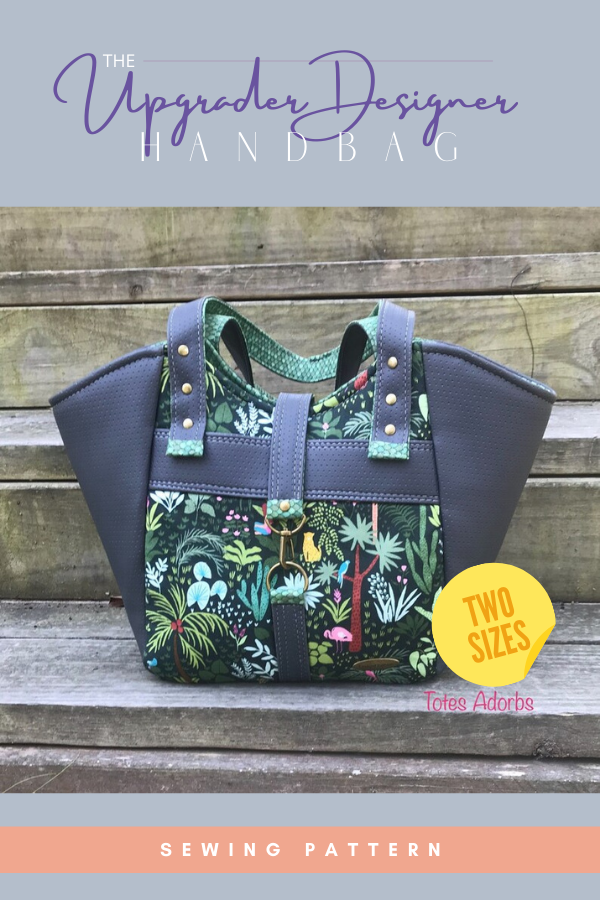 This is the Upgrader Designer Handbag pdf sewing pattern. It features a front slip pocket (perfect for your keys) and a back slip pocket which you can choose to have as a quick access pocket for your phone. Or you can choose to have the back pocket close more securely with a simple alteration as shown in the pattern. The Top Strap Closure keeps your main compartment and front pocket closed. Inside the main compartment, you will find a zippered pocket.
The Upgrader Designer Handbag comes in two sizes to choose from. The small is the perfect-sized handbag for a day out shopping where you don't need to carry a ton of paraphernalia. The larger size is perfect if you like to carry a lot of extra things in your handbag.
With the addition of Pocket Supplement B, you will have loads of pockets to keep organized while you shop!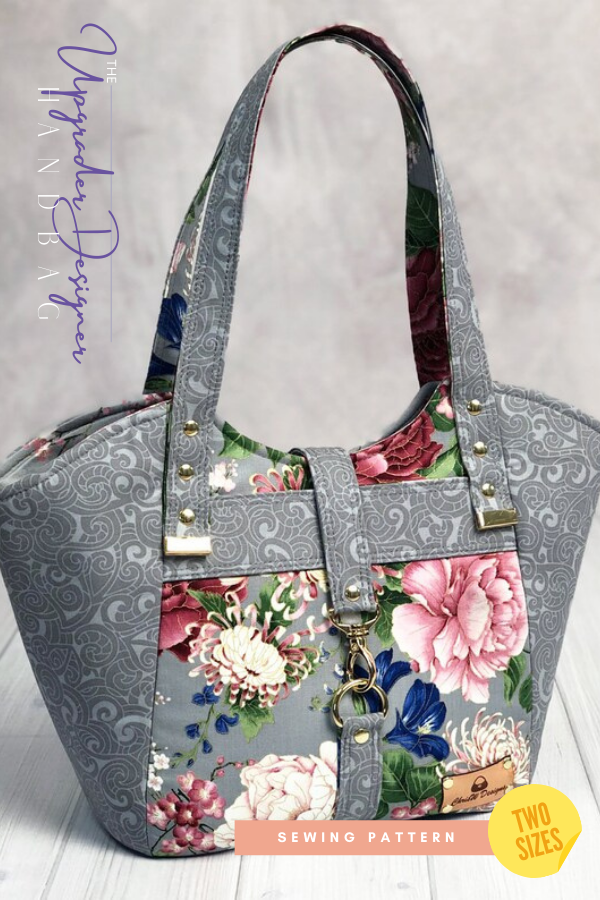 When you have finished making your own Upgrader Designer Handbag it will measure approximately:-
Small = 25 cm (10") wide at the base and 37 cm (14 ½") wide at the top by 23.5 cm (9 ¼") high by 9 cm (3 ½") deep.
Large = 28 cm (11") W at the Base and 41cm (16") W at the Top X 28cm (11") H X 10cm (4") D.
Skill level:
The designer Chris W Designs rates their project as suitable for an intermediate sewer. A full video course and PDF are also available on the designer's website if needed.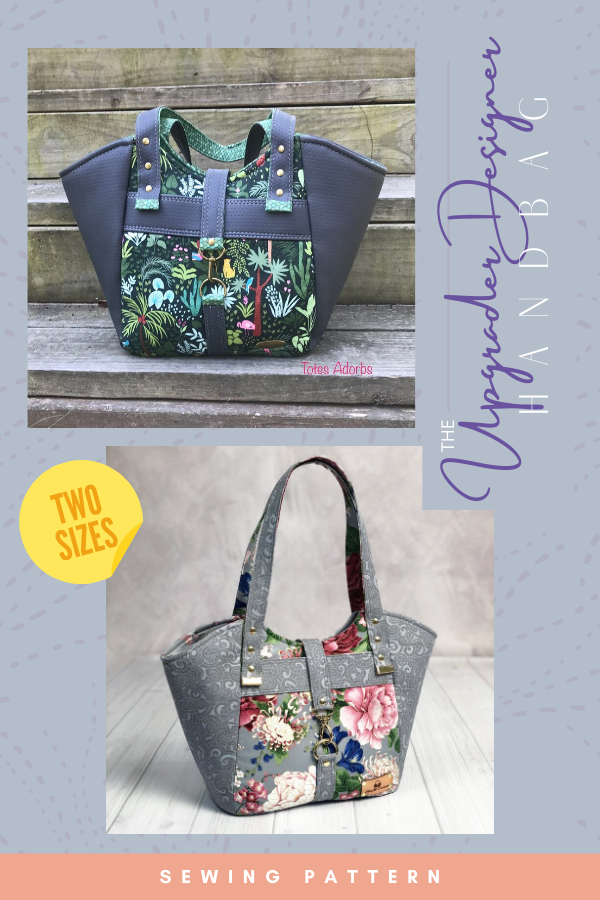 What you will need to make the Upgrader Designer Handbag:-
Exterior feature fabric – 112 cm (44") wide: 64 cm (18"),
Side & straps accent – 112 cm (44") wide: 46 cm (½ a yard) OR 137 cm (54") wide by 30.5 cm (12"),
Lining fabric – 112 cm (44") wide: 90 cm (1-yard). This is enough for adding Pocket Supplement B.
Fusible woven interfacing: WovenFuse – 114 cm (45") wide – 1.9 m (2-yards),
Substitutes are DHJ501 or Pellon Shape-Flex SF101- 51 cm (20") wide – 3.7 m (4-yards),
Soft & Stable or Pellon Flex Foam or Headliner (Referred to in pattern only as Soft & Stable): 71 cm by 46 cm (28" by 18"),
Decovil 1 (Heavy), Peltex 71F, Fast2Fuse or TimTex or two layers of Decovil Light (Referred to in pattern only as Decovil 1): 90 cm by 15 cm (29½" by 6"),
One #3 Dress zipper for the interior zipper pocket: Large – 30 cm (12") or Small – 28 cm (11") (OR longer cut to size),
One 25 mm (1") D Ring,
One 25 mm (1") swivel hook (Length of the hook is 5 cm (2"). If different, adjust your top strap to suit,
Four 25 mm (1") strap ends,
Fourteen double capped rivets 8 mm (Stem) & two double capped rivets 6mm (Stem). The stem size is a guide only and may vary depending on thicknesses. NOTE: You can try Chicago Screws as a substitute if rivets scare you,
The PDF pattern for The Upgrader has thirty-six pages of instructions which include eighty-seven step-by-step color photos.
Twelve pattern pieces (for two sizes) are included as well as cutting measurements for rectangular pieces. Both metric and imperial measurements are included!
There is also a text-only version of the instructions (nine pages) that comes bundled with your pattern for printing purposes. This is great should you not need or wish to print all of the photos. You can simply refer to your electronic versions for photos if needed, which saves on a lot of ink.
If you would like to download the pattern you can click on the blue button below.
This one wasn't quite right for you? What about these instead?
Want even more purses and handbags to sew? Our shop is packed full of hand-picked favorites from talented designers, big and small. Here are a sample selection you might like. Check them all out in our shop.