Deluxe Wallet sewing pattern
|
All posts may contain affiliate links.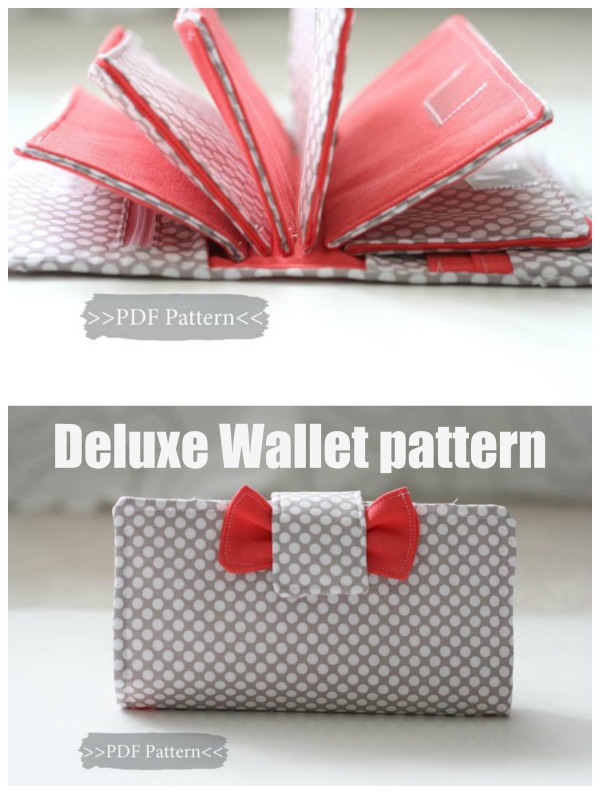 We really love this Deluxe Wallet and particularly like the fabric envelopes and the fact that you have the option of including 4, 6 or 8 envelopes, each of which can be open or zippered independently.
When this great designer made the pattern for the Deluxe Wallet she was inspired by the Dave Ramsey budgeting plan and has targeted her wallet toward everyone who is following a cash budget.
The designer describes her fabric envelopes as sewn in place to separate your money into categories, and takes envelope budgeting to the next level! No more tattered lost envelopes. The idea is that you can effectively keep track of your budgets and manage them properly, but separating out your money into sections according to the bills you need to pay – and keep a little aside for treats when you feel like dipping in.
This really is a very special wallet which has everything a wallet needs to keep all your money, debit cards, and coins secure and easy to access, even if you aren't following the envelope budgeting method.
The Deluxe Wallet has the following features:
4, 6, or 8 fabric zippered envelopes,
Or the option of:
4, 6, or 8 open fabric envelopes,
6 credit card slots, with the ability to hold up to 3 cards per slot,
A zipper pouch for change,
2 large pockets for your checkbook, receipts, etc,
A magnetic snap to close the wallet and secure your belongings.
Please note that the designer describes her project to make a Deluxe Wallet as suitable for an intermediate sewer.
For the fabrics, the designer says you should choose to use cotton, duck, canvas or linen. Cotton is the easiest to work with, while duck and canvas will make a wallet that is a little bulkier, but with that comes the added stability from a thicker fabric.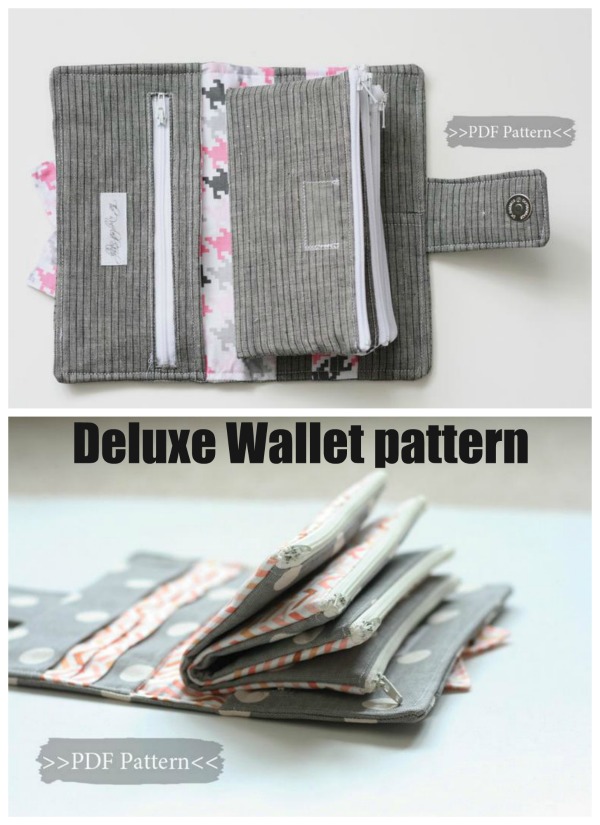 What will you need to make the Deluxe Wallet:
5/8 to 3/4 of a yard of each of two coordinating fabrics for the exterior and interior, including the envelopes,
1-yard medium weight fusible interfacing,
One magnetic snap,
Four to eight 7" closed-end zippers (optional),
1/8 of a yard or remnants of clear vinyl for the category pocket,
Vinyl or felt scraps (optional),
1/4 of a yard of medium sew-in interfacing (optional),
If you would like to add this pattern to your collection then you can click on the button below.
The pdf pattern includes:
Computer drafted pattern pieces,
Over 60 color pictures to go along with detailed directions,
19 pages of step by step instructions plus 5 pages of full-scale pattern pieces,
Fabric requirements and suggestions,
A seam allowance is included in the pattern,
Directions for many different ways to finish the insides of the zipper envelopes including no serger methods,
There are additional helpful tips scattered throughout the pattern.
And much much more!
Want to find more wallet sewing patterns? Why not follow the Sew Modern Bags board dedicated to our favorite wallet sewing patterns here. Pin and save your favorite bag sewing patterns to your own boards for later. Don't forget to pin this article too.
Want more wallet sewing pattern ideas?
If you love
sewing wallets
but this one isn't quite right for you, then don't worry, we have LOTS more wallet sewing patterns for you to choose from. Check out just a few from our selection here.