Subway Cross Body Bag sewing pattern
|
All posts may contain affiliate links.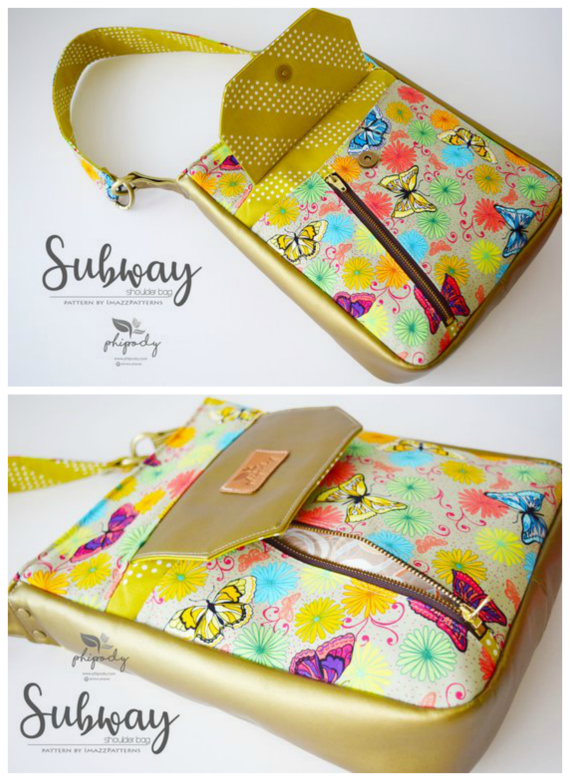 The Subway Cross Body Bag is a practical and multi-purpose crossbody/shoulder bag. There are 2 pattern sizes included for this cute and unique bag. The bigger one is suitable for carrying books, documents, a small laptop, etc. The other size is a reduced version of 80%, which is perfect as an everyday purse and cross-body bag.
The smaller bag is meant for everyday use. The bigger version is suitable for students or short trips, or those with more to carry. The cross-body style of bag is naturally perfect for any occasion when you just need to be hands-free. The best feature we love on this bag is the two-in-one front pocket – a vertical zippered pocket and front slip pocket with flap – perfect storage for your phones, cards, keys, or other small personal items.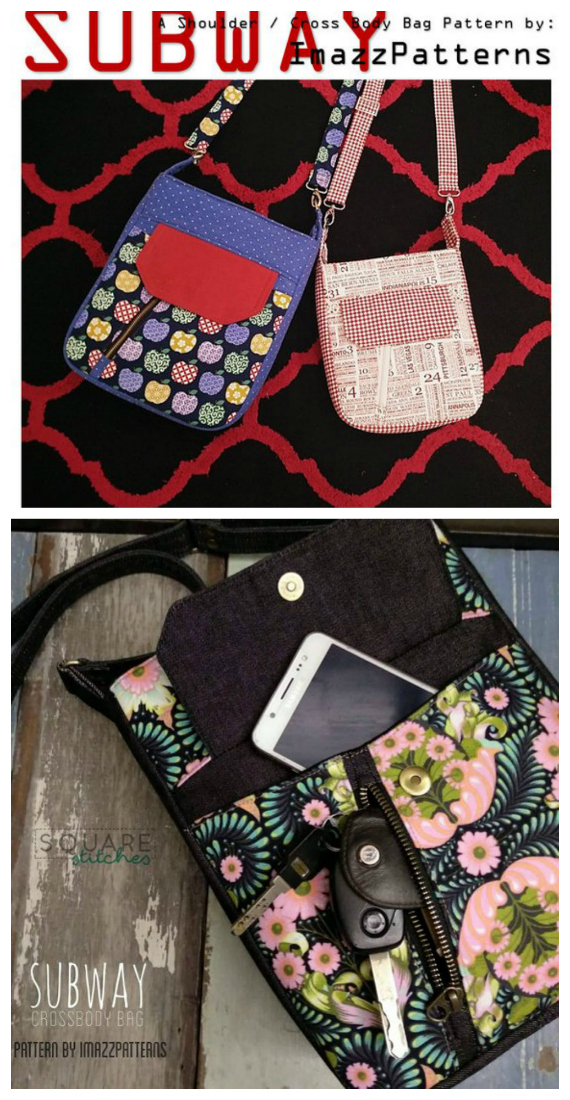 The Subway Crossbody Bag can be made by a sewer who has basic skills in sewing and has completed a few simple bags. We think this is the sort of style of bag pattern that everyone should have in their stash. It's versatile and adaptable, fully-featured, and depending on your choice of fabrics, can be smart and business-like, or fun, bright and casual. You can even mix and match different fabrics, as you can see in some of these examples.
The approximate finished dimensions are 12 inches (30 cm) high by 10 inches (25 cm) long by 3 inches (7cm) wide for the bigger bag. While the smaller crossbody version is 10 inches high by 8 inches long by 2 1/2 inches wide. Pick which one is perfect for you.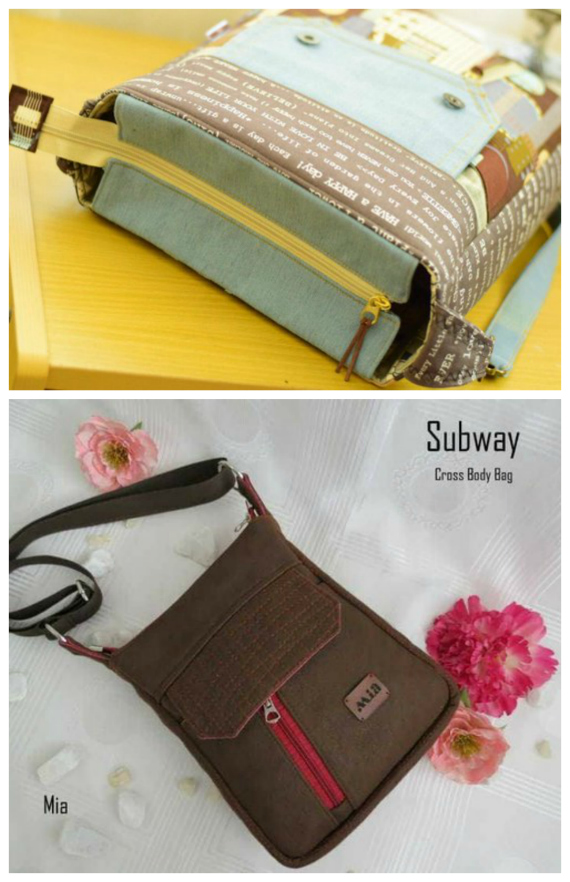 What you will need to make the Subway Cross Body Bag:-
Fabric or fabrics of your choice,
1 yard (0.9 metre) of quilting weight cotton fabric / light canvas / linen / thick cotton,
½ yard (0.45 meter) of fabric (for contrast /coordinating fabric),
¾ yard (0.7 meter) of medium-weight cotton or light canvas (for lining),
Stabilizer, Fusible Interfacing & Fleece,
1 yard of By Annie's Soft & Stable foam stabilizer, OR fusible fleece OR batting of your choice,
½ yard of medium fusible interfacing (for lining bag – optional),
¼ yard of light-weight fusible interfacing,
One 12" (30 cm) zipper for the top closure,
One 9" (28 cm) zipper for the front pocket,
Two 1 ¼" (3 cm) D or square -rings – see our resources page for suggested hardware suppliers,
One set of swivel clasp,
One 1 ¼ " (3 cm) slider,
One set of magnetic snap,
When you purchase this downloadable pattern you will receive 41 pages of complete step-by-step tutorials with extra info and pattern pieces. All pattern pieces are of actual size. Seam allowances are included in the pattern. You can download the pattern by clicking on the light blue button below.
Get all the patterns for this designer here
This isn't quite what you are looking for? We have links to thousands of bag sewing patterns, tutorials, sewing videos and tips and lots more on our
Pinterest
account. Come and follow us, and save some of your favorites to your own boards for later.
Sew more crossbody bags and you'll be happier - we promise 😉
For the easiest shopping and days out, you can't beat a crossbody bag for leaving you hands-free. We've got 60+ of our favorite crossbody bag patterns hand-picked for you in the store. Go to the shop page to find them all saved by category.