My Favorite Things Bag – FREE Sewing Tutorial
|
All posts may contain affiliate links.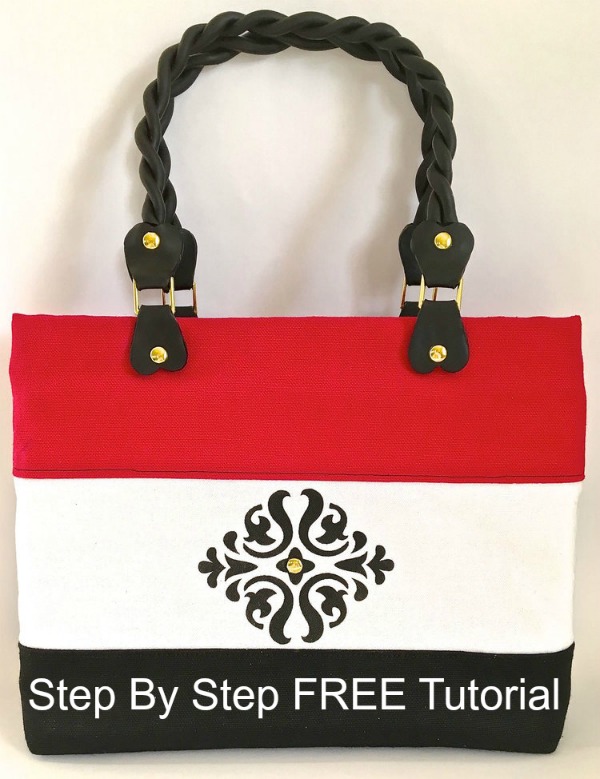 We have never yet been able to bring you a project on Sew Modern Bags where the designer of the bag has incorporated sewing, painting and playing with clay in her tutorial. But now we have because here is the My Favorite Things Bag. And to make things even better the designer has provided the tutorial for FREE, which you can go to by clicking on the link below.
The designer has combined sewing, painting and polymer clay to make a very pretty three color bag. These three colors and the painting really help to make this bag stand out from the crowd.
The sewing part of this project is quite obvious as is the painting part with the stencil painted image on the side of this bag. However, if you are wondering where the clay work is involved, it's to make the polymer clay handles. Did you notice them and not realise they were clay? Polymer clay is a form of plastic clay which you mold and then heat in the oven to set. It stays fairly flexible, is smooth and comes in a ton of colors, so it's perfect for making purse handles.
And once you have created your own My Favorite Things Bag how exciting will it be to carry that bag knowing that you sewed your own bag, you added a painted image on the side and you made your own handles from polymer clay.
What you will need to make the My Favorite Things Bag
Red, white and black canvas or other fabrics of your choice
Fusible interfacing
Gold brads or rivets
Sewing Notions
Premo Black Clay
Liquid Polymer
3/4 " brass rings