Kindle case – FREE pattern
|
All posts may contain affiliate links.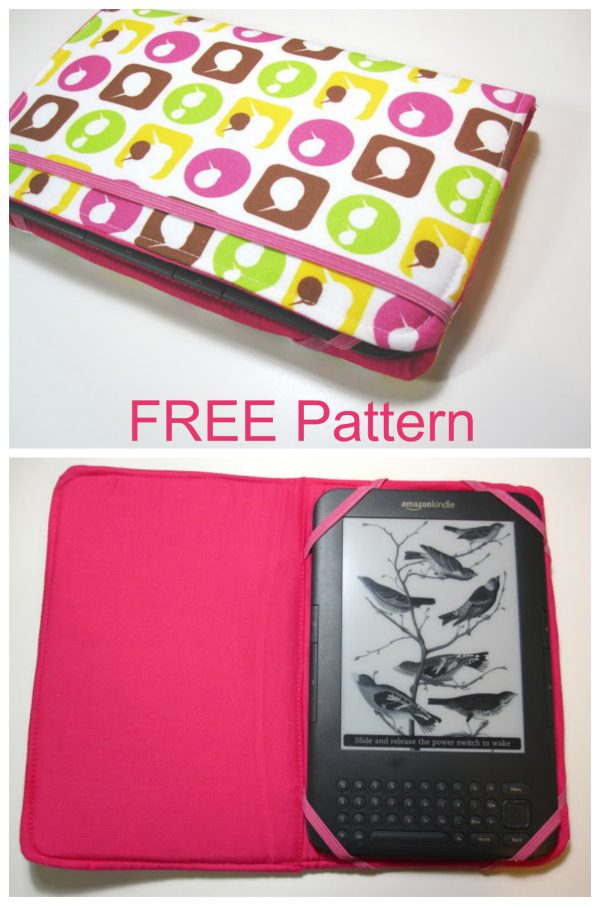 Most pattern designers spend a long time deliberating over their projects and this designer was no different. She came up with this well-considered and practical design for her Kindle Case and has kindly provided the tutorial and pattern 100% FREE.
This Kindle Case has padded covers which are semi-firm, while the Kindle itself is held inside on one side with elastic and the cover is held shut with more elastic. The construction of this cover is really simple, and once you follow through the tutorial and see how it all comes together, you would be easily able to adapt this simple pattern to fit any size of kindle, nook, tablet or phone.
What you will need to make the Kindle Case
One 8″ by 11.25″ piece of lightweight fusible interfacing
One 9.25″ by 12.25″ piece of outer fabric
Two 6.5″ by 9.25″ pieces of inner fabric
About 25″ total of 1/4″ wide elastic
for the inside padding:
One 8″ by 11.25″ piece of extra firm non-fusible interfacing for the inside padding
Two 8″ by 11.25″ pieces of felt for the inside padding