JOIN US FOR A SEWING SWAP (Jan/Feb 2023)
|
All posts may contain affiliate links.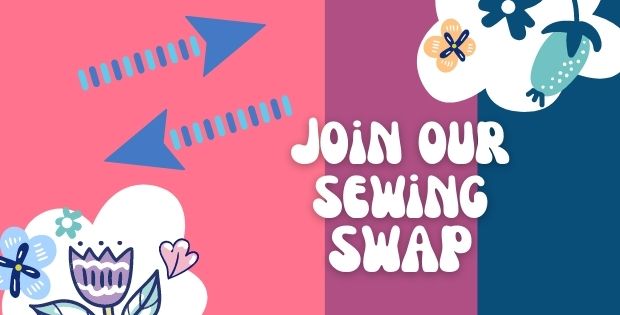 We've run a couple of really fun sewing swaps now and both have been a huge success. We LOVED seeing all of the beautiful bags and sewing parcels arriving, and being posted and proudly shared in our Facebook sewing group. We were blown away by the awesome sewing skills and beautiful designs. Several of the swappers wrote to us to ask for another swap soon, and we are very happy to arrange it now that we have the busy festive season behind us.
What is a sewing SWAP?
A sewing swap is a gift exchange with an assigned partner. You'll sew a bag (more about that next) and mail it to your partner. Your partner sews a bag and mails it to you. It's a wonderful way to make new sewing friends, feel part of a wider sewing community, and send your handcrafted item to someone you know will really appreciate it.
What are we going to SWAP?
A poll in our Facebook group for what to sew had a lot of interest but one clear winner – the zipper pouch came out on top. And with good reason. The zipper bag comes in an almost endless variety of styles, from the small and simple to the large and elaborate. Always practical and used every day, they can often be sewn with smaller pieces of fabric, and should be light and flat enough to mail easily.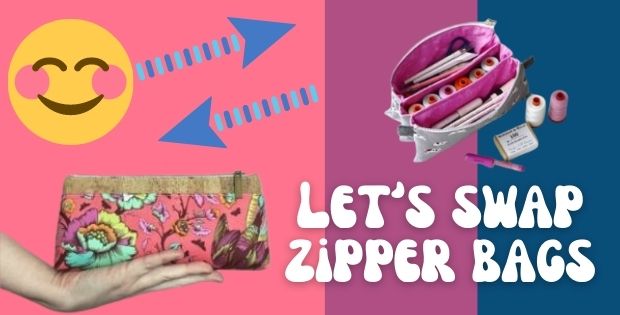 The exact style and size of the bag you sew is 'maker's choice'. Perhaps you already have a favorite pattern you are very familiar with and sew often. Or perhaps you want to use this opportunity to try a new zipper bag pattern and practice some new skills. Be creative and let your personal style shine through.
Maybe add your own touches to an existing pattern, make extra pockets, or even design your own pattern!
Need inspiration and pattern ideas? Then check out our article which has pictures and links for more than 160 zipper bags you can sew for this swap [originally 100 but now updated with more than 160 zipper bag sewing projects and ideas]. But it's not limited to only these patterns, you can sew any zipper bag or pouch of your choosing – and there are a lot to choose from!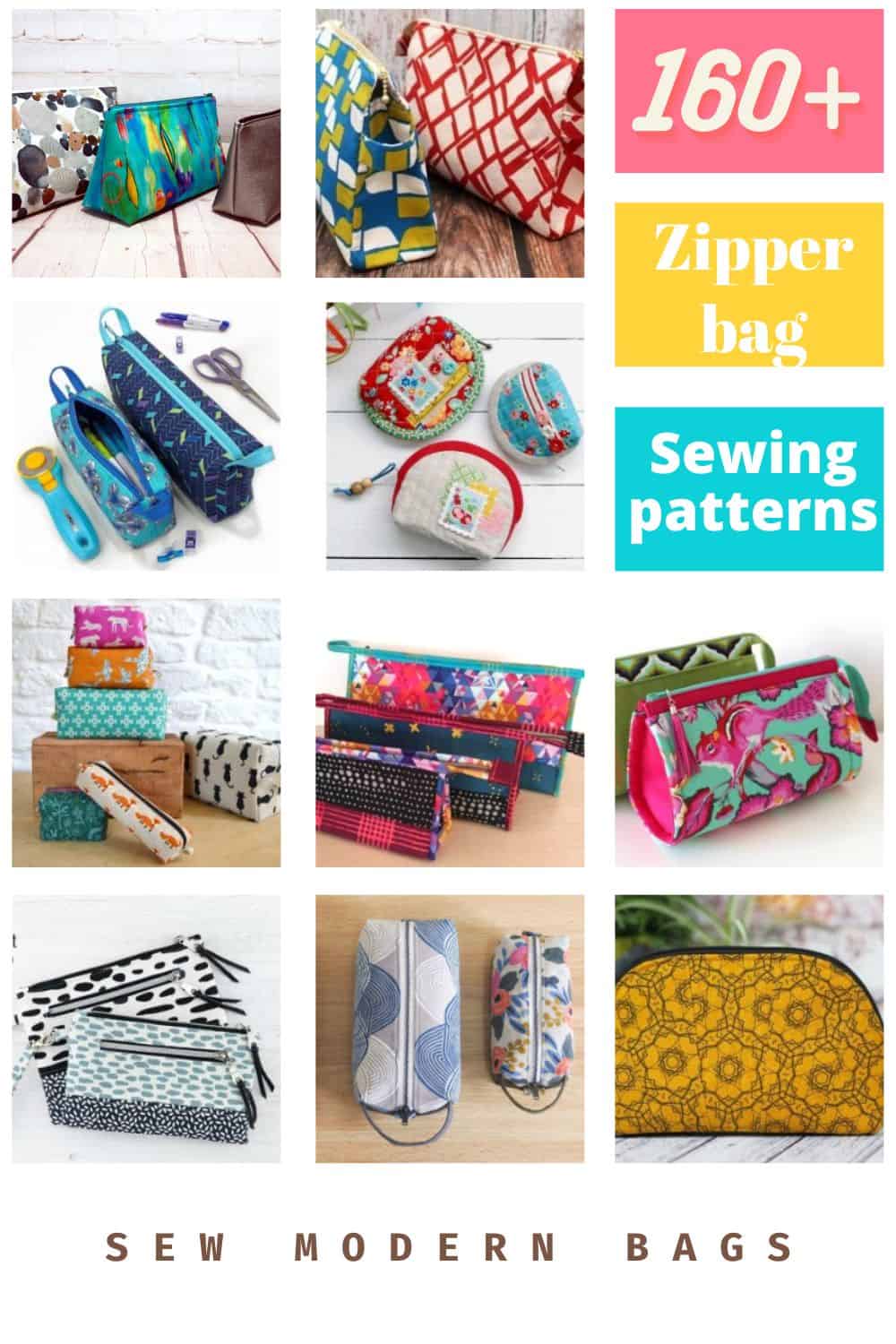 The schedule, what to do when
Deadline for signing up – 17th January 2023
You can start planning your project right away
All partner contact info will be sent out by – 19th January 2023
Please get in touch with your swap partner to say hello and check their address no later than – 23rd January 2023
Begin to sew your project – more than 160 zipper bag patterns to inspire you here
Deadline to mail your parcel – no later than 14th February 2023
Is there a charge to take part in the SWAP?
There is a $5 fee to take part in the swap. Running a SWAP takes a tremendous amount of time and effort behind the scenes to make everything run smoothly. Our assistant who works on the technical side of our website will be working hard organizing, emailing, answering questions, matching partners, and following up with participants. We also pay our swap angels when a partner drops out at the last minute.
How do I sign up for the sewing SWAP?
Signing up for the swap is easy. Complete the online form here with your information and we'll be in touch with your swap partner by 19th January.
Can't see the form? Your settings on your browser may prevent the form being displayed here. If that's the case and you can't see the form above, please click the purple button and the form will open in a new window instead.
---
Frequently Asked Questions
Q: Is the swap open to everyone? All countries?
A: Absolutely! We are on a tiny island ourselves so we know how disappointing it can be to be excluded from the fun because of your location. So we're opening up the SWAP to everyone everywhere. However, please be aware while we will do our best to match you with a 'local' partner, this may not always be possible and you may have to send your parcel to a swap partner in another country. You can opt in/out of sending internationally.
Q: When is the posting deadline?
A: All swap parcels should be sent no later than 14th February 2023. You can of course mail it earlier if your item is ready. If the ship date does not work for your schedule consider waiting for a future swap. There is nothing worse than anxiously waiting for something to arrive and being greeted by an empty mailbox each day.
Q: It's gone past the deadline and I've not heard about my swap partner yet.
A: Look out for our swap email in your junk/spam/promotions folder in case it's gone there. Still don't see it? Get in touch and we'll resend those details for you.
Q: I'm worried about giving out my name and address.
A: We completely understand. We want to assure you that your details are safe with us, and your name and address will only be used for sending to your swap partner. Your partner's name and address will be sent to you. Gifts can't be sent without a real name and address. If this is a concern, consider using a PO Box at your local post office.
Q: Can I send a little gift in my parcel?
A: Of course you can. It's a nice addition to pop in a fun extra gift such as a set of buttons, a pretty ribbon or a fancy zipper. It's totally optional of course.
Q: Should I gift wrap my bag?
A: It's always lovely to get a beautifully presented gift, and our swap exchange is no exception. It needn't be extravagant- a little tissue paper and a ribbon or bow makes all the difference. Include a handwritten card or note if you like.
Q: What should I do when I get my parcel?
A: Please let your swap partner know that the parcel has arrived and thank them for sewing for you. We would all LOVE to see what you received so perhaps you can take a photo and share it with us in our Facebook Sewing Group.
Q: What happens if my partner doesn't send me anything?
A: Sometimes bad things happen, people are unable to complete their swap but we don't want anyone to be let down. If you don't receive your parcel and can't get in touch with your swap buddy, please let us know. We'll put our swap 'angels' into action to make sure you aren't left empty-handed.
Q: What is a swap angel?
A: A swap angel is a volunteer who helps out by covering a missing swap partner. If a person doesn't complete their swap, we ask one of our angel volunteers to make sure that their partner isn't left empty-handed by sewing and sending a second parcel. Any swap angels called upon get their swap fee refunded.
Q: The item I received wasn't as good as the one I sent 🙁
A: If you receive a package that you're not delighted with, please remember that it was made with the purest of intentions and perhaps the simplest of skills. We are all still learning. Be kind with your comments and understand that everyone has different skills and tastes.