Jill Bag sewing pattern
|
All posts may contain affiliate links.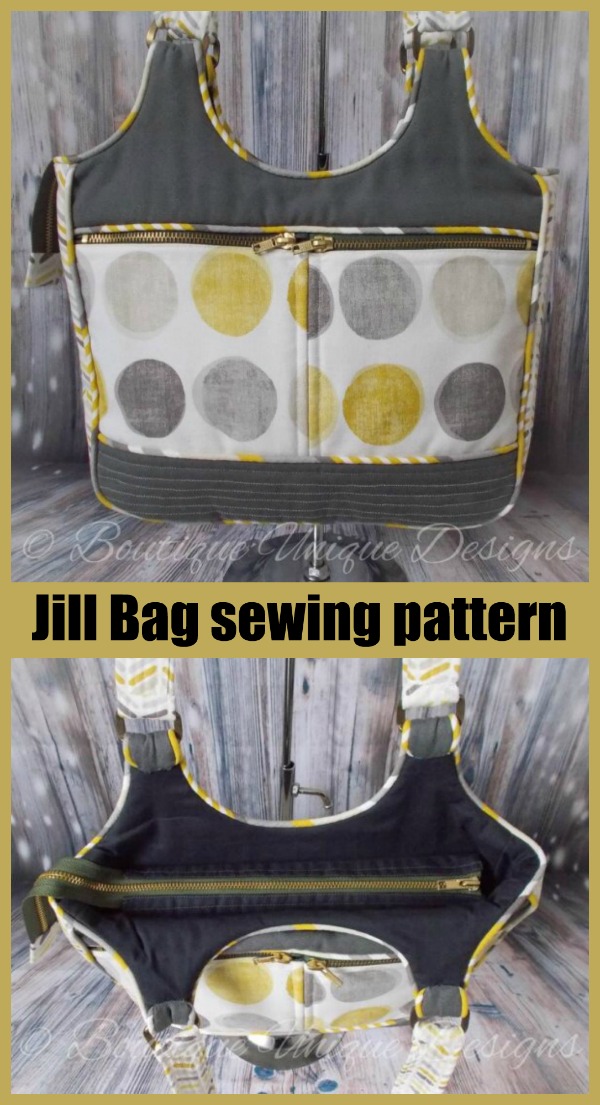 The Jill Bag is a useful shoulder bag with twin front zipped pockets and feature piping that really defines her interesting shape. She's sure to be your new favorite.
The Jill Bag is a stylish shoulder bag with two feature zip pockets on the front and a feature panel on the back. It has two internal pockets one with a zip and one left open that can be divided to suit a phone, pen, nail file, mirror or whatever you need.

The ideal fabric for this bag is a firm woven fabric with an even weave such as cotton. The grey and gold design shown has a main body of cotton fabric with a feature pocket fabric. It has contrast leather piping and brass zips.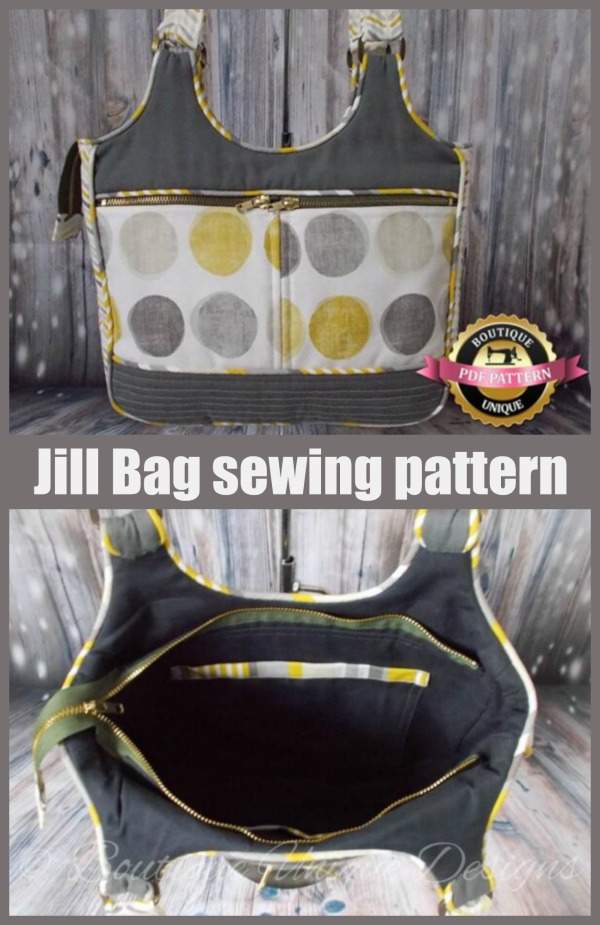 The style of this bag allows you to make different choices and create a unique item. Make the pockets from a great contrast fabric. The piping gives you another area for contrast and detail. The designer used imitation leather on one of the samples and stripey on the other.
If you want to give your bag a professional finish you can invest in upmarket 'bag furniture' e.g. metal buckle loops and brass zips. These can give your bag that 'shop bought' look.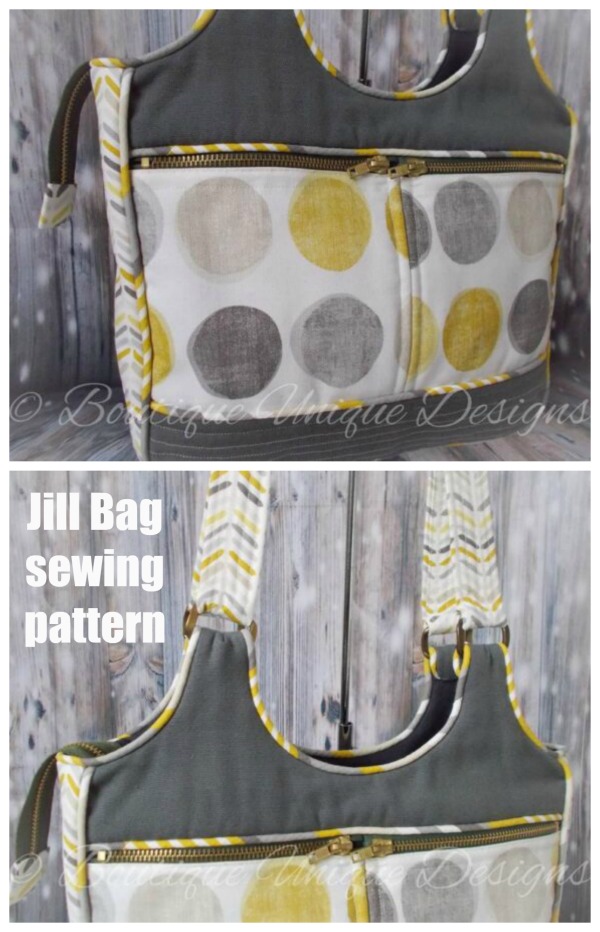 Sizing info:
When you have finished making your own Jill Bag it will measure approximately 11″ wide by 10″ high by 2″ deep.
Skill level:
The designer rates her bag as perfect for an intermediate sewer, who is able to insert a zip and insert piping. Full instructions are given.
What is needed to sew the Jill Bag:-
Wadding 1/2 yard of 45″ wide,
Contrast Gold/Grey 1/4 yard of 45″ wide,
Main fabric Black/Grey 1/2 yard of 45″ wide,
Lining 2/3 yard of 45″ wide,
Heavyweight sew-in interfacing 1/2 yard of 45″ wide,
For all one colour bag main fabric 2/3 yard of 45″ wide or 1/2 yard of 60″ wide,
Zipper for internal pocket 1 by 8″,
Metal buckle loops 1″ wide by 4,
Piping cord or Piping 4 yds,
Cotton – Matching threads or contrast colours for topstitching as desired,
Zipper for top opening 1 by 14″,
Zippers for front pockets 2 by 6″ (length of teeth),
You can download the Jill Bag pattern by clicking on the button below.
The designer of this pattern, Boutique Unique Design, has other bag sewing patterns that you can see by clicking on the red button below.
See all patterns from this designer here
This one wasn't quite right for you? What about these instead?
Want even more purses and handbags to sew? Our shop is packed full of hand-picked favorites from talented designers, big and small. Here are a sample selection you might like. Check them all out in our shop.