It's a cinch bag – FREE pattern & tutorial
|
All posts may contain affiliate links.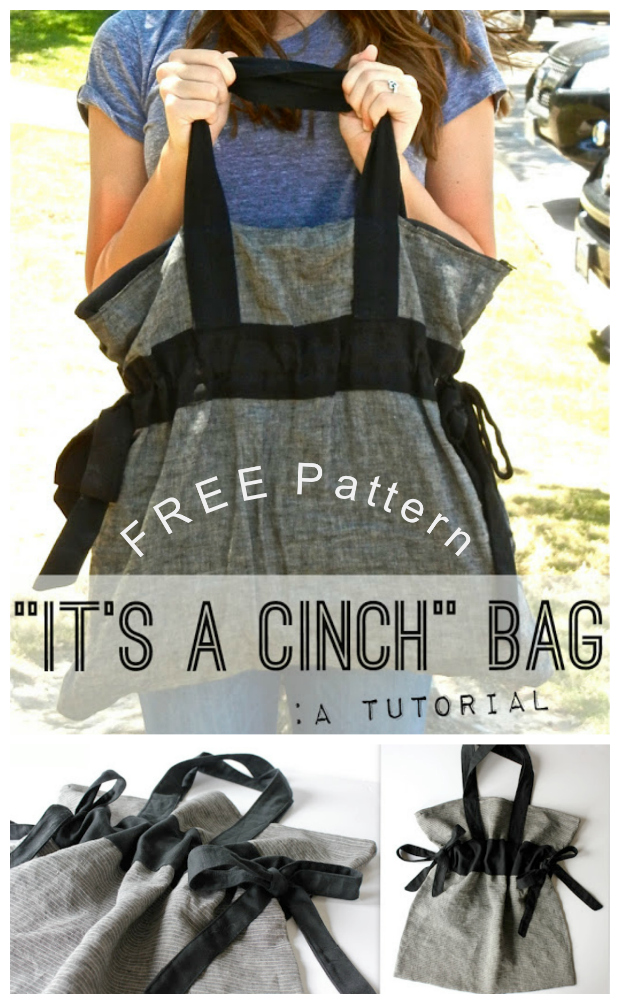 If it's a FREE pattern that you are looking for then we have a really great one for you here called The Cinch Bag, which also includes an excellent step by step photo tutorial. Sometimes you just need a BIG bag that you can stuff things in. The Cinch Bag is perfect for that.
The Cinch Bag is a very adaptable Tote bag that can be used as a beach bag, a diaper bag, a school bag, an overnight bag, or for any number of extra uses.
It's basically made from squares and rectangles so if you don't need such a big bag, check out the directions and how the pieces fit together, and then make it the size that's perfect for you. Basically the design is an easy one. It's a big square tote bag with handles and then across the top third is a casing with ties through it, to pull the bag into that cinched shape.
So if you make a smaller bag and then really stuff it full with things, you can loosen up the cinch part of the bag and get extra space. Or cinch it up right for a smaller bag and to add extra security so no one can see what's inside.
We think these would look extra-cute if made with some pretty festive fabrics and used as reusable gift bags for Christmas and birthdays. I bet you have a bag full of fabric scraps, fat quarters and part yards that could be used to make drawstring bags based on this idea.
What you will need to make The Cinch Bag
2/3 yard of the main outer fabric. Upholstery weight or home decor weight fabric is recommended for at least the straps of the bag if you are making it big and plan to carry heavy loads
1 2/3 yard of a contrasting fabric
Smaller zipper(s) for the interior pockets (optional)
One 24-inch zipper