Giveaway and huge discount for We Like Sewing Club
|
All posts may contain affiliate links.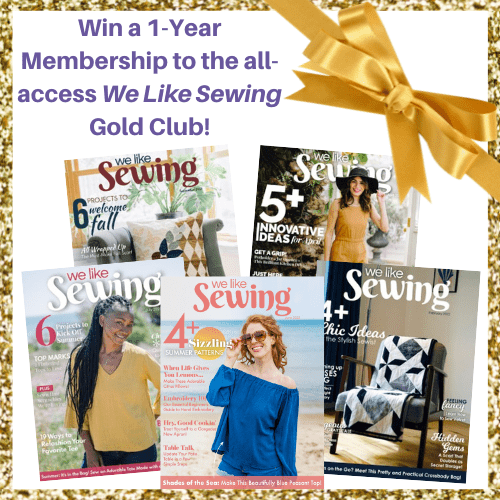 We just love our readers. You really are the best. So we try to put together offers and sales we think you will love – like our current Big Bag Bundle Sale – don't miss out on this collection of awesome patterns at an amazing price. This week we have partnered with We Like Sewing Club to offer you two great deals – a giveaway to win a year's membership, and a massive discount offer too. Check it out below.
Win a free membership in our Giveaway
The Prize: We Like Sewing Gold Club 1 year membership
Value: $49
Enter below for a chance to win one (1) Year-Long subscription to the all-access We Like Sewing Gold Club. One Winner will be chosen! The deadline to enter is March 20th, 2023 at 11:59:59 p.m. Eastern Time.
Create gorgeous handmade items and improve your sewing and quilting skills with We Like Sewing. With designer sewing patterns for home décor, bags, wearables, gifts, and so much more, your sewing machine will be busy as you stitch these tech-edited designs for your loved ones.
The winner and all Gold Club members will receive:
We Like Sewing Magazine, which includes monthly digital issues stuffed with new and exclusive projects with step-by-step instructions, sewing tutorials, tips and tricks, and expert techniques. Receive dozens of exclusive patterns per year!
We Like Sewing Collections Club, which highlights designer patterns for your favorite popular and seasonal projects, such as home decor, festive Christmas quilts, purses and bags, fat quarter projects, quilt blocks, and much more!
We Like Sewing Videos, which include step-by-step streaming video tutorials of sewing and quilting basics.
Full access to the We Like Sewing library, which includes instant, complete access to every single pattern, tutorial, and video we have ever published!
The digital format means NO shipping & handling charges, and NO waiting at the mailbox for your issues to arrive.
Projects are tech-edited so that you never have to worry about pattern errors or ripping out your progress.
Absolutely zero advertisements in the magazine! It features only the best patterns, tutorials, techniques, and inspiration.
Carrying out tasks and following our social media gives you entries into the giveaway. All forms of entry are optional and you can complete as many or as few as you like.
Special 90% discount for Sew Modern Bags readers
Too excited to wait? Join the all-access We Like Sewing Gold Club for 90% OFF! If you win the giveaway, you will receive a full refund. As a premium all-access Gold Club member, you will receive a year of monthly magazine issues, a year of access to the Collections Club patterns, sewing and quilting videos, instant library access with all the previously published patterns, tutorials, and videos, and much more!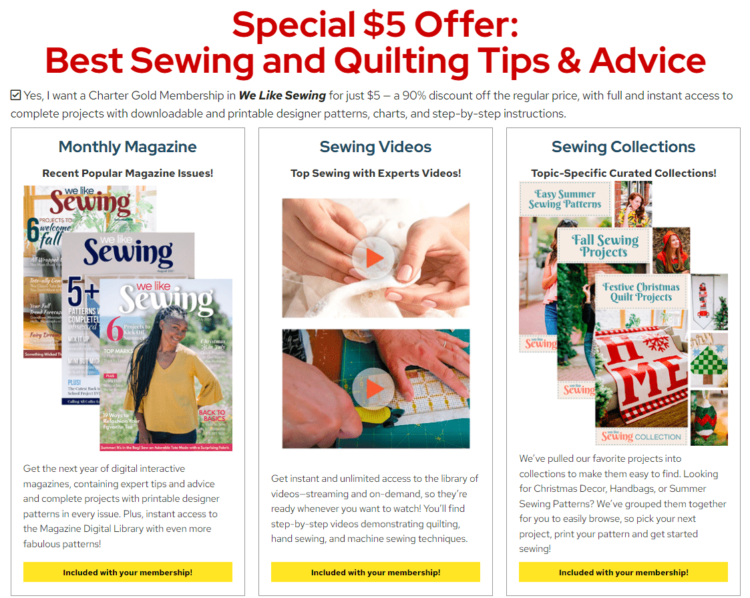 Notes:
* Giveaway entry is open to readers worldwide
* Closing date is end of the day 20th March 2023, EST.
* Entrants may make 1 entry or many. Each entry has the same chance of winning.
* The winner will be picked at random from all entries and informed at the registered email address. If there is no reply within 48hrs or the email bounces, we will choose another winner.
* This is not a sponsored article – we are not compensated for your entry or purchase by We Like Sewing or associates.