Get a year of Creative Bug classes for free (money back offer)
|
All posts may contain affiliate links.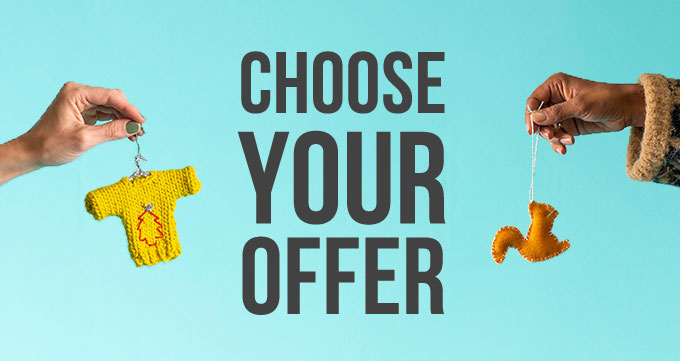 We have a choice to two incredible offers for our Sew Modern Bags and Sew Modern Kids readers today. CreativeBug (a fun site that provides project based sewing and crafting video classes) are offering you a festive seasonal offer that is just FAR too good to miss. In fact, there are TWO offers available and you get to pick the one which gives you the best deal, including a year of full membership effectively for free and 12 classes to keep forever.
Let's start with Who Are Creative Bug?
Creativebug offers thousands of online video sewing, art and craft classes. Learn how to paint, knit, crochet, bake, sew, draft your own sewing patterns, create your own fabric designs, screen print, and more!
Our members enjoy learning from leading instructors like Amy Butler, Betz White, Joel Dewbury, Kaffe Fassett, Gretchen Hirsch, Natalie Chanin, Lisa Congdon, and Marly Bird just to name a few. Classes never expire, so you can watch at your own pace. Watch classes from the comfort of your own home, or on the go with our mobile app!
Beyond our content, we are a community. We exist to inspire anyone from the beginner level watercolorist to the advanced quilter.
What can I learn?
We are glad you asked because there are SO many great classes and topics we think our readers would love. Here are just a few ideas:
And of course there's a lot more there than just sewing. Maybe you fancy your hand at some yarn crafts like knitting or sewing, want to learn how to make fantastic party cakes to wow the other moms, or clearing out your art space with some mixed media projects. CreativeBug classes can help you fulfill your creative dreams for the coming year, and beyond.
So tell me about the offers…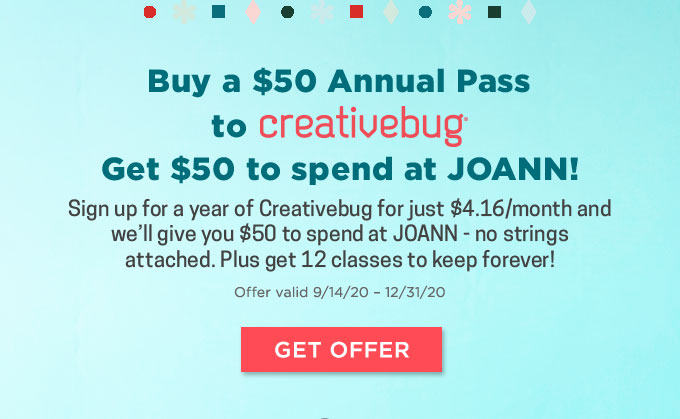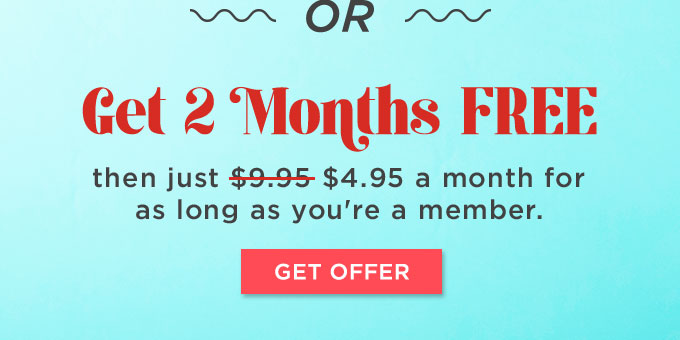 So you get to decide which is the best value offer for you. If you are in the US and shop regularly at Joann or order online from their massive stock of fabrics and sewing supplies, then you might think that offer ONE, is best for you. Pay $50 and get $50 back so your year of membership is free.
But if you are not in the US, or just want to give the system a try before deciding to commit to a membership, then offer TWO might be better for you. Get a 2 month free trial, then you also benefit from 50% off the price of your membership for life. It's just $4.95 per month for unlimited access.
OFFER ONE – Pay $50 for one year of unlimited access and get $50 back as a Joann Gift Card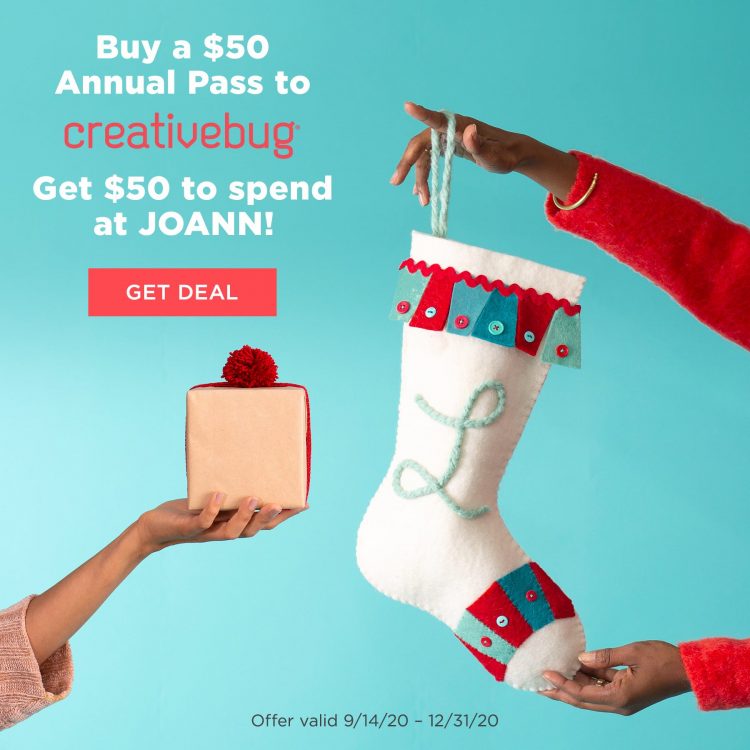 Sign up for a one-year membership at the special price of just $4.16 per month ( that works out to $49.92 for the whole 12 months of membership) AND get back a Joann Gift Card for $50 which you can spend in-store or online. So your first year is entirely free!
You'll also be given 12 class credits, one per month of membership, so that you can save and own forever 12 of your favorite classes, even after any membership expires.
OFFER TWO – Get 2 months free then 50% off for life

If you'd rather not commit to a full year of membership, then just give CreativeBug a try with one of their trial memberships, knowing that you can easily cancel at any time if it's not for you.
Select offer TWO to get 2 months of free membership to enjoy all of the classes, and then 50% off the monthly membership fee for life. You'll pay just $4.95 a month after your free trial. You'll also get 1 free class credit each month of membership to claim a class for free to own forever, even after any paid membership expires.
Share what you learn, sew, make in our Facebook group
Now you're all hooked up with some new sewing projects, patterns and ideas, we'd love for you to come and share them with us in our Sewing Facebook group. Join a happy band of sewers and let's see what you've been working on.