FREE smaller diaper bag sewing pattern
|
All posts may contain affiliate links.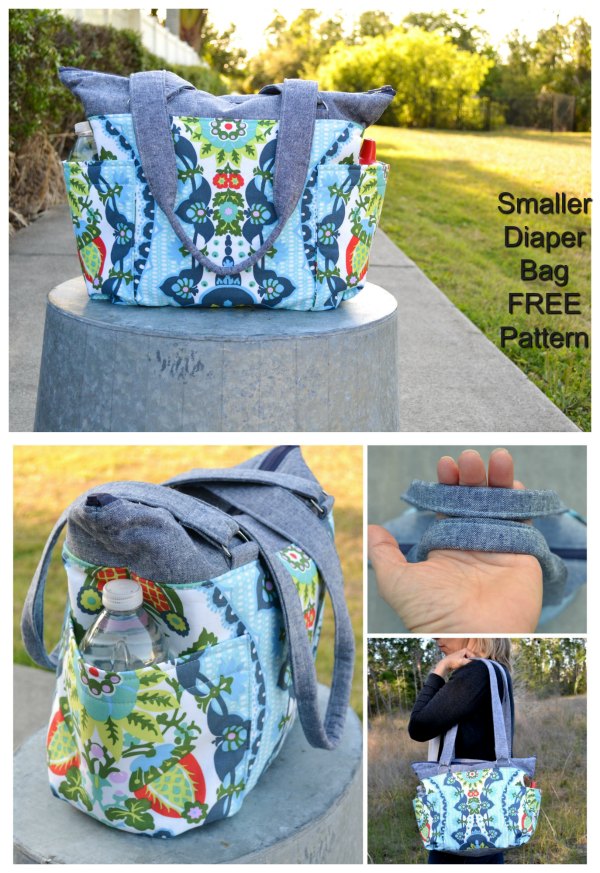 Today's sewing project is from a talented designer who has a baby that has just turned two, so she decided to make a smaller diaper bag. Why make a smaller diaper bag? Well, when your baby grows up mum doesn't 'need to take with her quite so many things so her diaper bag does not have to be so voluminous.
The pattern for this smaller diaper bag can be found below if you click on the link at the end of this post. And the awesome news is that this pattern is FREE.
This smaller diaper bag has the following features:
It still has plenty of pockets.
It has a wide base so it stands up easily in the car
It's smaller but can still fit a handful of diapers, toys, snacks, and drinks for a day in the park
It has an easy to zip and easy to sew sport separating zipper
It has handles that are long enough to throw over your shoulder one-handed.
The designer's favorite thing about her bag is the side pockets. She likes the fact that they can easily hold water bottles and more, but she likes to throw her keys and phone in them so they are easy to grab.
The finished dimensions of this bag are 12'' high by 16'' wide by 5'' deep.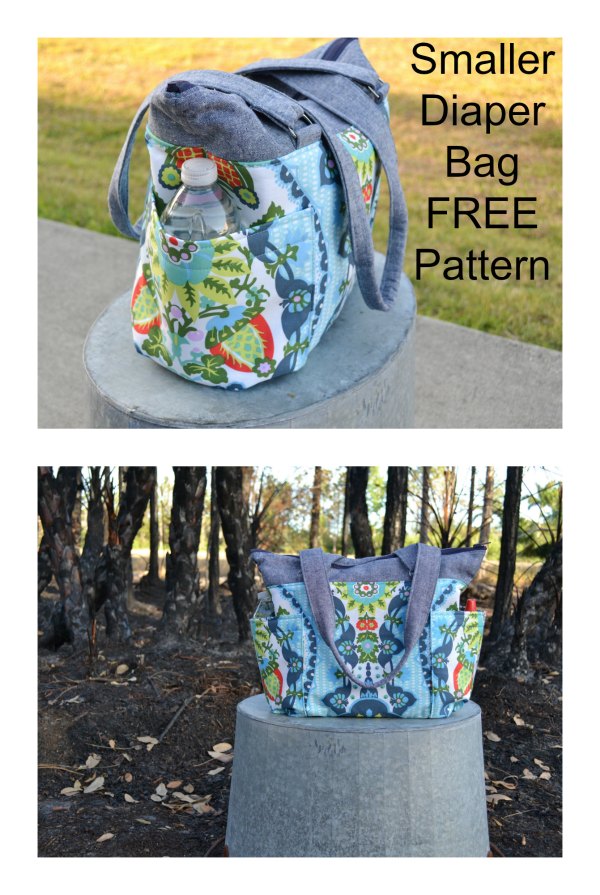 This pattern isn't quite right for you? We've got lots
more diaper bag sewing patterns
to share on our Pinterest board dedicated to exactly that. Click below to follow this board, then Pin and save your favorite bag sewing patterns to your own boards for later. Don't forget to pin this article too.
What you will need to make this Smaller Diaper Bag
1-yard of exterior fabric (1 1/2 yards if fussy cutting or using a directional print), quilting cotton or medium to heavyweight home decor fabric. If choosing this option, you should omit the Shapeflex interfacing for the exterior pieces
1/2 yard of accent fabric, quilting cotton or medium to heavyweight home decor fabric. If choosing this option, you should omit the Shapeflex interfacing for the exterior pieces
1-yard of quilting cotton lining fabric
3 1/2 yards of fusible woven interfacing, Pellon Shapeflex SF101
1 yd of fusible fleece, Pellon 987f or felt
One 9″ or longer nylon all-purpose zipper
One 16″ sport separating zipper
Four 1/2″ D-rings